Since the passage of the Inflation Reduction Act (IRA), the United States is becoming a "land of excellence" when it comes to green energies and infrastructures, said Patrick Pouyanné, chairman and chief executive officer of French oil major TotalEnergies.
"It's a good incentive… to invest in all these green infrastructures," Pouyanné said at an Atlantic Council Front Page event on Thursday.
Pouyanné agreed with many Europeans that the IRA is protectionist and undermines the transatlantic relationship, saying that this is part of a "trend" in which the United States, by creating its own rules, seems to be believing less and less in the multilateral trading system built on World Trade Organization agreements. But he also said that the law is a "clear political decision by the United States" made because "they want that green industries will take place on their territory." For example, he noted, nearly 90 percent of solar panels are manufactured in China, creating "another problem of dependency" for both Europe and the United States in the future.
According to Pouyanné, the United States took advantage of an "opportunity" in the energy transition by passing the IRA, so "let's do the same in Europe." To avoid a future in which Europe relies heavily on imports, he said, the continent "must take decisions" to guarantee "that green industries [will] be located in Europe."
Below are more highlights from the event, moderated by Atlantic Council President and CEO Frederick Kempe, where Pouyanné discussed the role of oil and gas in the energy transition and the energy impacts of Russia's war in Ukraine.
"No way to escape" natural gas
Pouyanné said that because this year's United Nations Climate Change Conference of the Parties (COP28) in the United Arab Emirates is being hosted by a major oil-producing country, "it raises the bar for the whole oil and gas industry… [We have] to engage, as a lot of stakeholders are expecting us to do."
At COP26 in Glasgow, US President Joe Biden released a plan to tackle methane emissions from the oil and gas industry; Pouyanné said that TotalEnergies can lower methane emissions by 80 percent by 2030, while keeping an eye on lowering all other emissions from the production process. "If I can produce oil and gas with no emissions, I've done my job in production" to cut emissions, he argued.
"Natural gas is a fundamental energy for the transition" because it emits half the methane that coal does, Pouyanné explained. Natural gas, he added, will also help provide a consistent source of energy to fill the gaps of intermittent wind and solar power while new infrastructure to support energy storage and transmission is brought up to scale.
This year, with Russia's war in Ukraine raising questions about the global energy supply, Pouyanné said that the world discovered how important energy reliability, affordability, and sustainability are—and how much reliability depends on gas. "On one side, the Biden administration [said] one year ago, 'you need to diminish your emissions,' and then we hear 'you need to drill more.'" That, Pouyanné said, shows how the world will "need gas for very long."
The global divide
While TotalEnergies had invested fifteen billion dollars in Russia, it has begun withdrawing from its Russian investments. "We have impaired almost all of our Russian assets," Pouyanné explained. "We have step-by-step progressively retracted from almost all of our business in Russia."
As Russia's war in Ukraine continues, Pouyanné warned, the West must "be careful" to avoid believing that the rest of the world sees the conflict as a fight between democracy and autocracy. "It's not the dominant [narrative] today in the Middle East, in Asia, [or] in Africa," he said, explaining that leaders in the Global South are more focused on developing their economies than the war. He recalled how there have been mixed responses from countries to imposing sanctions on Russia and to voting on condemning Russia in the United Nations.
Pouyanné noted that he sees a similar division between the West and the rest in the climate debate with each passing COP. "It should not be" so divided, he said, "Let's avoid antagonism. Let's keep humility. Let's listen to these [Global South] leaders."
Investing in renewables—and fossil fuels
A day after TotalEnergies posted a record yearly net profit, Pouyanné talked about the French oil major's plan to spend the increased profits. The company plans to invest sixteen to eighteen billion dollars of its capital, with around five billion going toward low-carbon energies and about twelve billion going toward hydrocarbons. "With twelve billion dollars," Pouyanné explained, the "objective is to continue to maintain… stable production for this decade and continue to grow our liquefied natural gas business."
But, he noted, it will be "very important" to "continue to invest in oil and gas" to keep profits and investments high across the energy sector: "If I can invest five billion dollars in low-carbon energy in 2023, it is because I have made money from oil and gas," he explained.
Pouyanné said that the biggest investment opportunities lie in emerging economies such as Brazil, India, and African countries. TotalEnergies, he explained, has invested in new oil fields in Brazil and new projects, including a $3.5-billion pipeline, in Uganda.
While people in the West "complain about the Chinese influence in Africa," he said, that influence is growing because of China's more long-term approach to investing in the continent—rather than exporting natural resources right away.
The TotalEnergies head said the company will take some of the profits made in Uganda, Mozambique, and elsewhere to "invest in Africa." That includes the electric grid. "When you don't have electricity in the country, it is difficult to [improve] economic growth," he said.
Pouyanné explained that with technologies such as electric vehicles gaining in popularity, "the oil market at a certain point will begin to decline… this is why we invest in electricity, because this is a growing market."
Katherine Walla is an associate director of editorial at the Atlantic Council.
Watch the full event
Further reading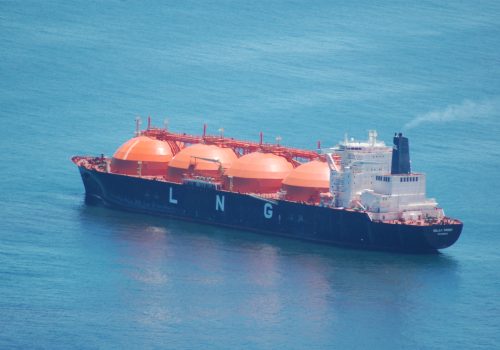 Tue, Jan 31, 2023
EnergySource By Robert F. Ichord, Jr.
As Europe looks to replace Russian gas and Asia looks to switch off coal, African LNG could play a central role. Gas development in Africa could unlock new revenues and, in turn, drive development across the continent.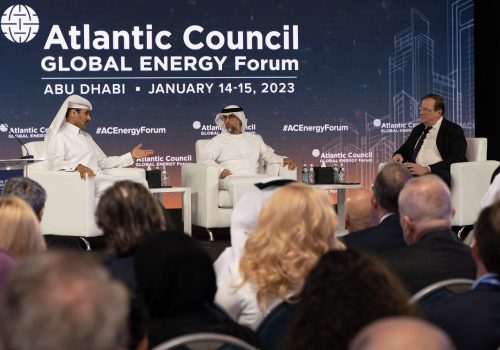 Sat, Jan 14, 2023
Global Energy Forum By Atlantic Council
Energy ministers from the United Arab Emirates and Qatar discussed the role gas plays in the energy transition at the Atlantic Council's Global Energy Forum.