What Colombia's ambitious new anti-drug plan means for US relations
Colombia, the world's largest cocaine producer, has once again broken its own record for illicit coca leaf cultivation, leading to a surge in cocaine production. Coca cultivation increased by 13 percent in 2022 according to the latest report from the United Nations Office on Drugs and Crime (UNODC), with a potential to produce a record 1,738 metric tons of refined cocaine—the highest figure ever recorded by the UNODC.
Colombia's response to this booming illicit industry is forcing an important discussion on the future of US-Colombia cooperation. Washington and Bogotá must decide whether their shared security priorities will pave the way for a revitalized counternarcotics approach or risk the unraveling of decades of bilateral coordination.
On November 3, Colombian President Gustavo Petro visited Washington for the Americas Partnership for Economic Prosperity Leaders' Summit, marking his second visit this year to the White House, after a meeting with US President Joe Biden in April. While the April meeting saw both presidents commit to bolstering anti-drug efforts through increased intelligence and interdiction cooperation, uncertainty has grown in the seven months since about the future of security and counternarcotics coordination between the two countries.
Amid questions over its counterdrug strategy, the Colombian government unveiled a new ten-year drug strategy in September, attempting to break from a half-century of policies that have failed to curb coca production. A hallmark of Petro's new counternarcotics strategy is putting into action his 2022 campaign promise to better consult with the long-neglected rural communities that are most affected by the drug trade. In developing the new strategy, the Colombian Ministry of Justice carried out twenty-seven community dialogues from January to July of this year in sixteen Colombian provinces and Bogotá. Each of these dialogues was organized in partnership with the UNODC, which facilitated the participation of local residents as well as organizations of rural farmers, Afro-Colombians, and indigenous Colombians. Atlantic Council staff were invited to observe one of the meetings in June in Corinto, Cauca.
Greetings from Corinto, Cauca, where #Colombia's government hosted its latest forum with communities affected by the drug trade, meant to inform a new drug strategy that will be presented next month.

The timing is key, and stakes are high for :us:-:flag-co: relations. Thread (1/6): pic.twitter.com/XfDc8jpmTj

— Geoff Ramsey (@GRamsey_LatAm) June 25, 2023
The forum in Corinto and the other community dialogues consisted of structured breakout conversations in small groups followed by an assembly in which Colombian authorities listened to input from participants. Attendees in Corinto, many of whom were growers of illicit crops such as coca, cannabis, and poppy, broadly expressed a willingness to transition to legal crop cultivation. They highlighted the lack of state presence, basic infrastructure, and few opportunities in their communities as barriers to connecting to the formal economy. After decades of various administrations failing to deliver on promises of rural development, communities such as Corinto are pushing the government to address their needs in order to transition. These needs include building basic infrastructure, such as bridges and roads, and increasing access to non-military state presence, such as social service resources. It remains to be seen whether the Petro administration will meet these requests to help rural communities break their dependence on cultivating illicit crops.

The government's decision to carry out these community dialogues reflects the importance of connecting any counternarcotics strategy with a strategy to address the needs of those most affected by the drug trade. However, to truly be successful in diminishing the supply of drugs, Colombia and the United States must ramp up their coordination on this strategy.
On the surface, both governments have expressed an interest in continued cooperation. Following the launch of Petro's new approach, the US and Colombian governments agreed to continue developing a comprehensive counternarcotics approach that promotes public health and human security. They committed to increasing interdiction efforts through joint training, capacity building, and intelligence sharing, as well as combatting money laundering, protecting the environment, increasing state presence in rural areas, and mitigating drug consumption. The biggest question, however, lies at the root of the plant. What strategy should be adopted to provide opportunities to those who are currently dependent on illicit coca crops as a livelihood?
While previous Colombian governments have favored forced eradication, the Petro administration is leaning into crop substitution. The ten-year drug strategy aims to enable roughly 50,000 out of 115,000 families economically dependent on coca cultivation to transition to legal means of income. This is part of an ambitious plan that seeks to cut both cocaine and coca production by 40 percent in the next decade. The plan is structured around two strategies, dubbed "oxygen" and "asphyxiation." The "oxygen" pillar aims to provide relief to vulnerable communities affected by the drug trade, including subsistence growers and individual consumers. This includes investing in public health, environmental protection, and transitions to legal crops for small-scale coca growers. The "asphyxiation" pillar targets key actors in the organized crime and transnational drug trafficking networks to mitigate market proliferation and violence precipitated by criminal groups in coca-growing regions. The government plans to increase interdiction and strategic coca eradication of industrial-scale plantations.
Both forced eradication and crop substitution are imperfect strategies. Aerial fumigation has been banned by Colombia's supreme court for its effects on public health and environmental degradation, and coca cultivation has continued to skyrocket under national policies centered on forced eradication by ground troops, who sometimes face opposition from local communities.
Meanwhile, thousands of families are still waiting for compensation and technical support after enrolling in the national crop substitution program (PNIS) that was created following the 2016 peace accords. The program has experienced years of delay due to a slow rollout and a lack of financial and infrastructural support. While 94 percent of families enrolled in the PNIS voluntarily eradicated their coca without replanting, the government has failed to fulfill its subsidy promises.
Forced and voluntary eradication find commonality in the loss of human life: More than 1,500 social leaders in communities that agreed to crop substitution reportedly have been killed since the 2016 accords. Security forces have been targeted in forced eradication operations. Armed drug trafficking organizations dominate remote areas where coca is grown and have developed sophisticated processes for transportation and processing.
What the United States and Colombia can do together
It is natural that Colombia and the United States view this issue somewhat differently, given the different ways the drug industry has impacted each country. Colombia's leaders are foremost concerned with investing in communities that are currently under the control of drug trafficking groups and need help shifting away from the illicit trade. They are also seeking alternatives to the harmful public health and environmental effects of chemical crop eradication. At the same time, there are questions over how the Petro administration will leverage the necessary infrastructure to conduct large-scale crop substitution, both in terms of funding and implementation capacity. Cocaine markets and criminal groups are rapidly evolving, increasing pressure for forceful and direct action.
Clearly, funding will be a challenge. Colombian Minister of Justice Néstor Osuna has indicated that crop substitution alone would require five billion dollars in investments. This does not account for the drug strategy's other initiatives in security, public health, environmental conservation, and infrastructure. Yet if the funding materializes, it may provide an important opportunity to address issues such as environmental protection and increasing the visibility of marginalized groups.
For the United States, what is most important is that a prolonged influx of drugs from Colombia has devastated US communities and created a public health crisis. The cocaine industry also brings with it a number of transnational criminal organizations that have consistently found ways to evolve, break into new markets, and exploit ground, sea, and air routes to avoid security forces. Many US policymakers view security-centered policies, particularly eradication, as essential to curbing the increase in coca leaf and cocaine production.
With Congress currently debating how much to set aside for economic and security assistance to Colombia in 2024, and even whether to set aside funding, there is likely to be turbulence ahead for the US-Colombia relationship. But in spite of differences between and within the US and Colombian governments on how to address the coca issue, there are a number of areas where the two countries' interests overlap. Both countries understand the changing nature of transnational trafficking networks and have committed to strengthening interdiction efforts. There is also consensus on the need to increase state presence in rural communities in Colombia to provide the necessary security conditions for families to transition to the legal economy. Further, both countries understand the link between demand and consumption and have underscored the necessity of addressing the narcotics issue from both ends. And in the April 2023 meeting between Biden and Petro, both leaders displayed a shared commitment to combatting climate change and preserving the Amazon, which could aid in counternarcotics discussions linked to environmental conservation.
Going forward, for example, the United States and Colombia could focus more on resource allocation to protect critical forest areas and restore those damaged by illicit crop cultivation. They could also support the efforts of Afro-Colombian and indigenous communities in promoting leadership and community participation, which has been shown to be an effective deterrent to the expansion of illegal coca crops. These and other policies are opportunities to reinvigorate US-Colombia coordination to take on this scourge that has caused so much pain and suffering in both countries.
---
Lucie Kneip is a project assistant at the Atlantic Council's Adrienne Arsht Latin America Center.
Geoff Ramsey is a senior fellow at the Adrienne Arsht Latin America Center.
Further reading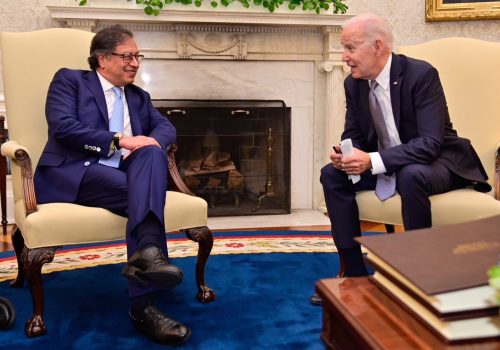 Fri, Apr 21, 2023
New Atlanticist By Atlantic Council experts
The two countries find themselves at odds on counternarcotics policy, but in synch on climate. Our experts break down the presidents' Oval Office meeting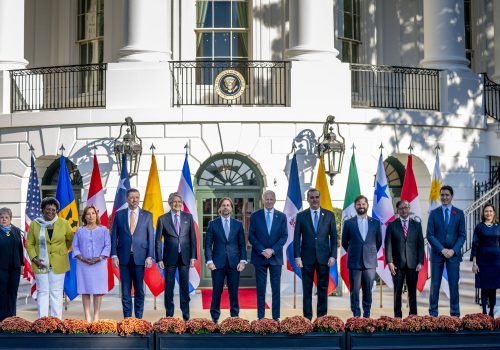 Fri, Nov 10, 2023
New Atlanticist By Jason Marczak, Martin Cassinelli
The White House's promises at the November 3 summit should be followed up with trade integration efforts, investment goals, and an expansion of the countries involved.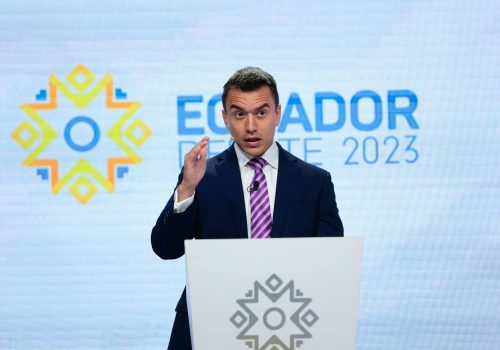 Mon, Oct 16, 2023
New Atlanticist By Atlantic Council experts
On October 15, Noboa was elected Ecuador's next president, beating out Luisa González, a protégé of former President Rafael Correa.