Why Pakistan must side with Ukraine over Russia
When Russia's illegal invasion of Ukraine began in early 2022, many did not anticipate that the courage and tenacity of the Ukrainian people would be able to hold out against Russian President Vladimir Putin, let alone put his regime on the defensive. But as the Ukrainians dug in and the democratic world rallied to their defense, Russia quickly realized that its revisionist goals would be thwarted, its economy would be cut off from much of the world, and its stature as a global power would suffer. A year and a half after the full-scale invasion began, Ukrainian President Volodymyr Zelenskyy came to New York for the United Nations General Assembly session, a clear signal that Ukraine, not Russia, is succeeding in this conflict.
Far away in South Asia, the war has also had an impact. Then-Pakistani Prime Minister Imran Khan was infamously touching down in Moscow as the invasion began on February 24, 2022. He was unable to hide his excitement on the tarmac, blurting out, "What a time I have come, so much excitement." Weeks after this trip, Khan would be ousted from power in a contentious vote of no confidence in parliament. He blamed his removal on the machinations of the United States, which, according to Khan, conspired to oust him. Many in Khan's party have claimed that his more independent foreign policy, including his message in June 2021 of "absolutely not" to allowing the United States to use bases on Pakistani territory for operations in Afghanistan, opened the door for Pakistan's army chief to collude with Washington to remove his government. The result among many Pakistanis is a reflexive aversion to anything the United States supports.
But that conspiracy theory has prevented another, more important conversation from occurring in Pakistan: that Islamabad should unequivocally stand with the people of Ukraine. This should be the country's position not because it will unlock increased Western assistance or provide a lifeline in the form of the inflow of US dollars, but because it is in Pakistan's national security interest to stand with Ukraine.
A world in which Putin's illegal invasion of Ukraine leads to a successful change of borders by force is a world in which Pakistan would be extremely insecure.
The reason why Islamabad should take this position is quite simple: Pakistan will face an existential threat should Putin succeed in Ukraine because Islamabad has a major stake in the international norms of sovereignty and territorial integrity as a means of protecting itself in the future. Since its founding, many in the region and beyond have argued that Pakistan is a country that should never have existed. After all, the territory that now makes up Pakistan had historically been part of entities that one could say were part of the Indian, Persian, or Afghan empires.
A world in which Putin's illegal invasion of Ukraine leads to a successful change of borders by force is a world in which Pakistan would be extremely insecure. If one major power can invade and wipe out the borders of a smaller, neighboring country in Europe, then what is to prevent others around the world from having similar ideas?
For Pakistan, this new world where borders can be wiped out simply by brute force would be a very dangerous place, especially because of the growing polarization and economic dysfunction within the country. As a result, the space for those who want to stoke division, discontent, and the eventual dissolution of Pakistan would only grow.
Pakistan's elites must break from their reflexive anti-Americanism, which has fed into the country's ongoing neutrality on Russia's invasion of Ukraine.
By standing with Ukraine today, in a public and forceful manner, Pakistan can buy itself an insurance policy underwritten not only by Western states, but also by other like-minded countries such as Japan that have rallied to Ukraine's cause. As a result, Pakistan would be seen as a friend who helped protect a prized international norm and avert Putin's victory. And should Pakistan face a situation similar to that of Ukraine, it can rally the world to its cause based on its own past conduct in support of a country resisting invasion, occupation, and eventual dissolution.
In short, staying neutral in the current context is folly. It risks Pakistan's own security and sovereignty in the long run.
Pakistan's elites must break from their reflexive anti-Americanism, which has fed into the country's ongoing neutrality on Russia's invasion of Ukraine. They must also inform Pakistanis as to why they must stand with Ukraine. A core component of this engagement must make citizens aware of the threats they will face from revisionist ideologies if the norm of territorial integrity is overturned and if Putin achieves his objectives.
In addition, many Pakistanis would be surprised to learn that Pakistan and Ukraine have a longstanding economic and defense relationship, one that is critical to Pakistan's own national security. For example, Ukraine is a provider of engines to Pakistan's armored tanks, a relationship that goes back decades; almost 40 percent of Pakistan's wheat imports in 2021 came from Ukraine, a critical lifeline that guarantees food security.
It is also worth noting that Pakistan may already be supporting Ukraine in a small way. Almost five hundred million dollars of arms and ammunition have been exported from Pakistan since February 2022, according to data on the State Bank of Pakistan's website. Reports suggest that some of these arms and ammunition are ending up in Ukraine, if not directly from Pakistan, then through a third party. However, Pakistan's ruling elites have hesitated to own up to any support for this critical defense partner in its time of need.
At the same time, it is important for Pakistani people to be told plainly and clearly that Russia is neither a strategic defense partner nor an important trading country. Data provided by the State Bank of Pakistan show that the country has exported less than three billion dollars of goods to Russia since July 2003; by comparison, the country's exports to the United States, Germany, United Kingdom, and Japan during the same period stand at almost $140 billion. Standing in solidarity with key trading partners, especially at a time when Pakistan needs to maintain these sources of export earnings, is simply good national security policy.
Making the argument that Pakistan should stand firmly with Ukraine is a rather unpopular position to take in today's polarized environment in Pakistan. This has been compounded by the conspiracy theory that the United States played a key role in undermining Pakistan's democracy. Pakistan's elites must look at the evolving global situation pragmatically and recognize that a strong Ukraine that defeats Russia is in their country's interest. At the same time, it is critical that Washington use whatever leverage it has to ensure that Pakistan has timely, free, and fair elections in the coming weeks.
---
Uzair Younus is the director of the Pakistan Initiative at the Atlantic Council's South Asia Center.
Further reading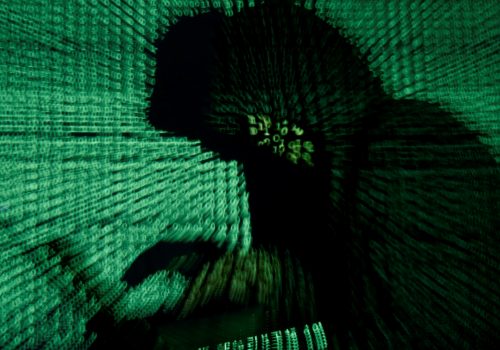 Mon, Oct 3, 2022
Report By Hamna Tariq and Uzair Younus
A tightening global macro environment coupled with increasing domestic political instability is a cause of concern for the sector, especially the domestic startup economy.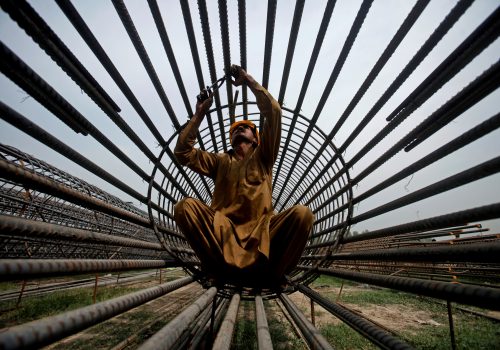 Mon, Aug 28, 2023
New Atlanticist By Ammar Habib Khan
Islamabad must utilize unconventional tools to mobilize local private capital and reallocate it toward infrastructure development.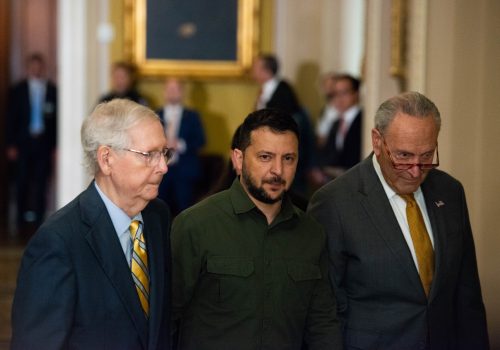 Thu, Sep 21, 2023
New Atlanticist By Atlantic Council experts
The Ukrainian president faces shifting winds in Congress as he visited Capitol Hill and the White House on Thursday. Our experts break down what's next.