The NATO Summit in Vilnius starting on July 11 will mark milestones in several strategic processes of vital importance to the Alliance. These include assessing progress on the Strategic Concept adopted in Madrid last year, recognizing Finland's successful accession, debating the path forward on Ukraine's application, and consideration of the end game towards Swedish membership. A long-awaited deal for the United States to sell F-16 fighter jets to Turkey is also on the table in Vilnius, but it's about much more than unlocking Sweden's accession: It is a puzzle piece in a broader strategic calculation about Ankara's role in NATO's Southeast.
At the 2022 summit, Finland and Sweden signed a trilateral Memorandum of Understanding outlining a path for accession through progress on Turkey's security concerns. After Finland officially became a member country on April 4, 2023, the United States and other NATO member countries started to exert pressure on Turkey to accelerate approval for Sweden prior to the Vilnius summit. Sweden, with two hundred years of military non-alignment, and Finland, neutral throughout the Cold War, applied for membership only after the full-scale Russian invasion of Ukraine in February last year. Enhancing Ukraine's security is high on the agenda at the NATO Summit, necessitating attention to direct support for Ukraine's defense, Alliance enlargement, and effective cooperation in the Black Sea region.
For Ankara the primary consideration in approving Sweden is tougher enforcement of counter-terror laws against the Kurdistan Workers' Party (PKK), an internationally recognized terrorist group, and its offshoots. Washington has dangled possible approval of Turkey's proposed purchase of F-16 fighter jets and upgrade kits in attempts to influence Ankara's calculation. Ankara, which is a long-time F-16 producer and user, desires reasonable compensation for its earlier expulsion from the F-35 program, after it went ahead with the purchase of Russia's S-400 missile defense system which also led to the imposition of US sanctions under the Countering America's Adversaries Through Sanctions Act (CAATSA). Both the United States and Turkey see Turkish air power as a NATO anchor in the Black Sea region.
Securing the Black Sea
Alongside Romania and Bulgaria, Turkey is the largest of three NATO member countries in the Black Sea region and controls access to it under the Montreux Convention. With the Alliance's second largest military and unique geographic positioning, Turkey has been a crucial player in the Russia-Ukraine war both diplomatically and militarily. Turkey has managed to maintain trade and diplomatic ties with Russia while providing vigorous support to Ukraine's defense, and it has built a record of frustrating Russian military ventures in Libya, Syria, and Nagorno-Karabakh.
Securing NATO's interests in the Black Sea depends on a strong Turkey. Ukraine understands this, leading its officials to consider Turkey as one of the few potential security guarantor countries.
Turkey has provided support to NATO maritime operations in the Mediterranean and Black Sea regions, and most recently agreed to sell Bayraktar drones to Romania. Yet Turkey's ability to deter Russia depends in part on the health of its F-16 fleet—the third largest in the world but feeling its age. Ankara's request for forty new F-16s and upgrade packages for its seventy-nine existing fighters to sustain its air capabilities has made little headway over the past two years, and members of the US Congress have added Swedish accession as a new condition to the frozen sale. At the same time, many members of Congress have indicated that Turkey agreeing to Sweden's accession will not be enough for them to approve Ankara's F-16 request.
Ironically, Turkey is not an ordinary F-16 buyer. It has been an important F-16 manufacturer through Turkish Aerospace Industries (TUSAŞ) established in 1984, according to the company, as a "Turkish-U.S. joint investment company to carry out the manufacture of F-16 aircraft, integration of on-board systems and flight tests" following the initial Turkish decision to acquire F-16s. Working with US defense giants such as General Dynamics, Lockheed Martin, and General Electric, TUSAŞ manufactured and tested almost all of the Turkish F-16 fleet—nearly three hundred aircraft in various configurations.
Additionally, TUSAŞ produced forty-six F-16s for the Egyptian Air Force between 1993 and 1995, and helped modernize the F-16 fleet of the Royal Jordanian Air Force. In short, Turkey has been a critical partner in the F-16 program for decades—and a further sale remains in the mutual interest of Ankara, Washington, and NATO.
A de facto arms embargo?
In February 2023, the US Senate NATO Observer Group co-chairs, Senators Jeanne Shaheen (D-NH) and Thom Tillis (R-NC), presented a bipartisan letter to President Joe Biden requesting that "F-16 fighter jet sales to Türkiye should not begin until the NATO protocols [for Finland and Sweden] are ratified." This followed, according to a report in Defense News, multiple congressional holds of US arms sales to Turkey starting in 2018 or earlier.
Turkey has not added any new F-16s to its inventory since 2012 as the country was expecting to receive more than one hundred F-35 jets, for which it has already paid $1.4 billion. After Turkey's removal from the F-35 program in March 2020, Ankara requested F-16s in exchange for the amount it had already paid.
The Turkish Presidency of Defense Industries also remains sanctioned by the United States under CAATSA. There has been a sustained campaign by congressional opponents of Turkey to deny major new arms sales to Ankara, spearheaded by the Hellenic and Armenian caucuses. Ironically, 1970s-era congressional sanctions against arms sales to Turkey catalyzed the drive for defense industrial autonomy that drove Turkey's rise as a defense exporter. The ongoing replay of similar resistance from the US Congress is only reinforcing Turkey's view that the United States is not a reliable arms provider in the long run. The resulting drive for self-sufficiency has increased the domestic share of Turkish defense production from roughly 20 percent to 80 percent and established the Turkish arms industry as a major international player.
Defense industrial decoupling
Consequently, Turkey has dropped from the seventh-largest US arms importer between 2013-17 to the twenty-seventh largest between 2018-2022. Meanwhile, Turkey's defense exports skyrocketed by 69 percent during the same period, making the country the twelfth largest exporter of arms globally. In 2022, it set a new arms export record of $4.3 billion—an increase of nearly 37 percent from the previous year.
In order to produce a national fighter aircraft that can replace the aging F-16, the Turkish Presidency of Defense Industries signed a contract with TUSAŞ in 2016 to develop the fifth-generation National Combat Aircraft. The first successful taxi test of the prototype was completed in March this year, and it is expected that the first Kaan (previously known as the TF-X) will join the Turkish air force by 2030.
In the medium to long term, defense industrial decoupling of Turkey from the United States would seem to suit both sides. Ankara will be free from the strings that come with US systems, and Congress will be able to satisfy select constituencies that it is not complicit in Turkish military actions. Bilateral relations can move on to happier and less complicated storylines—like the drive towards one hundred billion dollars in bilateral trade. Turkey will continue to partner with countries with a more streamlined defense cooperation model, such as the United Kingdom and Ukraine.
In the short term, a deal on F-16s could restore a modicum of mutual trust, meet the needs of the Alliance, and close the chapter of US-Turkish defense cooperation on a positive note. For those reasons, far more than to spur Swedish accession, US and Turkish leaders continue to push for progress.
Approval of Swedish accession before the Vilnius Summit is unlikely not because of F-16 haggling, but due to the early stage of implementation of Sweden's new counter-terror laws. The arrest and conviction of a PKK financier in Stockholm in early July, a first of its kind under Sweden's newly strengthened anti-terror laws, could mark a new phase of progress. It is unlikely that enough can be done in a few days to conclude the process. More likely, and encouraging nonetheless, would be positive signals out of the summit that real progress is being made: in counter-terror implementation, in F-16 talks, and in eventual Swedish accession. Vilnius probably will not mark the completion of these processes, but it could mark the start of a decisive and positive stage toward their conclusion.
---
Rich Outzen is a geopolitical consultant and nonresident senior fellow at the Atlantic Council IN TURKEY with thirty-two years of government service both in uniform and as a civilian. Follow him on Twitter @RichOutzen.
Pınar Dost is a historian of international relations with a PhD dissertation on the history of US-Turkey relations (Sciences Po Paris). Follow her on Twitter @pdosting.
Further reading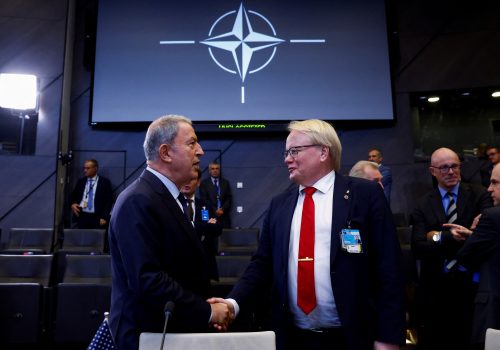 Tue, Apr 4, 2023
TURKEYSource By Grady Wilson, Pınar Dost
Turkey is not yet ready to greenlight Sweden's NATO accession but significant progress has been made. Here's a possible outline of a compromise.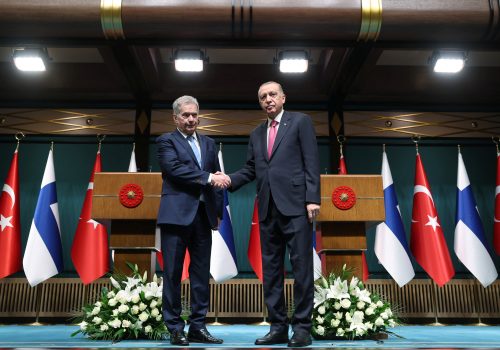 Sat, Mar 18, 2023
New Atlanticist By Atlantic Council experts
After Turkish President Recep Tayyip Erdogan said he would approve of Finland's membership in NATO, our experts break down what's next.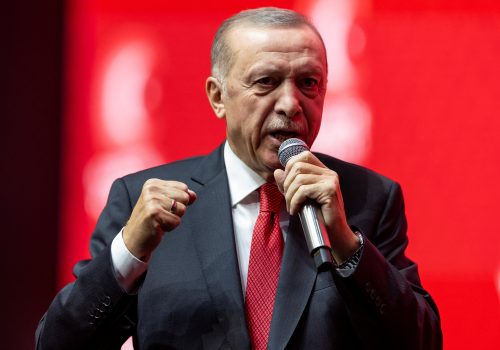 Fri, Jan 27, 2023
New Atlanticist By Rich Outzen
Turkey likely will still approve Sweden's bid for NATO membership, but not until summer and only after President Recep Tayyip Erdogan gets more cooperation against the PKK.