Turkey continues to impose conditions on Swedish and Finnish accession to NATO, clearly irritating Western officials and commentators and causing a renewed kerfuffle around Turkey's role within NATO. Turkish presidential advisor Ibrahim Kalın said earlier this month that this round of Alliance enlargement is unlikely to conclude before the Turkish elections on May 14. On Monday, Turkish President Recep Tayyip Erdoğan warned Sweden not to "expect benevolence from us on NATO accession." His comment comes after several anti-Turkish provocations in Sweden, including demonstrations of support for the Kurdistan Workers' Party (PKK) terror organization, the burning of a Quran in front of the Turkish embassy, and the mock execution of an Erdoğan effigy.
Some of the Western concern could be attributed to mistranslation: Erdoğan did not rule out "support" of Sweden's accession, as much of the Western press reported. "Destek" is support, and his word choice ("hayirhahlik") is best translated as benevolence or goodwill—a little more nuanced than ruling out support. Also absent from the current round of accession reporting has been the fact that Erdoğan similarly ruled out support last May, but subsequently approved the start of talks after obtaining negotiated concessions on key concerns. This week's flare-up is another twist in a winding road that is likely to end with NATO enlargement—just not until this summer, at least.
Yet Turkish skepticism on the current applicants—primarily Sweden—does not derive from visceral reaction to public provocations. Nor, for that matter, does it derive from sheer electoral calculation, anti-free speech sentiment, or paranoid overreaction by Ankara to normal Swedish politics. NATO Secretary General Jens Stoltenberg and US Secretary of State Antony Blinken have both acknowledged Ankara's PKK concerns as real and legitimate. With over 90 percent of Turks opposing Swedish accession at present, it is hard to see why the Turkish government would miss the opportunity to nail down greater Nordic cooperation against a terrorist group it considers to be a threat to Turkish unity.
Getting the memo
One of the bright spots in the accession process so far has been agreement between the Turkish, Finnish, and Swedish governments on a Trilateral Memorandum outlining the path to approval. Signed in June, the ten-point memorandum outlines a Permanent Joint Mechanism to track progress, assures ultimate Turkish support for accession, and requires (in paragraph eight) concrete steps by the applicants to support Turkish security efforts. Some steps have been taken. For example, anti-terrorism provisions in the Swedish constitution have been strengthened, the arms embargo imposed in 2019 has been lifted, and at least one terror suspect has been extradited. But Stockholm's progress has not met the minimum expectations in Ankara, which wants more and faster extraditions, as well as action against public pro-PKK activities. With accession the sole lever for gains in Sweden's counter-PKK efforts, the Turks will not approve accession without more substantive progress.
Sweden says it cannot do all the things demanded by Turkey, memorandum notwithstanding. A key point of difference is Sweden's disinclination to quickly extradite some 130 terror suspects believed by Ankara to have PKK links and to have supported the bloody failed coup of July 15, 2016. Recent legal reforms will enable more effective Swedish action against the PKK, but have yet to produce much yet in the way of tangible results, and likely will bring only limited extraditions. Results may improve over time on broader counter-PKK cooperation from Ankara's perspective—and the Turks understand they will not get all the extraditions they want—but one major sticking point remains: the PKK affiliate in Syria known as the People's Defense Units (YPG).
The current impasse is as much about Syria as Stockholm. Paragraph five of the Trilateral Memorandum committed the applicants to treat all "affiliates" of the PKK as PKK. The previous Swedish government relied on crucial support* from a vocal pro-PKK politician, and provided up to $376 million in support to the "autonomous administration of northeast Syria" run by PKK affiliates that also get support from the United States for the common fight against the Islamic State of Iraq and al-Sham (ISIS). The conservative Swedish government that took over in October 2022 committed not to support groups considered to be terrorists by Ankara, but it has not taken definitive steps in cutting off support to the autonomous administration.
What to watch next
Turkey continues to favor NATO enlargement—for Ukraine and Georgia as well as Finland and ultimately Sweden—but needs more concrete action on Syria, as well as on anti-Turkish activity within Sweden. Given the atmosphere in Turkey and Sweden created by the recent provocations, further tripartite meetings have been placed on hold. Yet Erdoğan indicated after a late January Turkish National Security Council meeting that progress remains possible, pending steps toward Swedish and Finnish fulfillment of the memorandum. Turkey seems intent on keeping up the pressure to get satisfaction on key concerns, without entirely derailing the process.
Meanwhile, Finland may seek to join the Alliance separately at some point, having heretofore linked its own less-disputed accession to that of its neighbor. The Turks consider Finland more committed to security cooperation against the PKK and could force the issue by approving only Finland's accession and not Sweden's. In any case, NATO will help protect Finland and Sweden during the application process, and Moscow certainly has its hands full in Ukraine.
Turkish elections loom large in the current impasse. PKK supporters say they are using protests to "sabotage" NATO enlargement, prevent Turco-Swedish rapprochement, and damage Erdoğan politically prior to the elections. This political warfare is supplemented by Erdoğan opponents in the West, who dismiss Turkish security concerns and amplify narratives that Turkey does not belong in NATO anyway. Only after the election—whether Erdoğan or the opposition wins—are consultations and progress likely to resume. Suspended talks under the Permanent Joint Mechanism will resume, Swedish anti-terror laws will have been in effect longer, and Stockholm will have a chance to refine its northeast Syria policy in a manner less directly supportive of PKK-affiliate organizations. In other words, after the election, the more mundane process of Sweden meeting Turkish red lines in exchange for ultimate approval will resume. Progress is unlikely to be easy or quick, but given the mutual advantages to be had for Sweden, NATO, and Turkey, it will likely result in ultimate approval of enlargement.
Ultimately, aspiring members have to take Ankara's security demands seriously, and Ankara has a strategic obligation to strengthen and build out the Atlantic alliance. Frustration is evident on both sides at present. The strongest grounds for confidence may be that Ankara truly does benefit from a bigger and stronger NATO, given its many complicated bilateral relations with Western countries and disappointments with stalled European Union accession. Turkey's critical role in a large, strong NATO is its strongest strategic guarantee. That is why Ankara will opt in the end to approve enlargement, albeit on terms that meet its security red lines.
---
Rich Outzen is a geopolitical consultant and nonresident senior fellow at the Atlantic Council IN TURKEY with thirty-two years of government service both in uniform and as a civilian. Follow him on Twitter @RichOutzen.
Correction: A previous version of this article incorrectly stated that the previous Swedish government included a pro-PKK politician. That politician was in parliament and supportive of the government, but was not in government.
Further reading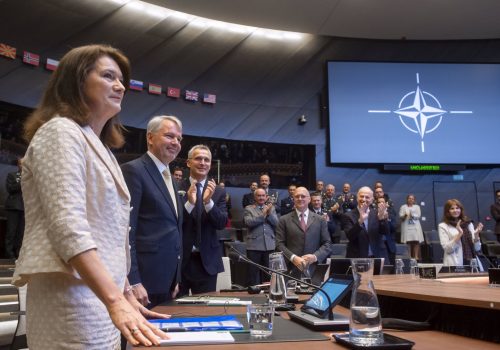 Mon, Aug 8, 2022
New Atlanticist By Atlantic Council experts
With this tracker, the Atlantic Council team is keeping tabs on the countries that have ratified the amended NATO treaty—and handicapping the political prospects for ratification in the rest.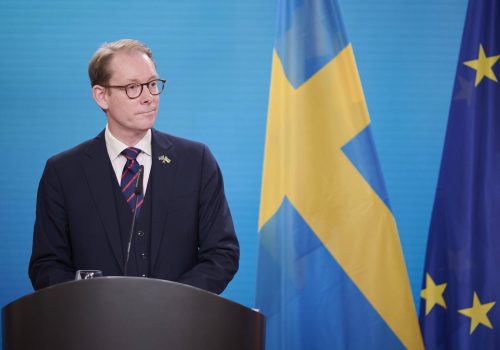 Wed, Dec 7, 2022
New Atlanticist By Katherine Walla
Swedish Minister of Foreign Affairs Tobias Billström explained Wednesday at an Atlantic Council Front Page event that the EU needs strengthening on several fronts to face the challenges ahead.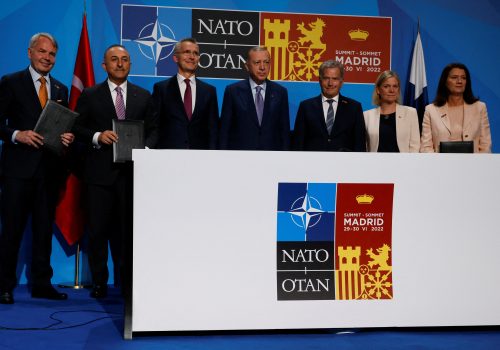 Fri, Jul 1, 2022
TURKEYSource By Atlantic Council IN TURKEY
Atlantic Council IN TURKEY asks experts for their perspectives on the Turkey's agreement with Sweden and Finland to proceed with NATO accession.