Experts react: Turkey moves to approve Finland's NATO membership. Where does that leave Sweden?
On Friday, Turkish President Recep Tayyip Erdogan welcomed Finnish President Sauli Niinistö to Ankara and announced that he would move to ratify NATO accession for Finland in the coming weeks. But nearly one year after Sweden and Finland's joint decision to join the Alliance, that leaves Sweden out in the cold, amid an ongoing dispute over Stockholm's approach to the Kurdistan Workers Party (PKK), an internationally designated terrorist group that opposes the Turkish government. Will these potential allies have to join NATO separately? What's the thinking in Stockholm, Helsinki, and Ankara right now? Below, our experts give the lay of the land.
Anna Wieslander: Turkey's delays only benefit Russia
Rich Outzen: Erdogan proves his NATO stance is about counterterrorism, not electioneering
Christopher Skaluba: Finland's all-business approach pays off
Rasmus Hindrén: Finland won't postpone its process, but cooperation with Sweden will remain strong
Turkey's delays only benefit Russia
Erdogan´s move to only ratify Finland goes against the wish of those twenty-eight allies that have already ratified both Sweden and Finland—together, as it was intended. Turkey creates a wedge in NATO that mainly serves the interest of Russia, which benefits from a fragmented and unfulfilled security architecture in Europe.
Sweden's status as an invitee means that defense and political integration into the Alliance is ongoing, and interestingly enough, Turkey is not blocking it. In addition, several allies have already given bilateral security assurances. Hence, in the short term, the decoupling is less worrisome.
However, if it drags out for long, beyond the NATO Summit in July in Vilnius, Lithuania, the risk is that the process loses momentum, and Sweden is left in limbo. This would undermine long-term efforts and investments in collective deterrence and defense. It would also make the Alliance appear politically weaker and fragmented.
Therefore, it is important that from now to the Vilnius summit, those allies that have ratified Sweden's accession put pressure on Turkey to do the same. The United States is of course vital and the F-16 deal could be an important component, but also the United Kingdom, Germany, and Spain have close relationships with Turkey and could be more active than they have been so far. In the end, Erdogan knows that having both Sweden and Finland inside of NATO benefits the security of all allies.
—Anna Wieslander is the Atlantic Council's director for Northern Europe and a former official at the Swedish Defence Ministry and Swedish Parliament. 
Erdogan proves his NATO stance is about counterterrorism, not electioneering
Erdogan's decision to recommend approval by the Turkish parliament of Finland's NATO accession prior to an upcoming parliamentary recess highlighted Niinistö's visit to Ankara and marks an important milestone both for the Alliance and for Turkish efforts to coax Europe into closer cooperation against the PKK, a US- and European Union-designated terror organization. The decision brightens prospects that NATO will admit Finland by the Vilnius summit in July, adding a defensive bulwark along Russia's northern border. It also demonstrates that Ankara's approval depends on concrete counter-terror cooperation, rather than simple obstinance or electioneering. (If Erdogan is mugging for votes by delaying Sweden, is he sabotaging electoral prospects by moving Finland forward?)
Erdogan's comments on Friday indicate that progress for one aspiring member does not assure progress for the other. Sweden has yet to fully implement new counter-terror legislation that comes into effect on June 1, and in Erdogan's words "has opened its arms" far more than Finland ever did to the PKK and other anti-Turkish groups. The foreign ministers of Turkey and Sweden reportedly spoke Friday, though, and will meet again soon to assess progress. The timeline for Swedish accession will be longer than it was for Finland—far more likely months or years rather than weeks. Until PKK membership, fundraising, and propaganda action are curtailed (currently only violent acts by members of a terror organization are criminalized) in Sweden, the celebratory Niinistö visit is unlikely to be reprised by his Swedish counterpart.
—Rich Outzen is a nonresident senior fellow at the Atlantic Council IN TURKEY and former military and civilian adviser in the US State Department.
Finland's all-business approach pays off
Three immediate thoughts come to mind in hearing that Turkey is readying to ratify Finland's application for NATO membership without Sweden.
First, it reaffirms Helsinki's all-business approach to NATO membership. Finland's long border with Russia paired with memories of the Soviet-Finnish Winter War makes joining NATO a national security consideration that trumps even solidarity with its close neighbor. For sure, it's possible that Sweden 'catches up' to Finland and they formally achieve membership together by NATO's Vilnius Summit in July. But the drive for NATO membership has been Finnish-led from the onset of Russia's February 2022 invasion of Ukraine, and Helsinki's calculus remains the same.
Second, with Finland's ratification all but settled, finding solutions to the problems between Stockholm and Ankara becomes more likely. The set of issues that needs to be addressed is more defined, and the energy and attention of all the major stakeholders—Sweden, Turkey, NATO, and the United States—can be focused on addressing them. Erdogan is signaling to Stockholm that he can be persuaded and a key concession—or the perception of one—that advances Erdogan's domestic political standing could break the impasse. Finland has given Sweden a roadmap.
Third, a delay in Swedish membership likely matters very little for practical purposes. Should a crisis erupt in the Baltic Sea region, Sweden could operate seamlessly alongside NATO allies. Informal workarounds would be needed for NATO to operate from Swedish territory or vice-versa, but it is likely such protocols have already been worked out and exercised. While having Sweden inside NATO will be more efficient for decision-making and operational purposes, Sweden's cooperation with NATO in a crisis would be robust and effective regardless.
—Christopher Skaluba is the director of the Scowcroft Center's Transatlantic Security Initiative and former principal director for European and NATO policy at the US Defense Department.
Finland won't postpone its accession, but cooperation with Sweden will remain strong
On Wednesday, Niinistö announced that he would travel to Ankara to meet with Erdogan. The message was that Erdogan is ready to "deliver on his promise," namely to ratify Finland's accession to NATO. While the ratification wasn't a done deal then and it still isn't now, it has been crystal clear since Wednesday that Niinistö wouldn't travel to Ankara to be snubbed. That would have been a humiliation of the highest order and would have raised new questions about the rationality of Turkey's strategy and its viability as a partner. 
With Friday's announcements, Turkey is seemingly ready to ratify Finland's accession to NATO. Interestingly, the decision by Turkey seems to not have been accompanied by any last-minute negotiations or horse-trading of any kind.
However, for Finland there is still the matter of Hungary, which is the other country that has yet to ratify. After the news from Ankara, Hungary will likely also move swiftly ahead with its ratification process, which has been postponed several times since last fall.
Meanwhile, Sweden's accession process remains stalled. Both Hungary and Turkey have indicated that they will ratify only Finland and not Sweden. This means that Hungary and Turkey would be able to showcase a more constructive approach and stave off some criticism while at the same time continuing to hold certain cards in their hands.
This is bad news for Sweden, but it is bad news also for defense planning and broader security architecture in the Nordic region. Without Sweden, there will be a crucial part of the puzzle missing. More importantly, in times when unity is perhaps the key value in Europe, this decoupling shows how easily cracks can form.
Finland wanted to join together with Sweden. While still theoretically possible, it is starting to look highly unlikely. The situation has been painful for Finnish politicians, but they are not willing to postpone Finland's process. Crucially, there has been extremely close dialogue between the Finns and Swedes so that neither one will feel blindsided. In the near future, assuming that Finland's own process moves ahead smoothly, it will increase its efforts to support Swedish accession. Their bilateral cooperation will remain strong regardless of what happens.
—Rasmus Hindrén is a nonresident senior fellow at the Transatlantic Security Initiative and former deputy head of unit for defense cooperation at the Ministry of Defense of Finland.
Further reading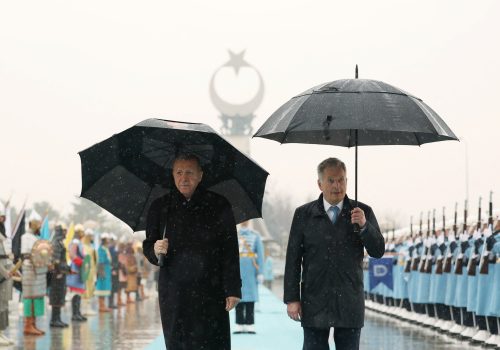 Fri, Mar 17, 2023
Fast Thinking By Atlantic Council
After Turkish President Recep Tayyip Erdogan said he would push Finland's NATO accession without Sweden, our world-class experts explore what's next.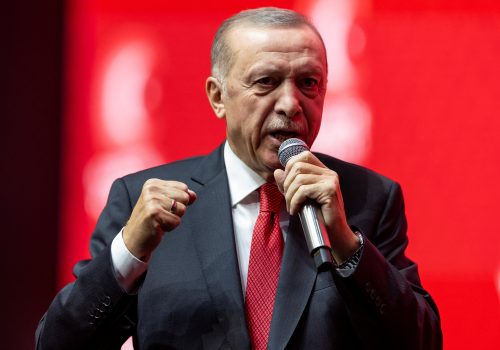 Fri, Jan 27, 2023
New Atlanticist By Rich Outzen
Turkey likely will still approve Sweden's bid for NATO membership, but not until summer and only after President Recep Tayyip Erdogan gets more cooperation against the PKK.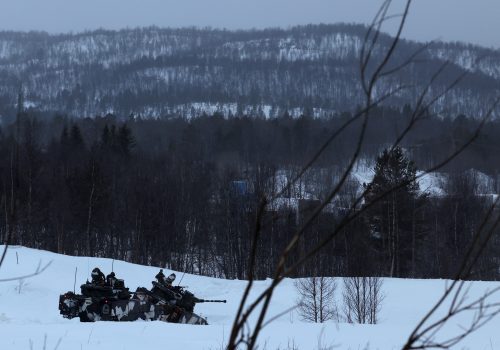 Tue, Feb 7, 2023
New Atlanticist By Eric Adamson and Minna Ålander
Finland proceeding without Sweden should be a last resort because of all the strategic and logistical difficulties it would create.