Central Asia—consisting of Kazakhstan, Uzbekistan, Kyrgyzstan, Tajikistan, and Turkmenistan—occupies a crucial place in the global landscape: its location at the crossroads of Russia, Iran, and China; its energy resources; and its vast economic potential make it a critical region for US interests.
Despite its efforts, the United States has thus far been unable to establish a significant presence in the region. There are ways that Washington could ramp up its direct engagement with the region to a certain degree, for instance by using the C5+1 vehicle—an annual meeting of the US secretary of state with the five Central Asian foreign ministers—to promote regional integration.
But the United States could also ramp up its engagement by working with partners who share its interests in Central Asia. One such partner is Turkey, which has robust cultural, historical, and economic connections with the region. The United States should work to promote Turkey's presence in Central Asia, helping to set up Ankara as a primary trade, energy, and security partner. Deepening Turkish-Central Asian ties can help the United States gain a strategic advantage over China, Iran, and Russia in the region and diversify the Central Asian republics' economic partnerships, preventing them from becoming overly dependent on US adversaries.
Why Turkey?
Russia, China, and Iran possess distinct advantages that give them an edge over the United States in the region: their proximity and long history of interaction. China has an edge as the primary economic partner for Central Asia. Russia plays a major role in security and its media enjoys extensive coverage and influence in the region. Recently, Iran has shown interest in filling the power vacuum in the region resulting from the ongoing war in Ukraine. However, because of the war in Ukraine, most Central Asian countries are now seeking to distance themselves from Russia and broaden their horizons by forging new partnerships. Kazakhstan, Uzbekistan, and Kyrgyzstan especially are seeking more cooperation with the West and Turkey. (Tajikistan and Turkmenistan are less active in this regard, though no Central Asian state has shown support for Russia's invasion of Ukraine.) That shift is being fueled by these countries' concerns over their own security, a desire to avoid negative repercussions from the sanctions imposed on Russia, and concerns about Russia's reputation on the world stage.
At this pivotal moment, Turkey is the US ally best suited to offset the influence of US rivals in Central Asian states by expanding its ties to the region. First, as a NATO ally, Turkey shares security concerns with the United States, including common interests in preventing the spread of terrorism and preserving European security. Second, Turkey possesses important historical and cultural links to the region. A shared Soviet past, Sunni Islam religious practice, and Turkic ethnic and language groups are Central Asia's three primary sources of identity. Improved cooperation between Turkey and the Central Asia region will naturally bring more focus to the common Turkic identity, help Turkey get its foot in the door of the region, offer a strong alternative to the still substantial Russian influence there, and increase pressure on Chinese leadership for the treatment of the Uyghur people (who are Turkic-speaking).
There is great potential to improve relations between Turkey and Central Asia since both sides are interested in becoming more connected. Turkey's current economic situation compels it to seek more connections, while Central Asian countries are interested in having more access to Western markets. Turkey seeks to diversify its own energy sources and become a global energy hub, while Central Asia is interested in diversifying its energy import and export routes. In terms of security, while Turkey is interested in exporting weapons, especially drones, the security concern caused by the war in Ukraine has led Central Asian countries to diversify away from their heavy reliance on Russian military support. The United States can capitalize on this mutual interest to strengthen Turkish-Central Asian ties and get the upper hand over its rivals in the region.
How the United States can help
The United States should work with the Organization of Turkic States (which includes Turkey, Azerbaijan, Kazakhstan, Uzbekistan, and Kyrgyzstan) to expand the existing economic partnerships between Turkey and Central Asia. While Turkey also has robust trade relations with non-member states Turkmenistan and Tajikistan, at least in the near future, Uzbekistan and Kazakhstan will be the most active players in cooperation with Turkey. Therefore, working within the Organization of Turkic States will allow Turkey to bolster ties with the region's key players. The primary objective of this partnership would be to develop the Middle Corridor, a trade route that would connect Central Asia to Europe via the Caspian Sea. The ongoing war in Ukraine has accentuated the importance of the Middle Corridor and the need for robust transregional economic cooperation to guarantee Central Asia's continued development and prosperity. Uzbekistan and Kazakhstan have made efforts in recent years to expand their trade relations with Turkey via the Middle Corridor. For example, in 2022, Uzbekistan and Turkey signed series of partnership agreements which involved increasing bilateral trade. Similarly, Kazakhstan and Turkey agreed to increase their trade volume to $10 billion. This ongoing trend in the region creates opportunities for increased trade flows and expanded Turkish influence. To strengthen economic ties between neighboring countries, the United States can leverage the present momentum to increase trade flows by supporting economic partnership agreements and helping overcome hindrances for cooperation such as the lack of strong infrastructure in the region.
The United States can also benefit from supporting Turkey's interests in boosting its weapons shipments to Central Asia. Russia has always maintained a significant security presence in the region. Central Asia has become dependent on Russia for this purpose, which has exposed it to future potential Russian threats. In addition, Russia's ongoing war in Ukraine has piqued Turkey's and Central Asia's interests in military cooperation. Turkey has signed an increasing number of strategic cooperation agreements with several countries in Central Asia since the beginning of the war. Furthermore, Kyrgyzstan announced earlier this year that it had purchased additional Turkish drones, while last year, Kazakhstan agreed to an arrangement in which it would start co-producing Turkish drones. To boost Turkish security in Central Asia, the United States could give explicit or implicit support for the creation of security treaties between Central Asian countries and Turkey. Furthermore, the United States may also lend support for increased Turkish armaments sales to the region to reinforce Turkey's security presence there. Russia's largely neutral position toward Turkey may open the door to a greater Turkish military deployment that can supplement NATO's presence without angering Russia. This measure can serve as a deterrent against future Russian aggression in Central Asia, encouraging greater regional stability.
The United States and its allies would benefit from improved energy ties between Central Asia and Turkey through more frequent use of existing pipelines and the faster development of new ones. Turkey is home to several pipelines that promise to transmit energy from Central Asia to Europe. In light of sanctions imposed on Moscow and the threat of Russia cutting off energy flows to Central Asian states, Kazakhstan is turning to energy transit across the Caspian Sea, which eventually passes from Turkey to the West. The Trans-Anatolian Pipeline, the South Caucasus Pipeline, the Trans-Adriatic Pipeline, and the Baku-Tbilisi-Ceyhan Pipeline are among the extant pipelines. In this scenario, Turkmenistan's role as an energy provider and Azerbaijan's role as both energy provider and transferrer become more significant. Just like it supported the development of the Baku-Tbilisi-Ceyhan pipeline in the early 2000s, the United States should collaborate with Turkey to encourage export routes to bypass Russia and help its allies meet their energy needs. Indeed, Central Asian states are already working with Ankara to develop export routes that bypass Russia, as evidenced by Kazakhstan's recent oil transfer to Romania via Turkey.
Central Asia is an area of strategic importance for the United States, which has an interest in reducing the region's reliance on US adversaries for their security, economic, and energy needs. The United States needs to pursue a more energetic and creative policy towards the region. Working with Turkey is one way to do that.
---
Ali Mammadov is a recent graduate of the Johns Hopkins University School of Advanced International Studies with a focus on the economics and security of the Eurasia region. Follow him on Twitter: @alimammadoov.
Further reading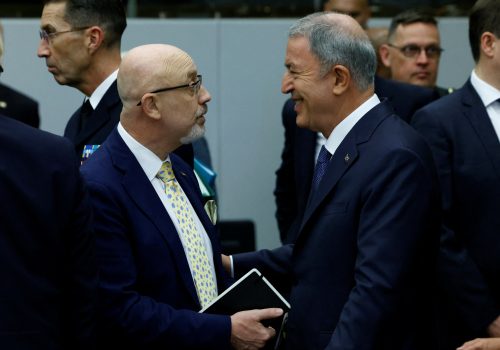 Thu, Feb 23, 2023
TURKEYSource By Atlantic Council IN TURKEY
One year into the war, the Atlantic Council IN TURKEY discusses the role Turkey has played in the conflict and the importance of its continued support with Yevgeniya Gaber.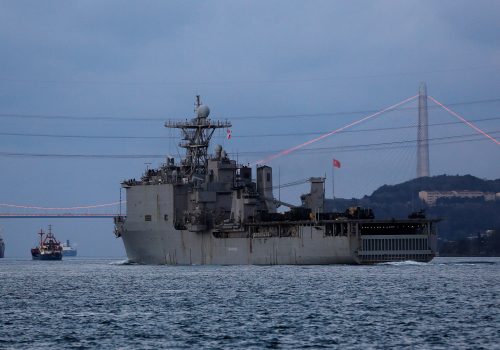 Thu, Sep 1, 2022
TURKEYSource By Arnold C. Dupuy
Russia's invasion of Ukraine presents an opportunity for the United States to re-engage in the Black Sea region. To do so, it will need to work with partners and allies, such as Turkey.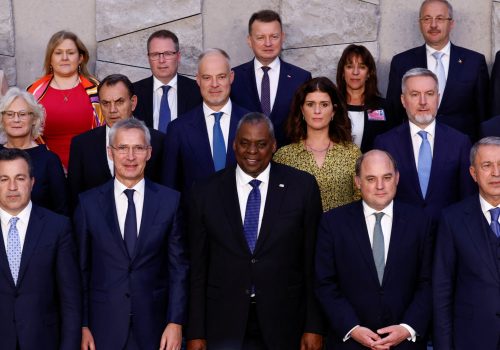 Fri, Jun 24, 2022
New Atlanticist By Alper Coşkun
Irritants that have weighed down the relationship between Ankara and its allies must be addressed sooner than later.