In recent months, Moldova has withstood Russia's relentless attempts to draw Chisinau into the Kremlin's political orbit. But it needs the support of its allies in the West to send a clear, unmistakable message to Moscow that it will not fall into the Kremlin's grasp.
Moscow has led its coercion campaign ever since pro-European Union (EU) candidate Maia Sandu won the presidential election in a landslide in November 2020—much to the Kremlin's displeasure. Then, Sandu's Party of Action and Solidarity won the 2021 parliamentary elections, paving the way for Sandu to officially apply to join the EU. A sustained effort by the Kremlin to undermine the Moldovan government's credibility followed, and with the February 2022 invasion of Ukraine, this intimidation campaign moved into high gear, notably through airspace violations, energy-supply manipulation, and official comments about Moldova being "the next Ukraine." In the most recent example of this campaign, Russian armored forces conducted unannounced military maneuvers in the pro-Russian breakaway region of Transnistria last week.
On February 10 this year, Moldovan Prime Minister Natalia Gavrilita resigned following months of protests over inflation and high energy prices, resulting from Moscow's decision to limit gas exports to Moldova, which is almost completely dependent on Russian energy. Then on February 21, Russian President Vladimir Putin abrogated a 2012 decree that acknowledged Moldovan sovereignty in resolving questions over the future of Transnistria. That cancelation, viewed in Moldova as a hostile act, de facto signaled Putin's willingness to use force to achieve his aims, as Russian troops in the region lost their status as "peacekeepers" and instead became more like occupation forces. It also shows the lengths to which the Kremlin will go to open a new front in its invasion of Ukraine and to advance its interests in the Black Sea.
Moldova's gross domestic product (GDP) per capita is roughly $5,200 a year (one of the lowest in Europe), and its inflation rate peaked at 34 percent after Russia invaded Ukraine and reduced fuel supplies. Yet many Moldovans blame their own government, not the Kremlin, an indication of Russia's disinformation efforts that inflame the already tense domestic political divide.
While it is landlocked, Moldovan territory includes the Prut, the Dniester, and the Danube rivers, which empty into the Black Sea. Moreover, because it borders Ukraine and is only fifty kilometers from Odesa (Ukraine's largest seaport), instability in Moldova—especially in Transnistria, which is effectively controlled by Moscow—could directly impact its neighbor's security. A Russian-dominated Moldova could effectively become a southern Kaliningrad, and in conjunction with Crimea, it could provide Moscow with more control over the northern Black Sea and also possibly the ability to hamper Ukraine's maritime activities. And, should Russia gain access to more Moldovan territory and flip Chisinau in its favor, Moscow's expanded presence would also threaten Romania's security and put even greater pressure on NATO's southeastern flank.
Moldova has maintained its neutrality, which it had enshrined in its constitution. Despite this sentiment, Moldova is a member of the Partnership for Peace, which allows cooperation with NATO on a variety of activities. Yet Moldova has starved its security sector for decades, hoping its neutrality and Ukraine would protect it. Since Russia launched its full-scale invasion of Ukraine last year, Chisinau has sought to reverse this neglect of its military; for example, it expanded its 2024 defense budget by 68 percent compared to its budget in 2022—but that's still only an increase of approximately eighty million dollars, or 0.55 percent of its GDP.
On paper, Moldova can field a security contingent of 45,000 personnel; however, this force is poorly trained and equipped with virtually no air support. In Transnistria, Russia has 1,500 troops, mainly comprising local recruits. While Moscow might seek to augment these forces, that would be logistically difficult given its failure to take Odesa. Moscow does, however, have significant agents of influence in Moldova who could work more forcefully against the government.
Keeping Moldova out of the Kremlin's grasp is vital to Eastern European security and NATO's Black Sea mission. Moldova, NATO, and the West must send clear, unmistakable signals to the Kremlin:
The EU should approve the fast-tracking of Moldova's EU accession, a plan for which Poland recently made the case.
While it would be problematic to offer Moldova a fast track to NATO membership—as the Alliance is viewed unfavorably in Moldova, and leaving the policy of neutrality is unpopular there—NATO or its members can take other actions. For example, the promise of air defense and heavy weapons and training in the case of conflict with Russia/Transnistria would be a deterrent.
Moldova and the West should provide Moldova's armed forces with more training and modern equipment, ultimately to improve capabilities and interoperability. Ukraine demonstrated how a Western-oriented training program can give a smaller country's military an edge over Russia's armed forces. This could be accomplished without violating Moldova's neutrality as it would not require deploying foreign forces on Moldovan territory.
Moldova should institute a robust strategic-communications and cyber-defense platform to counter Russian malign influence—and the West should help. A platform designed to counter misinformation and disinformation could help galvanize domestic support for greater alignment with NATO and the West.
Finally, Moldova is one of the world's least energy-self-sufficient countries. While Chisinau, with the West's support, has made progress in source diversification and sector reform, it should continue to wean itself off of Russian oil and gas and electricity from Transnistria. Moldova must build a more resilient energy infrastructure that is not dependent on Russia.
Through its energy manipulation, military intimidation, and official threats, the Kremlin is conducting a classic hybrid warfare campaign against Moldova. In comparison to early 2014—when the world stood stunned in the wake of 'little green men' and the effective dismemberment of Ukraine—NATO and Western allies have become more sophisticated in detecting and combating hybrid warfare tactics. Additionally, NATO members' support to Ukraine, while belated and arguably still inadequate, has been instrumental in Kyiv's successful defense against Russia's full-scale invasion. The lessons in Ukraine are unmistakable and should not be lost on Western and Moldovan leadership. Strong leadership, a determined population, and NATO support are indispensable in halting Russian aggression.
---
Arnold C. Dupuy is a nonresident senior fellow at the Atlantic Council IN TURKEY, a faculty member of the US Naval Postgraduate School, and chair of the NATO Science and Technology Organization's SAS-183, "Energy Security Capabilities, Resilience and Interoperability."
Further reading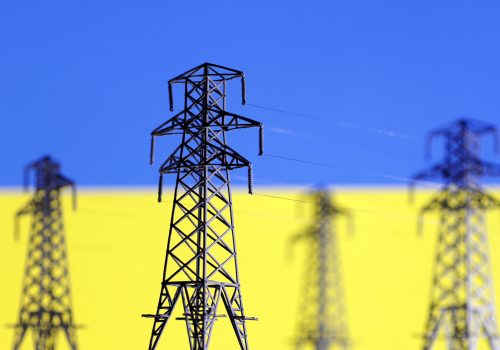 Wed, Jan 4, 2023
TURKEYSource By Arnold C. Dupuy
Russia's targeting of civilian infrastructure in Ukraine reveals the vulnerability of energy systems to hybrid threats, warranting study and research to mitigate the risks.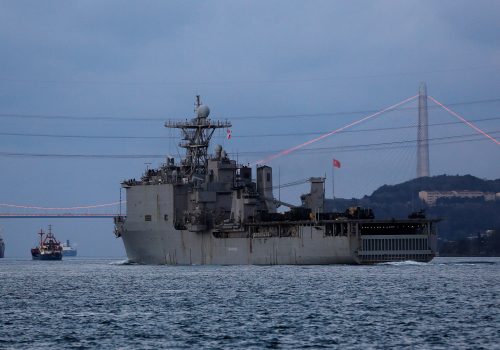 Thu, Sep 1, 2022
TURKEYSource By Arnold C. Dupuy
Russia's invasion of Ukraine presents an opportunity for the United States to re-engage in the Black Sea region. To do so, it will need to work with partners and allies, such as Turkey.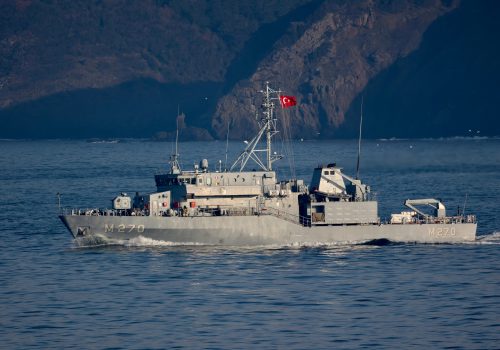 Thu, May 12, 2022
TURKEYSource By Arnold C. Dupuy
Russia's invasion of Ukraine demonstrates the fragility of energy security in the Black Sea region, which NATO should address.