Turkish President Recep Tayyip Erdoğan's official visit to Saudi Arabia, Qatar, and the United Arab Emirates (UAE) this week cemented a new era of economic cooperation with the Gulf region on gaining strategic autonomy from the West.
The trip builds on Erdoğan's previous visit to the UAE more than a year ago, which had opened a new chapter to bolster the two countries' political and economic ties ahead of Turkey's May 2023 elections.
After his re-election, Erdoğan reinstated Mehmet Şimşek as minister of finance, putting the former investment banker back in charge of the state coffers. Şimşek's appointment signaled the return to economic orthodoxy and prioritization of market stability that provided confidence to Gulf investors about the investment climate in Turkey. This raised hopes for the Turkish economy, which faces runaway inflation, chronic current account deficits, the devaluation of the lira, and the depletion of much-needed foreign currency reserves.
Erdoğan's re-election and his appointment of Şimşek also signaled building momentum for normalization with the Gulf region—momentum that began with reciprocal official visits in 2021. This June, Şimşek has already held high-level meetings in Saudi Arabia, Qatar, and the UAE to lay the groundwork for Erdoğan's most recent visits and help promote bilateral economic partnerships.
Turkey's developing relations with these three Gulf countries show a convergence of interests and agreement on many issues. These include agreement on their complementary comparative advantages, their eagerness to diversify trade partnerships, and their desire for strategic autonomy from the West. Reflecting their growing cooperation, Turkey announced that it had struck framework agreements for bilateral investment with the UAE that reached over $50 billion—it also announced agreements with Saudi Arabia and Qatar (the values of which are still undisclosed). Deepening partnerships in key sectors such as defense, energy, and transport indicate an interest among Turkey and Gulf countries to leverage financial capital, know-how, and geographic advantages for economic growth; they also indicate a realignment to share political risks in a volatile region and reduce dependence on the United States.
A solid foundation
The main rationale behind Turkey's renewed interest in strengthening ties with the Gulf countries is to attract capital inflows and sustain Erdoğan's legacy as a leader who delivered economic growth over the past two decades. After a brief slowdown during political upheavals between 2013 and 2020, the volume of Turkey's trade with the Gulf has reached $22 billion, according to the Turkish government. Turkey has ambitious plans to almost triple this figure in the next five years.
The Gulf countries are also keen to scale up their footprint in Turkey. The Gulf Cooperation Council (GCC) countries account for 7.1 percent of foreign direct investment in Turkey since 2020, with $15.8 billion in stock as of 2022. Qatar provided Turkey with the most foreign direct investment of the GCC countries, investing $9.9 billion. The UAE comes in second with $3.4 billion, and Saudi Arabia is the third highest, with $500 million. This amount is likely to increase two-fold to $30 billion over the next few years through investments prioritizing the energy, defense, finance, retail, and transport sectors. Previously, the UAE and Qatar provided Turkey with $20 billion in currency-swap agreements and Saudi Arabia deposited $5 billion into the central bank to support dollar liquidity.
But the new package of agreements signed during Erdoğan's trip focus on capital investments in productive assets such as land, factory plants, and infrastructure. Abu Dhabi Developmental Holding sovereign wealth fund (ADQ) alone signed a memorandum of understanding to finance up to $8.5 billion of Turkey earthquake relief bonds and to provide $3 billion in credit facilities to support Turkish exports. Collectively, these are evidence of a longer-term vision for closer coordination between the GCC and Turkey at a strategic level.
Economic cooperation also draws Turkish investment to the Gulf, primarily toward construction and services sectors such as information technology, telecommunications, and agricultural technology. Possible joint manufacturing in the defense industry between Turkey and Gulf states, such as manufacturing of Baykar's Akıncı and TB2 unmanned aerial vehicles, carries the potential to upgrade this relationship beyond the economic realm. Even for Saudi Arabia, which has a domestic plant to produce Turkish Vestel Karayel drones primarily for reconnaissance missions, Akıncı could upgrade drone warfare doctrine to a new level.
Mutual advantages
This evolving partnership is a clear win-win situation. Turkey and the GCC countries' combined geography connects three lucrative subregions—the Gulf, Eastern Mediterranean, and the Black Sea—that can help the countries build their connections and enhance their interdependence, when beneficial, in a volatile world. Saudi Arabia, Qatar, and the UAE, which boast a combined gross domestic product (GDP) of $1.8 trillion, have plentiful resources and tremendous comparative advantages, not only in the oil and gas sector but also in their solid legal framework, world-class infrastructure, and relative ease of doing business.
The UAE, for instance, implements social and business reforms to attract foreign investment. They also have a young, tech-savvy, and talented population open to learning and determined to make an impact on emerging fields such as artificial intelligence and robotics. Turkey, meanwhile, has comparative advantages in the defense, hospitality, and construction sectors. Turkey had traditionally been a capital-scarce, labor-intensive country that faced declining terms of trade, especially after joining the European Customs Union in 1995. But gradually, through upskilling in technology and investment in capital-intensive sectors, Turkey repositioned itself as an alternative industrial hub for the emerging markets of the Middle East. It has become a diversified, technologically advanced, and sophisticated economy as a member of the Group of Twenty.
Turkey is now more eager to expand its bilateral Comprehensive Economic Partnership Agreements into a multilateral agreement with the GCC. Moreover, the earthquakes in February 2023 are estimated to have cost Turkey $104 billion in infrastructural damage and economic loss—equivalent to 12 percent of its GDP—so Turkey needs to diversify and deepen its trade partnerships to recover quickly.
Nonaligned, interconnected
A major driving factor behind this rising economic cooperation is the quest to gain strategic autonomy from the West and distribute risks by hedging against changes in US policy toward Turkey and the Gulf's neighborhood after the next US presidential elections and beyond. Turkey and the Gulf countries have emerged as nonaligned middle powers, adapting to a multipolar world as the global economy's center of gravity shifts toward the Indo-Pacific region.
The war in Ukraine heightened Turkey's geopolitical significance and provided it with leverage in negotiations with the United States and NATO, as witnessed at the Vilnius summit last week. Russia's ongoing attack and consequential Western sanctions also turned countries' eyes toward the Gulf countries in search of an alternative supplier of hydrocarbons. Windfall profits from oil and gas sales strengthened the war chests of Gulf sovereign wealth funds that are now looking to increase non-oil trade and diversify their portfolios into sustainable, long-term investments such as renewable energy, advanced technology, healthcare, tourism, and leisure.
A few major deals exemplify these diversification efforts. The Arab-China Business Conference—held in Riyadh this June—concluded with $10 billion worth of investment deals struck between Arab countries and China. Iraq is developing a $17-billion-dollar railroad, which is planned to run through Turkey to Europe, a project in which the GCC countries have also shown interest. Abu Dhabi Developmental Holding Company and the Turkey Wealth Fund launched a $300-million-dollar partnership to invest in Turkish technology startups. The UAE is also eager to invest in Istanbul's metro and its high-speed railway to Ankara. The two countries aim to increase their trade volume from $18 billion to $40 billion in the next five years.
Ultimately, this flurry of new investments shows that the Gulf countries and Turkey view each other as mutually advantageous partners. Erdoğan's visit to the Gulf this week further reaffirms their deepening partnership in the economic realm—with potential implications for the strategic realm in the long term.
---
Serhat S. Çubukçuoğlu is a senior fellow in strategic studies at TRENDS Research & Advisory in Abu Dhabi.
Mouza Hasan Almarzooqi is a researcher in economic studies at TRENDS Research & Advisory in Abu Dhabi.
Further reading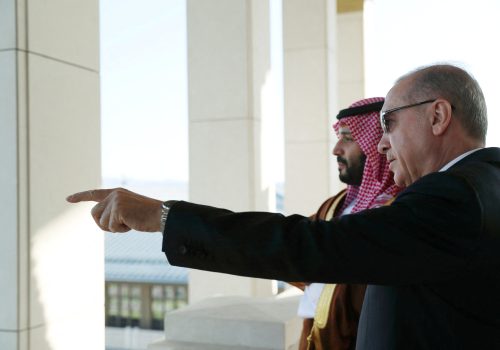 Thu, Jul 14, 2022
MENASource By Pınar Dost, Jonathan Panikoff
Does time make one forget resentments or do national interests triumph over friendships and enmities? The latter seems true for Turkey's president and Saudi Arabia's Crown Prince.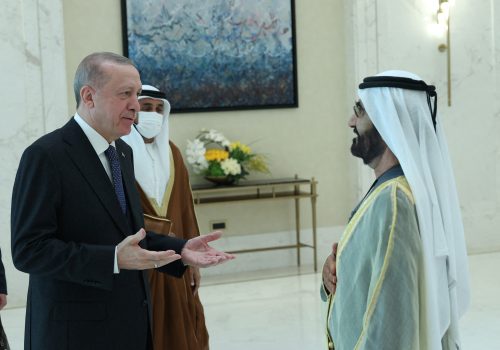 Mon, Mar 7, 2022
MENASource By Amjad Ahmad, Defne Arslan
Turkish President Recep Tayyip Erdogan's February 14 visit to the UAE indicates that rapprochement is well underway. Strategic and economic factors are behind this shift and many benefits can come from closer ties.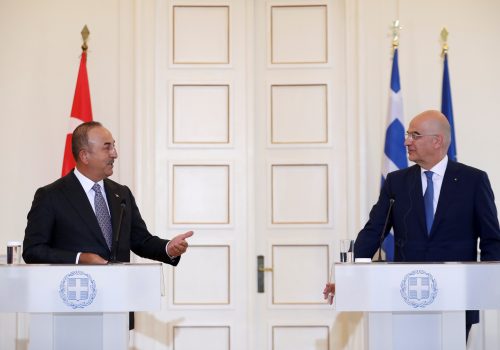 Thu, Jan 20, 2022
TURKEYSource By Serhat S. Cubukcuoglu
Turkey's response, or lack thereof, to Cyprus' recent moves to capitalize on natural gas resources in the Eastern Mediterranean marks a shift in diplomatic tone. While Turkey's stance has not changed, under the surface lies a changing geopolitical and economic reality.