At the Atlantic Council, we advance our mission of "shaping the global future together" by taking on global, generational challenges – those the next generation is inheriting.
To meet this moment, we are committed to fostering the next generation of international affairs professionals. To this end, we are relaunching our internship program as a world-class, paid Young Global Professionals (YGP) Program. This new initiative is designed to provide exceptional young people with in-depth exposure to international affairs and an opportunity to play an active role in shaping real-world solutions to global challenges.
We're different than most think tank teams, and we like it that way! The Council is building a movement. We hope you'll be a part of it. If this appeals to you, read on about how to join our fast-paced, global team of intellectual entrepreneurs.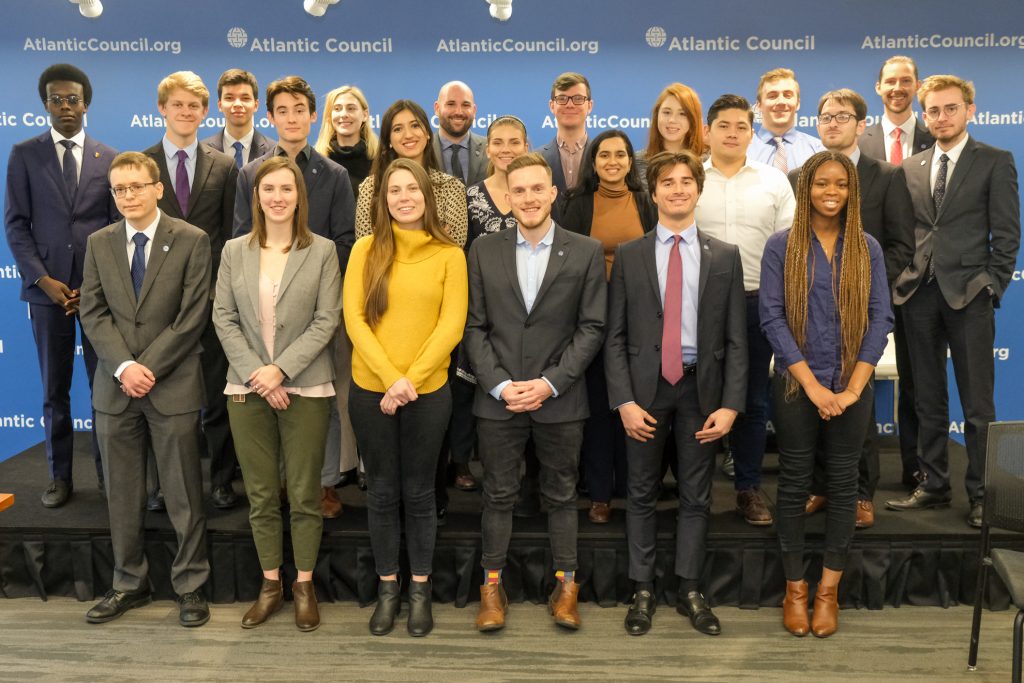 About the Program
Consistent with our mission of "shaping the global future together," the Atlantic Council's Young Global Professionals Program will serve as a cornerstone of our vision to create a more free, secure and prosperous world by shaping the next generation of global leaders.
This prestigious paid internship program for intellectual entrepreneurs offers hands-on experience working at the forefront of international affairs and global engagement. The program is also designed as a career accelerator.
Through three separate cohorts throughout the year, our program will provide driven, diverse, high-performing classes of young professionals the opportunity to represent the Council's values and advance our mission with integrity in high-impact, global careers at the Council and beyond.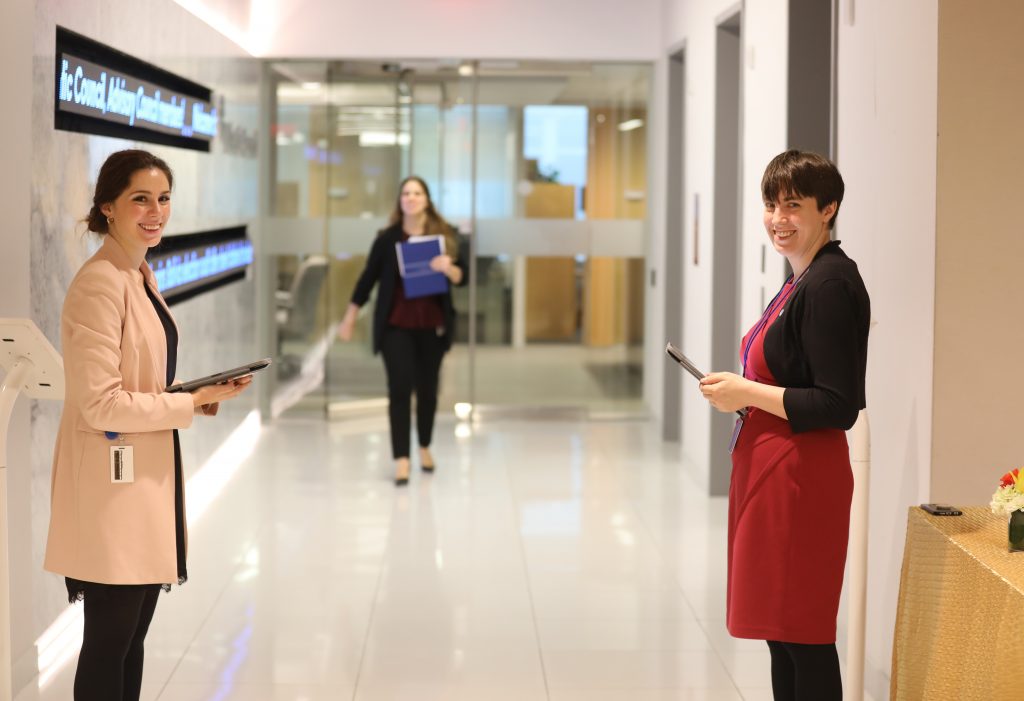 Program participants will receive in-depth exposure to one of our 14 programs or centers and become a valuable part of the Atlantic Council team through engagement with leading strategists, government officials, business leaders, tech entrepreneurs, and military commanders; exposure to the writing and editing process for publications and the logistical elements of event planning; and creating initiatives within a foreign affairs institution.
Young Global Professionals play key roles in helping our programs operate, from helping to produce high-profile public and private events, writing copy to amplify our work on various communication channels, to providing research to support task force reports, digital products or proposals and originating data visualizations.
Our program also offers an orientation and professional development program, including practical software and systems training, career development training, and participation in the Council's Masterclass series centered around substantive current events and geopolitical issues.
Inspired by the Atlantic Council's enduring purpose of working with friends and allies to shape the future, our Young Global Professionals Program has been designed to harness the potential of rising young leaders. Those with expertise, a passion for the work, an entrepreneurial and solutions-oriented ethos, an innovative mind, and an optimistic and collegial attitude are encouraged to join us to further this audacious undertaking.
Program structure
ALL POSITIONS ARE PAID
Spring & Fall Cohorts
Part-time 16-week program with an expected 30 hours per week. However, in coordination with program supervisors' hours can be adjusted based on the participant's school schedule.
Summer Accelerator Cohort
Summer accelerator is a full-time 10-week program
June through August (exact dates TBD)
| | | | |
| --- | --- | --- | --- |
| | Spring | Summer | Fall |
| Internship dates | January – April | June – August | September – December |
| Internship posting | October | February | June |
| Application deadline | November | March | July |
| Offers and declines | December | April | August |
Who should apply
The Atlantic Council's Young Global Professionals Program is designed for individuals in their junior or senior years of undergraduate studies or graduate students with a passion for learning and contributing to the Atlantic Council's mission to shape the global future together.
The Atlantic Council and its Young Global Professionals Program is non-partisan and welcomes applicants of all backgrounds and encourages applicants from diverse backgrounds. The Council is committed to a diverse, inclusive and equitable work environment.
The most competitive applicants will be excellent writers and communicators with demonstrated interest and expertise in their fields, whether that be regional knowledge or digital and data skills. But they are also much more. They are passionate about their work, solutions-oriented, fast-acting, entrepreneurial, and resourceful. They understand the world's challenges are daunting, but they are optimistic and natural team players in their search for relevant strategies and policy solutions. They are digitally native. The Council has a diverse, multi-lingual, and international workforce, but we are united by our aspiration to represent these attributes.
In our pursuit of excellence, we recruit those candidates who embody these characteristics.
International applicants
International applicants are welcome to apply. Candidates must be authorized to work in the United States. We do not sponsor visas for interns, but can assist a third party in sponsoring a visa. Internship applicants are responsible for any costs associated with visa sponsorship.
Currently available internships and application deadlines
ALL SPRING PARTICIPANTS WILL BE REMOTE
Application deadline for Spring 2021: November 23, 2020
Program dates: January 18, 2021 – May 4, 2021 (end date may be adjusted in coordination with program supervisor)
Testimonials
Learn as much as you can from the people around you and the publications you get access to, write your own blog posts, and network as much as possible.
I chose Atlantic Council because I wanted to get internship experience in a variety of categories, regions, industries, and public and private organizations.
For more information
To learn more about the Atlantic Council Young Global Professionals Program, please contact the Department of Human Resources at [email protected].
Available internships
If you share a commitment to our mission, please view the job posting by clicking on the following vacancy title and clicking on the 'Apply Now' button.
Please note: Atlantic Council is an equal opportunity employer that is committed to inclusion and diversity. We take affirmative action to ensure equal opportunity for all applicants without regard to race, color, religion, sex, sexual orientation, gender identity, national origin, disability, Veteran status, or other legally protected characteristics. Atlantic Council is committed to working with and providing reasonable accommodation to applicants with physical and mental disabilities. Thank you for your interest in the Atlantic Council.