On Wednesday, February 10, the Africa Center had the privilege of welcoming back Gov. David Beasley, executive director of the United Nations World Food Programme (WFP), to the Atlantic Council platform for a private virtual briefing on his latest trip to the Horn of Africa, where he met with civilian and military leaders in Sudan, South Sudan, and Ethiopia. Africa Center Director of Programs and Studies Bronwyn Bruton opened the event, before passing to Senior Fellow Cameron Hudson to moderate.
In his remarks, Gov. Beasley briefed participants on the humanitarian situation in the Horn and the latest from his conversations with regional leaders. He placed considerable weight on the developments in Ethiopia, where his visit facilitated an initial agreement on humanitarian access. This issue of access remained a point of interest for participants, representing the US government, diplomatic community, and humanitarian NGOs. Gov. Beasley also reflected on Sudan's progress and the continued humanitarian need in South Sudan.
Looking ahead, Beasley underscored that the WFP has helped get the ball rolling but that more progress will be needed, toward which the United States and others can play a constructive role.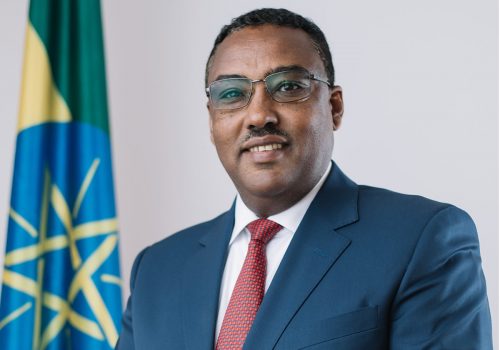 Thu, Jan 28, 2021
On Thursday, January 28, the Africa Center hosted a private virtual roundtable featuring H.E. Demeke Mekonnen Hassen, the deputy prime minister and minister of foreign affairs of the Federal Democratic Republic of Ethiopia, for a wide-ranging update on the security and humanitarian situation in the Tigray region of Ethiopia.
Event Recap by Africa Center

Mon, Dec 14, 2020
The announcement today that the forty-five day notification period to Congress had elapsed and Sudan was finally off the US State Sponsors of Terrorism list is historic. It validates the new direction of the country, which it was set upon nearly two years ago by nationwide, peaceful street protests. More importantly, it represents a definitive break with Sudan's troubled past—the true end of the Bashir era, which began more than thirty years ago—and holds out the hope for a more prosperous future for all Sudanese. The weight of the moment cannot be understated.
AfricaSource by Cameron Hudson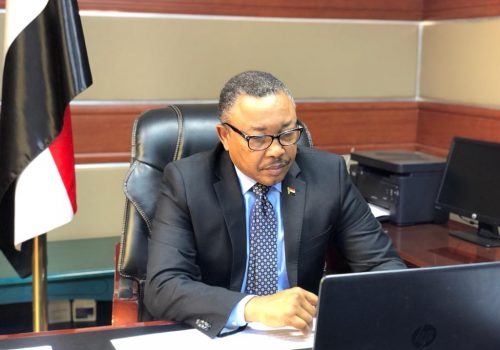 Wed, Feb 10, 2021
On Wednesday, February 10, the Africa Center hosted a private virtual roundtable featuring H.E. Omer Gamereldin Ismail, the outgoing Sudanese state minister of foreign affairs, for a discussion on key regional and bilateral issues for Sudan.
Event Recap by Africa Center