What the world should expect from Erdogan now
They're staying the course. A majority of Turkish voters backed President Recep Tayyip Erdoğan in Sunday's runoff election, earning him another five-year term as president and extending his twenty-year hold on power. Yet the vote for continuity comes amid major changes in and around Turkey, which is still recovering from a devastating earthquake, dealing with financial turmoil, and contending with security challenges in its neighborhood. Our experts elected to share their insights on what to expect from another Erdoğan term.
TODAY'S EXPERT REACTION COURTESY OF
Defne Arslan (@defnesadiklar): Senior director of the Atlantic Council IN TURKEY and Turkey programs, former chief Turkey economist and senior energy policy adviser in the US embassy in Ankara
Yevgeniya Gaber (@GaberYevgeniya): Nonresident senior fellow with the Atlantic Council IN TURKEY and former foreign-policy adviser to the Ukrainian prime minister
Rich Outzen (@RichOutzen): Nonresident senior fellow with the Atlantic Council IN TURKEY and former military and civilian adviser in the US State Department
Pivotal position
Erdoğan winning about 52 percent of the vote against challenger Kemal Kılıçdaroğlu, combined with the parties supporting him having secured a majority in parliament, means Turkey will be entering another period of "centralized decision making" but also one of "political stability," Defne tells us.
"Turkey's ambivalent stance on the Russian invasion of Ukraine, trading and developing economic cooperation with the former while providing support for the self-defense of the latter, will likely remain unchanged," explains Yevgeniya. But secure in his power, "Erdoğan might play hard this time," she adds, by asking Russia for more in negotiations over grain exports from Ukraine and even pushing both sides for a ceasefire.
Turkey's foreign policy will likely continue with its strategic semi-independence and its balancing and hedging among great powers, explains Rich. Yet within NATO, "the prospects for Swedish accession are looking up," he adds, especially with Sweden's new counter-terror legislation taking full effect next month.
Subscribe to Fast Thinking email alerts
Sign up to receive rapid insight in your inbox from Atlantic Council experts on global events as they unfold.


An economic rethink?
At home, Erdoğan's first priority will be the Turkish economy, which is currently battling slow growth, low reserves, and high inflation due in part to the government's low interest rate policy. "If Turkey's economy team can go back to credible and more conventional economic policies that can fix the current problems," Defne says, the country could become a destination for foreign capital once again.
In his victory remarks, Erdoğan referenced this year's one hundredth anniversary of the Turkish Republic and discussed the Turkish economy at length, which Defne interprets as a signal "that he is determined to deliver a stronger road map for the economy."
It will take "setting strong economic benchmarks and implementing crucial structural reforms," Defne adds, to reestablish "confidence in the Turkish economy both for domestic and foreign investors."
Expect Russia to remain high among Turkey's economic partners, as Ankara seeks to refuel its exhausted central bank reserves, explains Yevgeniya. She underscores that Erdoğan's message at the close of his campaign was: "[Turkey's] relations with Russia are no less important than those with the United States." It's no surprise, she adds, that Russian President Vladimir Putin was quick to congratulate Erdoğan on the victory—even before the official results were announced.
But for Ukraine, Yevgeniya notes that Erdoğan is likely to continue "Turkey's military support and ongoing projects in the defense sphere."
Contesting the 'zone beyond NATO'
"Syria stands out as a matter of personal legacy for Erdoğan," says Rich. The Turkish president wants to remove the Kurdistan Workers' Party–linked People's Defense Units (YGP) from the Turkish border and facilitate the return of a significant number of refugees to Syria, he explains.
Rich warns that "a major new [military] operation against the YPG this year or next cannot be ruled out." However, if Turkey can sufficiently weaken the YPG and bring Syrian leader Bashar al-Assad to negotiations through drone and artillery strikes alone, then it may forgo a large ground operation.
Turkish security concerns extend beyond Syria, Rich points out, to Libya, the Caucasus, and the Mediterranean and Aegean seas—all of which require deft negotiation with regional powers. "In this 'zone beyond NATO' for Turkish security," he says, "Erdoğan is likely to leave the door open for deals while rattling the saber occasionally for effect."
Further reading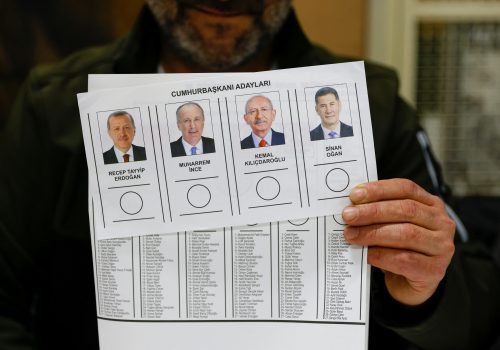 Mon, May 15, 2023
New Atlanticist By Atlantic Council experts
Neither Turkish President Recep Tayyip Erdoğan nor top challenger Kemal Kılıçdaroğlu was able to reach 50 percent of the vote on May 14. Here's what to expect now.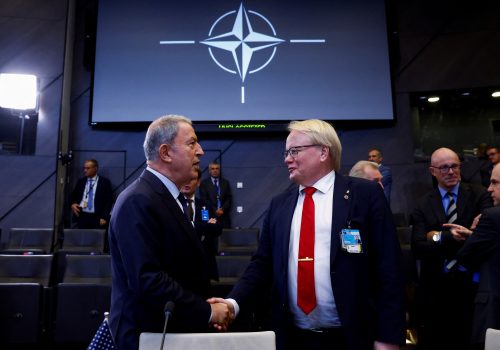 Tue, Apr 4, 2023
TURKEYSource By Grady Wilson, Pınar Dost
Turkey is not yet ready to greenlight Sweden's NATO accession but significant progress has been made. Here's a possible outline of a compromise.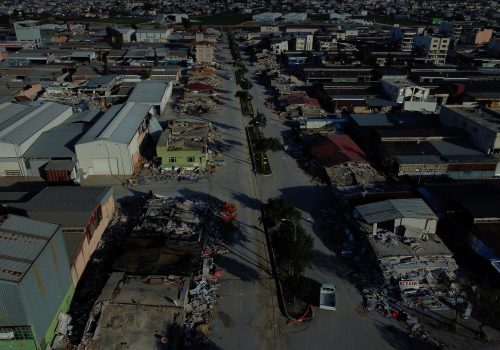 Wed, Apr 12, 2023
TURKEYSource By Selen Ucak
In the wake of Turkey's devastating earthquakes, investing in sustainable solutions for the displaced is crucial.