What the Xi-Putin partnership means for the world
A friendship testing its limits. Russian President Vladimir Putin embraced Chinese leader Xi Jinping's twelve-point "peace plan" for Ukraine during three days of talks this week in Moscow. The two leaders' joint statement stressed the need to "respect legitimate security concerns of all countries" to end the war—a talking point Russia has used to blame NATO and legitimize its war of aggression. But the statement didn't deliver much else. What does Washington need to know about the autocrats' partnership and how it will shape the war and the world? We reached out to our experts for a look beyond the talking points.
TODAY'S EXPERT REACTION COURTESY OF
Michael Schuman (@MichaelSchuman): Nonresident senior fellow at the Global China Hub and contributing writer to the Atlantic magazine
John Herbst (@JohnEdHerbst): Senior director of the Eurasia Center and former US ambassador to Ukraine
Colleen Cottle: Deputy director of the Global China Hub and former Central Intelligence Agency analyst covering East and South Asia
Give fake peace a chance?
Michael says "both sides got what they wanted out of the summit." That's because Putin "continues to benefit diplomatically and economically from closer ties to China," while Xi "got to play the grand international statesman."
While Putin's endorsement of China's proposed peace deal garnered the big headlines, John points out that Putin's "maximalist aims" mean he has not yet agreed to a ceasefire that would set such a peace plan in motion.
The notion of a proposed ceasefire to lock in Russian territorial gains "prompted warnings from Washington and others about the dangers of the Chinese proposal," John tells us. "But Putin's ongoing intransigence rendered this concern irrelevant—at least for now."
It wasn't all about Ukraine. John points out that "the visit was scripted to cover a broad array of bilateral and international issues, of which Ukraine was simply one," because both leaders would rather not dwell on "Moscow's failures on the battlefield and its international isolation."
A lack of tangible progress on a peace plan was representative of a meeting that was long on symbolism and short on substance, Colleen tells us: While "the two leaders signed numerous bilateral agreements to deepen their ties in areas like finance and trade, specifics on these deals were sparse, and substantial progress on a key Russian energy priority, the Power of Siberia 2 gas pipeline, appeared elusive."
Subscribe to Fast Thinking email alerts
Sign up to receive rapid insight in your inbox from Atlantic Council experts on global events as they unfold.


Imbalance of power
By teaming up with Xi, Michael says Putin is "turning Russia into, in effect, a vassal state of China."
That has both economic and security implications. "As the power imbalance in the relationship continues to widen in China's favor, Moscow will find itself less and less able to chart an independent foreign policy or deviate from alignment with Beijing's interests," Michael adds.
But Xi's approach carries risks as well. "Xi is turning against key sources of trade, investment, and technology (the United States and European Union) in favor of a relationship with Russia that cannot replace what could potentially be lost," Michael says. "That doesn't bode well for China's already struggling economy."
Southern hospitality
Putin and Xi had another audience in mind for their diplomatic push: the Global South, which has become  "a focus for both leaders as their relations with advanced economies continue to sour," Colleen says.
For starters, the two autocrats may be setting their sights on fellow members of the BRICS economic group: Brazil, India, and South Africa. Brazilian President Luis Inácio Lula da Silva will visit Beijing soon, while India will host the G20 summit later this year. "While Xi and Putin are both increasingly comfortable with breaking from the US-led international order," Colleen says, "they will need more than symbolism, messaging, and economic promises to convince large swaths of the Global South to do likewise."
Further reading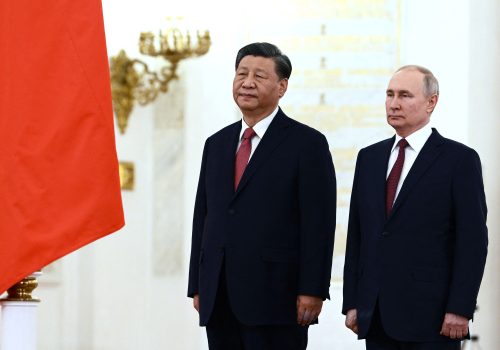 Wed, Mar 22, 2023
Experts react By Atlantic Council experts
The Chinese leader left Russia on Wednesday after three days of talks with the Russian president. Atlantic Council experts share their insights on the state of the so-called no-limits partnership.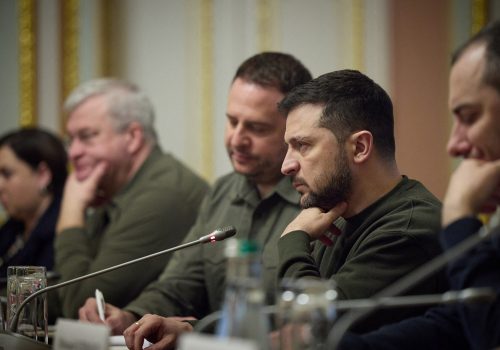 Thu, Mar 16, 2023
New Atlanticist By Gabriel Alvarado
If Zelenskyy withholds his honest assessment of Beijing's peace plan, he may risk giving Beijing the perfect cover to refute questions about its alleged neutrality—and do little to ensure an outcome to the crisis that actually works for Ukraine.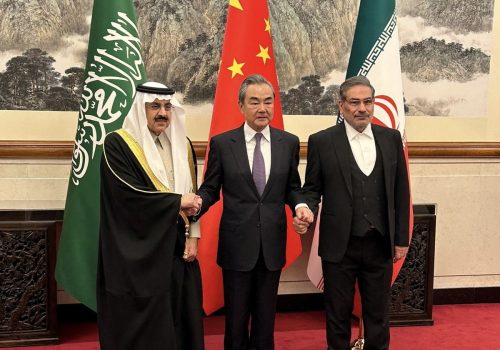 Fri, Mar 10, 2023
New Atlanticist By Atlantic Council experts
Long-standing regional adversaries just made a big announcement: They will reestablish diplomatic relations in a deal brokered by China. Atlantic Council experts share their insights on the announcement.