As the global community continues to grapple with the coronavirus (COVID-19), the Atlantic Council is open for business. Our business, meetings, and events, however, are occurring virtually. For more information, please read an update from our President and CEO.

Join the Atlantic Council's South Asia Center on Thursday, April 8 at 9:00 AM US EST / 6:30 PM IST for a conversation with author N.S. Vinodh and Atlantic Council Distinguished Fellow Shuja Nawaz on Vinodh's book, A Forgotten Ambassador in Cairo: The Life and Times of Syud Hossain. The book presents an illuminating narrative of Syud Hossain's life, interspersed with telling commentary on the twists and turns of the freedom movement in India and the plight of early Indian immigrants in Canada and America. For a man who used both the lectern and the pen to devastating effect in the cause of the Indian Independence movement led by the likes of Gandhi and Nehru, very little is known of Syud Hossain.
Born to an aristocratic family in Calcutta, he entered journalism early in life and became the editor of Motilal Nehru's nationalist newspaper, The Independent. After a brief elopement with Motilal's daughter, Hossain annulled the marriage and stayed away from the country. Thus began several years of exile. Hossain eventually returned to India to witness the triumph of independence as well as the tragedy of Gandhi's assassination. Thereafter, when appointed India's first ambassador to Egypt, he died while in service and was laid to rest in Cairo. Participating in this book talk will be eminent Indian scholars, diplomats, and bureaucrats, including Wajahat Habibullah, Saleem Kidwai, and Ambassador TCA Raghavan.
We invite you to join the discussion on Thursday, April 8 at 9:00 AM US EST / 6:30 PM IST via Zoom. Please register below. After registering, you will receive a confirmation email with information on how to join the event.
Featuring
N.S. Vinodh
Author
A Forgotten Ambassador in Cairo: The Life and Times of Syud Hossain
Wajahat Habibullah
Former Chairperson
Indian National Commission for Minorities
Saleem Kidwai
Historian and Independent Scholar
Ambassador TCA Raghavan
Former Indian High Commissioner to Pakistan and Singapore
Dr. Aparna Pande
Director, Initiative on the Future of India and South Asia
Hudson Institute
Moderated by
Shuja Nawaz
Distinguished Fellow
Atlantic Council's South Asia Center



The South Asia Center serves as the Atlantic Council's focal point for work on greater South Asia as well as its relations between these countries, the neighboring regions, Europe, and the United States.
Related Content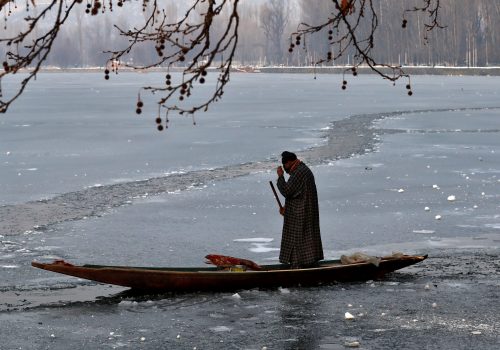 Thu, Mar 4, 2021
The brief period of clean air during India's lockdown offered a glimpse of what can be gained by building a cleaner, more sustainable Indian economy. To explore how that can materialize, this piece will first examine the opposing ecological and economic impacts of India's lockdown, and then pose policy recommendations that balance sustainability and economic growth.
SouthAsiaSource by Shashank Jejurikar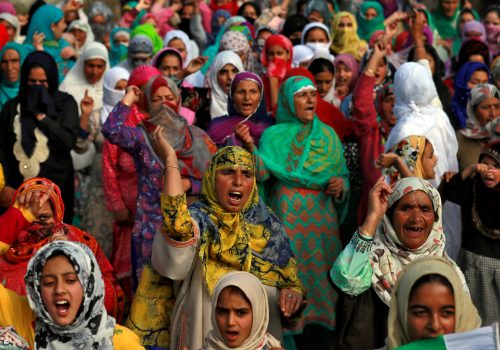 Wed, Feb 17, 2021
The time is ripe for Kashmir peace talks, and the Biden administration, with Secretary Blinken at the helm of foreign affairs, can play a constructive role in bringing India to the table. Why should the United States promote the Kashmir peace process? What could it realistically do?
SouthAsiaSource by Yelena Biberman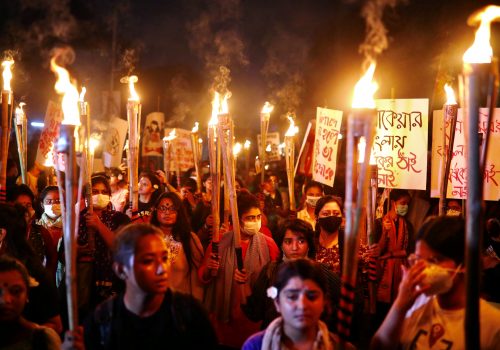 Tue, Jan 26, 2021
Countless examples of gender-based violence (GBV) in South Asia from last year raise significant concerns about so-called "progress" made in improving women's standing and fighting rape culture in the region. Political discourse in India, Pakistan, and Bangladesh is deeply misguided regarding such issues, often leading to systematic victim-blaming which—knowingly or unknowingly—helps the perpetrators.
SouthAsiaSource by Rudabeh Shahid, Kaveri Sarkar, and Azeem Khan