Authoritarianism is on the rise across the world, and it is posing a serious challenge to democracy and the post-World War II international system. In Central and Eastern Europe, Freedom House states that there are fewer democracies today than at "any point" since 1995. The remarkable events in Belarus over the past month, however, stand as a strong counterpoint to that trend. The democratic impulse remains powerful, and the refusal of Belarusians to accept another fraudulent presidential election has initiated a standoff whose outcome is uncertain. President Alyaksandr Lukashenka, who ruled Belarus for 26 years without a serious challenge to his power, now faces one of the strongest pro-democracy movements in Europe in recent years.
Lithuanian Foreign Minister Linas Linkevičius, who is actively involved in the European Union's efforts to help mediate the crisis in Belarus, speaks one-on-one with Melinda Haring, deputy director of the Atlantic Council's Eurasia Center, on the current mediation impasse. Then, a panel including George Kent, deputy assistant secretary at the Bureau of European and Eurasian Affairs at the US Department of State, Vladimir Kara-Murza, chairman of the Boris Nemtsov Foundation for Freedom and vice president of the Free Russia Foundation, and Hanna Liubakova, journalist at Outriders and fellow at the Atlantic Council's Eurasia Center, joins Foreign Minister Linas Linkevičius and Melinda Haring. Damon Wilson, executive vice president at the Atlantic Council, welcomes.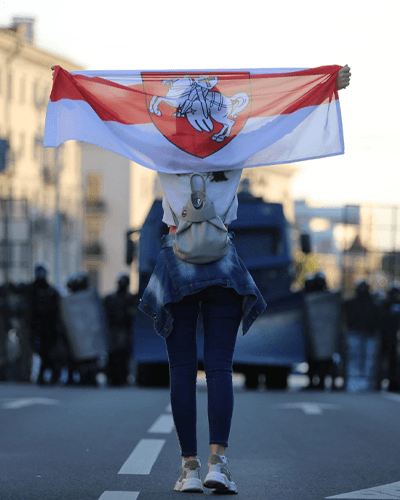 Belarus
Belarus' August 2020 presidential election saw widespread protests and serious fraud allegations as President Lukashenka claimed victory against popular opposition candidate Sviatlana Tsikhanouskaya. Following a brutal crackdown against protestors by security forces, will Belarus begin its transition to democracy, or will Belarusians face further repression as Lukashenka's rule falters?


The Eurasia Center's mission is to enhance transatlantic cooperation in promoting policies that strengthen stability, democratic values, and prosperity in Eurasia, from Eastern Europe in the West to the Caucasus, Russia, and Central Asia in the East.