As the global community continues to grapple with COVID-19 (coronavirus), the Atlantic Council is open for business. Our business, meetings, and events, however, are occurring virtually. For more information, please read a statement from our President and CEO.
The democratic revolution in Belarus has outlasted expectations despite mass detentions, torture of democratic activists, and crackdowns on independent media perpetrated by dictator Alyaksandr Lukashenka's regime. Since demonstrations began in August, the United States and European Union have each condemned the state's violent treatment of protestors while expanding sanctions against Lukashenka and his cronies. But with financial and security assistance from the Kremlin propping up the authoritarian regime, Congress and the incoming Biden administration must do more to support the Belarusian people in their struggle for freedom and democracy.
Ambassador John Herbst, director of the Atlantic Council's Eurasia Center; Dr. Anders Åslund, resident senior fellow at the Eurasia Center; Franak Viačorka, nonresident fellow at the Eurasia Center and adviser to Belarusian opposition leader Sviatlana Tsikhanouskaya; and Dr. Michael Carpenter, nonresident senior fellow at the Eurasia Center and senior director of the Penn Biden Center for Diplomacy and Global Engagement, discuss how US policymakers should engage with the situation in Belarus. Melinda Haring, deputy director of the Eurasia Center, moderates.
Please note that this event will not feature an in-person audience.

You will be able to join via web, desktop or mobile app, and by phone. If you wish to join the question and answer period, you must join by app or web.

Register below to receive further information on how to join the virtual audience.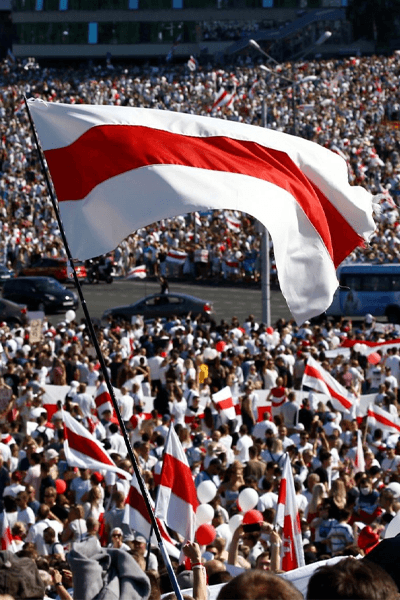 Will democracy prevail?
Belarus
Belarus' August 2020 presidential election saw widespread protests and serious fraud allegations as President Lukashenka claimed victory against popular opposition candidate Sviatlana Tsikhanouskaya. Following a brutal crackdown against protestors by security forces, will Belarus begin its transition to democracy, or will Belarusians face further repression as Lukashenka's rule falters?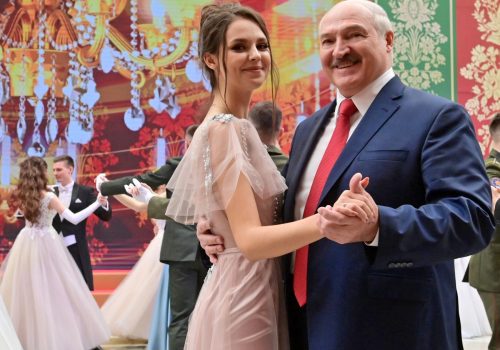 Wed, Jan 20, 2021
Belarusian dictator Alyaksandr Lukashenka has sought to defuse protests against his regime by promising to step down following constitutional reform, but critics believe he is merely trying to buy time.
Read More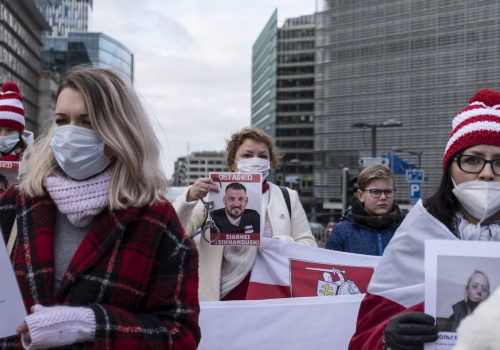 Wed, Jan 20, 2021
In shunning dictator Alyaksandr Lukashenka and embracing Sviatlana Tsikhanouskaya and the opposition, the West is on the right side of history in Belarus. It must now make sure that it stays there.
UkraineAlert by Brian Whitmore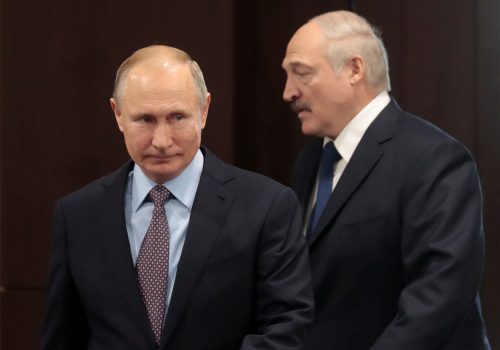 Wed, Jan 13, 2021
Vladimir Putin knows his support for dictator Alyaksandr Lukashenka is poisoning attitudes towards Russia in neighboring Belarus, but he cannot allow a democratic uprising to succeed so close to home.
UkraineAlert by Brian Whitmore