This week Belarusian dictator Alyaksandr Lukashenka pulled the world into his brutal sphere of repression when he ordered the country's security services to fabricate a bomb threat on an EU flight and dispatched a fighter jet to force the passenger jet to land in Minsk. The Ryanair flight, which was headed to Vilnius, Lithuania, from Athens, Greece, was carrying prominent independent journalist Raman Pratasevich, who was living in exile in Lithuania. This extreme violation of international aviation laws and norms is the latest effort by an increasingly erratic leader to stamp out dissent and prolong his rule.
International outrage has grown. The US, EU, and other governments have called for new sanctions against Lukashenka's regime. Most air travel in Belarusian airspace has either been banned or halted, many countries have announced an end to flights to and from Belarus, and Belavia, Belarus' state-owned airline, has been banned from flying within the EU. But questions remain.
What precedent does this act set for other authoritarian states that engage in transnational repression, especially if the international community lets Lukashenka get away with this? What is the proportionate punishment without hurting the Belarusian people? Above all, what can be done to protect Pratasevich, now in the same repressive Minsk prison that tortures detainees who have spoken out against Lukashenka's government?
Ambassador Daniel Fried, Weiser Family Distinguished Fellow at the Atlantic Council, Ambassador John Herbst, director of the Atlantic Council's Eurasia Center, President Toomas Hendrik Ilves, former president of the Republic of Estonia, and Hanna Liubakova, nonresident fellow at the Atlantic Council's Eurasia Center, join for a discussion of what comes next in the Belarus air piracy crisis, moderated by Melinda Haring, deputy director of the Atlantic Council's Eurasia Center.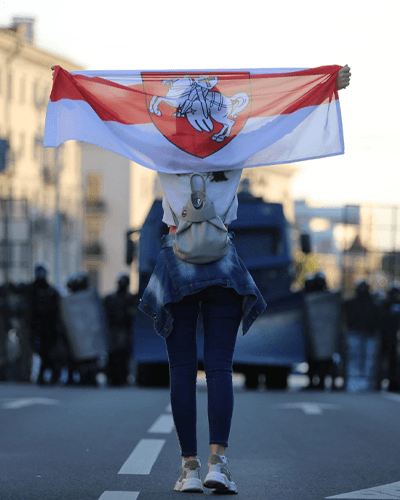 Belarus
Belarus' August 2020 presidential election saw widespread protests and serious fraud allegations as President Lukashenka claimed victory against popular opposition candidate Sviatlana Tsikhanouskaya. Following a brutal crackdown against protestors by security forces, will Belarus begin its transition to democracy, or will Belarusians face further repression as Lukashenka's rule falters?


The Eurasia Center's mission is to enhance transatlantic cooperation in promoting stability, democratic values and prosperity in Eurasia, from Eastern Europe and Turkey in the West to the Caucasus, Russia and Central Asia in the East.
Follow us on social media
and support our work