Since Ukraine first gained independence in 1991, historical memory and national identity have been a point of contention and subject for manipulation. Thanks in good part to Kremlin aggression, a real sense of Ukrainian identity has emerged in the center and east of the country, too. Yet, the memory war that has characterized Ukraine for the past three decades has not disappeared. And it has been exacerbated by Kremlin disinformation campaigns. The Kremlin has inflamed controversy over historical narratives, weaponizing history in the unsuccessful effort to undermine Ukrainian statehood. A groundbreaking recent report by the London School of Economics and Political Science's (LSE) Arena program, From 'Memory Wars' to a Common Future: Overcoming Polarisation in Ukraine, outlines the scope of challenges facing Ukraine's information environment along with comprehensive recommendations for reducing societal polarization.
Several authors of the report, Anne Applebaum, Director, Arena, LSE; Natalia Gumenyuk, Co-founder, Public Interest Journalism Lab; and Peter Pomerantsev, Visiting Senior Fellow, Institute of Global Affairs, LSE, present the key findings. Yevhen Hlibovytsky, Founder, ProMova provides commentary and Ambassador John Herbst, Director, Eurasia Center, Atlantic Council moderates the discussion.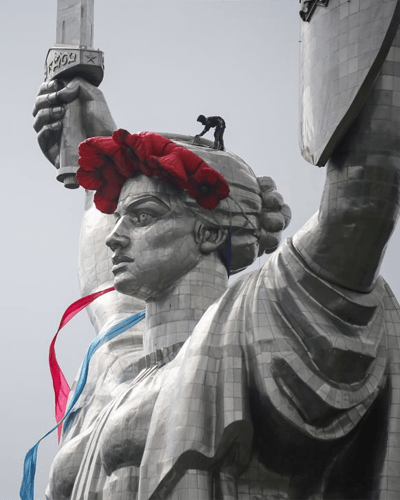 WEAPONIZING HISTORY
Ukraine's Memory Wars
History is not primarily about the past, or even about the present, but about the future. This makes history a powerful disinformation tool, which the Kremlin extensively uses in Ukraine. How can Ukraine shape its own historical narrative and counteract the Kremlin's campaigns that aim to undermine Ukraine's national identity and statehood?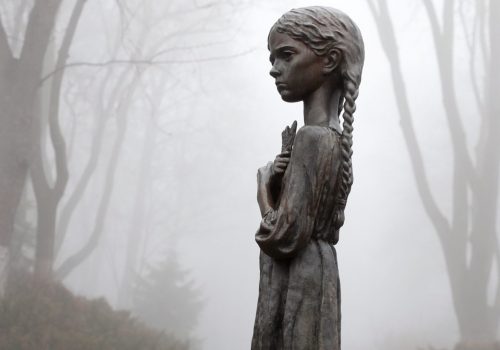 Tue, Sep 22, 2020
The recent desecration of an iconic Kyiv statue honoring the millions of Ukrainians killed in the 1930s Soviet genocide marks a new low in the memory wars over the country's troubled and traumatic past.
Read More

Wed, Jul 15, 2020
The Black Lives Matter movement has sparked a flurry of monument removals across the US and elsewhere. Independent Ukraine's long history of memory wars offers a timely case study in the politics of the past.
UkraineAlert by Peter Dickinson

Tue, Apr 21, 2020
Russian leader Vladimir Putin has sought to enforce his version of history on Ukraine as part of efforts to dominate the country. It is time for Ukraine to fight back and establish its own national narratives.
UkraineAlert by Oleksiy Goncharenko


The Eurasia Center's mission is to enhance transatlantic cooperation in promoting stability, democratic values and prosperity in Eurasia, from Eastern Europe and Turkey in the West to the Caucasus, Russia and Central Asia in the East.