The Kremlin seeks to destabilize democracies abroad and suppress political opposition at home. President Vladimir Putin's regime may now be integrating these two goals in a bid to discredit domestic dissenters while sowing uncertainty in the West.
In early April, the Atlantic Council was the target of a phishing attack by hackers impersonating Leonid Volkov, a close aide of Russian opposition leader Alexei Navalny. It is difficult to know with 100 percent certainty that the hacking attempt came from Russian government-affiliated actors, but the pixels point toward Moscow. These cyberattacks often seek to disrupt the operations of actors deemed threatening to the regime. The phishing attempt exposed a new tactic in the Kremlin's struggle for self-preservation. As Putin tries to silence and slowly kill Navalny, hackers attempt to undermine the respected reputation of Navalny's team in the West.
What can Moscow's aggressive tactics against Russian citizens and its online attacks against Western organizations tell us about the relative strength of the Putin regime? How can civil society and governments protect themselves from the Kremlin's cyberaggression?
Leonid Volkov, chief of staff to Alexei Navalny, Damon Wilson, executive vice president at the Atlantic Council, and Melinda Haring, deputy director of the Atlantic Council's Eurasia Center, join to discuss the links between Navalny's political opposition to Putin and the Kremlin's malign activities online. Jill Dougherty, adjunct professor at Georgetown University, global fellow at the Wilson Center's Kennan Institute, and former chief of CNN's Moscow bureau, moderates.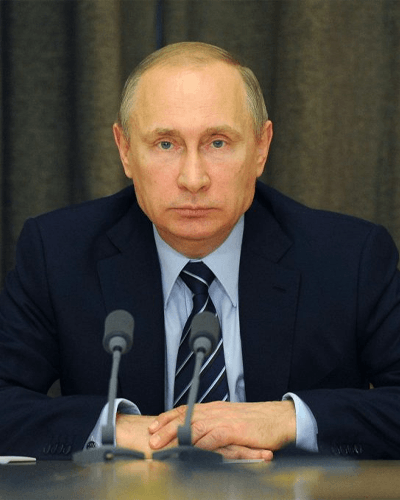 The Kremlin and the Russian people
Putin's Russia
Russia was the dominant republic in the former Soviet Union and took tentative steps toward an open society and market economy in the 1990s. But during the early 2000s, under leader Vladimir Putin, its direction changed. At the end of the 1990s, this quasi-democracy pivoted to an authoritarian direction.

Mon, Sep 20, 2021
Russia's parliamentary elections failed to meet even the most basic democratic standards and served to illustrate the country's slide into dictatorship under Vladimir Putin, says Ukrainian MP Oleksiy Goncharenko
Read More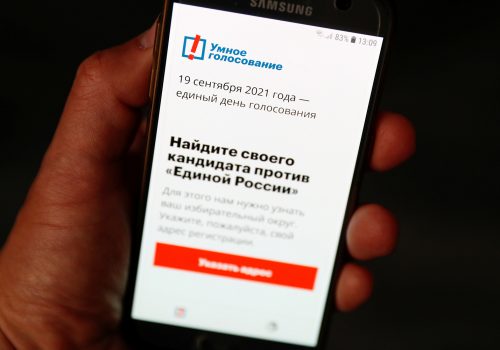 Fri, Sep 17, 2021
Just as voting opened in Russia, Apple and Google deleted an app from their stores published by Alexei Navalny's team designed to deliver candidate recommendations. Here's why that signals an international problem.
New Atlanticist by Dylan Myles-Primakoff, Justin Sherman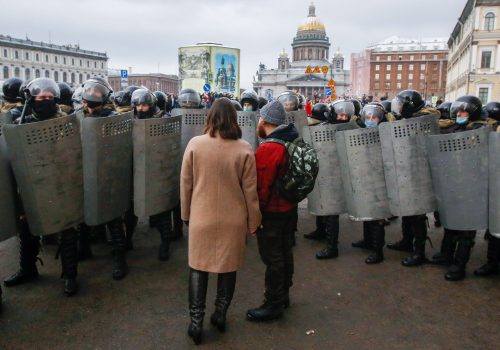 Thu, Sep 16, 2021
US President Joe Biden took an important step in Geneva towards supporting Russian human rights defenders. America must now follow this up with concrete action to punish Moscow's abuses.
UkraineAlert by Dave Elseroad


The Eurasia Center's mission is to enhance transatlantic cooperation in promoting stability, democratic values and prosperity in Eurasia, from Eastern Europe and Turkey in the West to the Caucasus, Russia and Central Asia in the East.