Russia's brutal war to strip Ukraine of its independence has lasted over three weeks. The international community has rallied behind Ukraine to deliver nearly unprecedented levels of material and moral support—yet Russia continues its bombing campaign against civilians, captures towns and Ukraine's local leaders, and threatens the world with weapons of mass destruction if it intervenes.
What is the latest situation on the ground and what is the status of negotiations between Ukraine and Russia—is a real peace deal on the horizon? Will Russia be held accountable for the mass killings of civilians in Ukraine and the targeting of hospitals and schools? What comes next for the millions of Ukrainians forced to flee their homes and take refuge abroad? What more does the world need to do not only to support Ukraine, but to make sure that Russian President Vladimir Putin's aggressive ambitions are stopped rather than expanded beyond Ukraine?
Melinda Haring, deputy director of the Atlantic Council's Eurasia Center, speaks with Michael Bociurkiw, nonresident senior fellow at the Atlantic Council's Eurasia Center, Ambassador Oleh Shamshur, nonresident senior fellow at the Atlantic Council's Eurasia Center and former Ukrainian ambassador to the United States and France, Ambassador Alexander Vershbow, distinguished fellow at the Atlantic Council and former deputy secretary general of NATO, and Minister Andriy Zagorodnyuk, distinguished fellow at the Atlantic Council's Eurasia Center and former minister of defense of Ukraine, about the latest updates from Ukraine and what comes next.
---
This event will not feature an in-person audience. You will be able to join via desktop or mobile app, through your web browser, or by phone. To join the question and answer period, you must join by app or web.

Register below for details on joining the virtual audience.
---
Follow us on social media
and support our work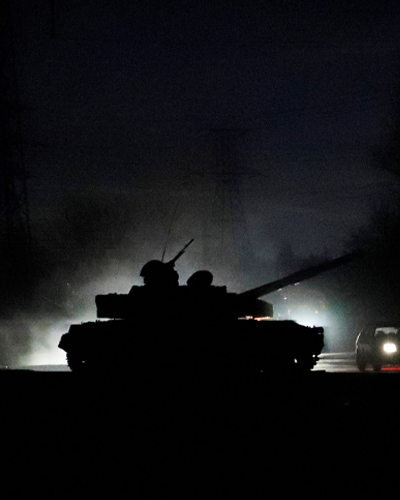 Europe in crisis
War in Ukraine
In February 2022, Moscow launched an all-out invasion of Ukraine after a months-long military build-up, threatening the country's sovereignty and its future. This existential moment for the country follows the 2014 Maidan revolution, a nexus for Ukraine's Europe-focused foreign policy and reform efforts. The ensuing Russian invasion and occupation of Crimea, aggression in Ukraine's east, and Kremlin disinformation efforts, cast a shadow over Ukraine's independence.