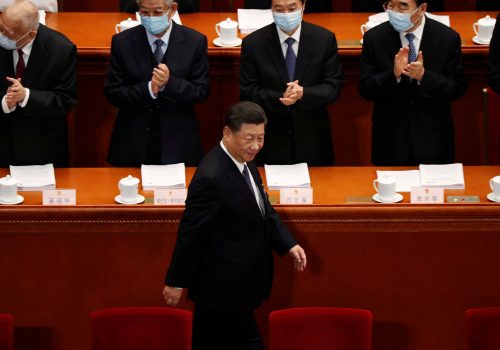 Mon, Aug 24, 2020
Beijing is pursuing a China-centric strategy aggressively and in a fashion that is causing significant collateral damage to nations around the globe. Thus far, the transatlantic partners have no comparable strategy to counter these challenges. A new transatlantic approach is needed.
In-Depth Research & Reports by Hans Binnendijk, Christopher Skaluba,
Dr. Sarah Kirchberger is a nonresident senior fellow with the Scowcroft Center for Strategy and Security. She serves as head of Asia-Pacific Strategy and Security at the Institute for Security Policy at Kiel University (ISPK) and vice president of the German Maritime Institute (DMI). Her current work focuses on maritime security in the Asia-Pacific region, emerging technologies in the maritime sphere, Russian–Chinese military-industrial relations, China's arms industries, and China's naval and space development.
Before joining ISPK she was assistant professor of contemporary China at the University of Hamburg, and previously worked as a naval analyst with shipbuilder TKMS Blohm + Voss. She is the author of Assessing China's Naval Power: Technological Innovation, Economic Constraints, and Strategic Implications (2015). Her earlier work includes a monograph on informal institutions in the Chinese and Taiwanese political systems as well as studies of reform discourses within the Communist Party of China and of Mainland Chinese perceptions of Taiwan's post-war transformation. She completed undergraduate and graduate studies in Sinology, Political Science and Archaeology in Hamburg, Taipei, and Trier and holds an MA and a PhD in Sinology from the University of Hamburg.