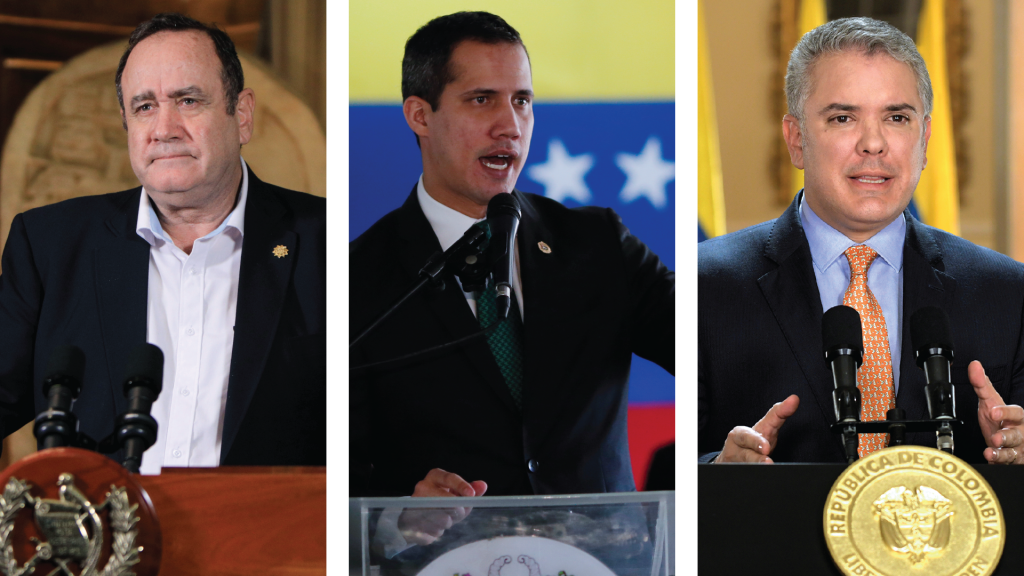 #ACLeaders spotlights the most prominent leaders in the Americas and provides first-hand insight and analysis on key opportunities, recent developments, and regional trends. The virtual platform engages audiences worldwide eager for innovative and nonpartisan solutions to today's most pressing challenges. Our high-impact 30-minute live conversations serve as the highlight of the Center's programing each month.
Through purposeful and thought-provoking live conversations, #ACLeaders shapes the conversation among key stakeholders (policymakers, business leaders, media, and civil society) about key challenges and opportunities facing Latin America today. Guest speakers include heads of state, ministers, chiefs of international institutions, and distinguished business leaders across the region. Previous guests have included: President Iván Duque of Colombia and Interim President Juan Guaidó of Venezuela.
President of Guatemala Alejandro Giammattei


Due to COVID-19, Guatemala has been under a mandatory nationwide quarantine for the past two months. President Alejandro Giammattei, who took office only four months ago, has responded to the crisis with a series of measures including over $1.6 billion in economic aid through ten new programs, such as food and electricity subsidies, employment protections, and direct payments. Still, Guatemala, with the second most cases in Central America, faces a public health crisis alongside its own economic challenges. How can Central America's largest nation balance health and economic priorities? What is Guatemala's post-COVID-19 plan for economic reactivation? What roles can the government, private sector, and the international community play?
Read about the event in the New Atlanticist
Interim President of Venezuela Juan Guaidó


In the midst of the greatest man-made crisis in the Western Hemisphere, the coronavirus outbreak poses critical new challenges for Venezuela's fragile population. Interim President Juan Guaidó continues to push for a better future for Venezuelans and has recently called for the formation of a national emergency government. What are the interim government's next steps to face the worsening pandemic? What avenues is the interim government willing to pursue for a peaceful democratic transition?
Read about the event in the New Atlanticist
President of Colombia Iván Duque


As Colombia enters week four of mandatory quarantine, the government continues to implement measures to protect public health and alleviate the economic and social impacts of social distancing. President Duque has begun to talk about a "strategic quarantine" (cuarentena inteligente) and an "accordion strategy." These two strategies will allow Colombia to gradually reactivate its economy while also prioritizing public health. Finding a balance between these two crucial objectives has become the government's main goal.
Read about the event in the New Atlanticist