Regions in focus
COVID-19 in Latin America

As the COVID-19 coronavirus outbreak continues to accelerate its spread worldwide, the international community is facing a global crisis with public health, geopolitical, and economic repercussions. Go beyond the headlines to access the Atlantic Council's deep expertise in policy areas impacted by this growing global emergency.
Read More
Highlight: Energy in the Americas

The Western Hemisphere is full of potential and we have the opportunity to galvanize it into an energy powerhouse. This new US energy strategy for the Western Hemisphere will help raise the global competitiveness of the hemisphere, advance its shared prosperity, and improve national and energy security as a result.
Read More
Explore the NATO 20/2020 podcast series

NATO 20/2020 is a weekly podcast that explores 20 bold ideas to push NATO to be more visionary, more capable, and more self-evidently valuable to the security of more people.
Read More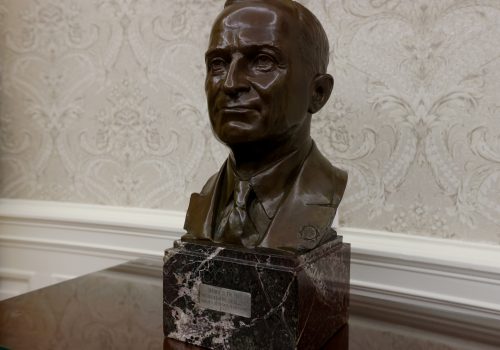 Fri, Mar 5, 2021
Tensions between Turkey and Greece flared over the past year over disputed maritime claims in the Eastern Mediterranean. The United States should mediate between the two NATO allies to protect its interests based on its long term commitment to a stable and secure region.
TURKEYSource by Grady Wilson
Mon, Mar 8, 2021
Online Event The Honorable Hillary Rodham Clinton and a diverse group of women leaders discuss the impact of women's representation at the decision-making table. 
4:00pm Americas Latin America Women

Fri, Mar 12, 2021
Online Event How can Argentina, Brazil, Paraguay, and Uruguay cooperate on a joint effort toward post-COVID economic recovery? How can closer ties between the United States and Mercosur promote understanding and lead to new opportunities for hemispheric prosperity at this global turning point?
11:00am Americas Brazil Coronavirus Economy & Business

Tue, Mar 9, 2021
Online Event Against the backdrop of longstanding regional tensions within South Asia, the international COVID-19 economic slowdown, the United States' evolving role in the world, and the ongoing peace process in Afghanistan, US-Pakistan relations stand at a crossroads.
3:00pm Economy & Business Geopolitics & Energy Security Indo-Pacific Pakistan