A humanitarian corridor in the Israeli Negev could save Gazans
World opinion is shifting rapidly on the Israeli-Palestinian conflict. While many originally expressed profound sympathy for the innocent Israeli civilians that were brutally slaughtered or taken hostage on October 7 by the foreign terrorist organization Hamas, there is now much greater emphasis on the death and deprivation being visited on innocent civilians in the Gaza Strip. This shift in sympathy poses a significant challenge for Israel and the United States, as the latter works to support the Jewish state and keep the conflict from escalating into a regional war that could draw in the United States. President Joe Biden already demonstrated his strong support for Israel and commitment to its security during his trip there on October 18, as well as on his return, when he delivered his Oval Office speech on the war between Israel and Hamas. While he defended Israel's right to strike back at Hamas, he also urged Israel to avoid harming Palestinian civilians and ensure that their humanitarian needs are met.
Since the war began, Israel has been trying to avoid civilian targets with its artillery and air strikes as it responds to ongoing rocket fire from Hamas and Palestinian Islamic Jihad (PIJ) and prepares for an imminent invasion of Gaza. But Palestinian civilian casualties are in the thousands and appear to be increasing rapidly in the densely-packed urban environment of Gaza; in part, because Hamas hides its weapons, fighters, and communication centers among the civilian population. As a result, innocent Palestinians have few options to find safety in the face of Israeli bombs. Israeli authorities have told Palestinians to move to southern Gaza, where Israel would establish "safe zones," but Palestinians distrust the "word of the Israeli military." Thus, hundreds of thousands are refusing to leave northern Gaza, fearing that they will never be able to return or won't be able to escape Israeli bombs in the south, where Israel has targeted dozens of locations. An Israeli land attack aimed at destroying Hamas, even if carefully targeted, will only compound the misery being inflicted on more than two million Palestinians, who live with limited supplies of food, water, fuel, and medicine.
Moreover, the Rafah Crossing into Egypt will, in the best of circumstances, provide only partial relief and cannot address the pressing needs of Gaza's residents. United Nations authorities report that one hundred trucks of supplies a day are required to provide adequate quantities of food and water for Gazans. The number of trucks currently allowed into Gaza each day constitutes only a small fraction of that requirement.
Neglected in the fog of war is the uncomfortable fact that almost half of Gaza's population is under the age of eighteen and, therefore, below prime fighting age. Large numbers are too old or too infirm to pick up a gun. Additionally, half the population is female—again, not a likely source of Hamas cadres. Yet, today, women and children are most at risk from the sky assault that kills civilians and Hamas fighters alike in Gaza. Hospitals are running out of essential medicines, fuel, and operating facilities to meet the unfolding catastrophe.
Thus, options are limited for those seeking to flee the fighting. Egypt's President Abdel Fattah el-Sisi has made it clear that Egypt won't take them. Many would not want to go, having experienced flight from historic Palestine in the past—either directly or as children of refugees—and fear being unable to return. Egypt has its own problems and does not want an influx of Palestinians who would, in all likelihood, become permanent, uninvited guests in the Sinai.
There is, however, an option that Israeli and US leaders should consider as they seek to counter the growing anti-Israel sentiment around the world, including in the Middle East and North Africa, over Palestinian civilian casualties. It is embodied in the early Zionist slogan: "A land without people for people without a land." The Israeli Negev is comparatively lightly populated and could temporarily accommodate women and children fleeing Gaza by providing a humanitarian corridor to vacant land in the south. We are not alone in this suggestion. Egypt's President Sisi has floated the same idea. The situation in Gaza has become so dire that it needs to be considered. Israel would control their exit from the strip, vetting each one to ensure that no woman, child, nor elderly Gazan could possibly pose a threat. The international community could immediately provide the assistance—tents, food, fuel, medical supplies, and care—required to address the needs of hundreds of thousands of refugees.
Some would not leave Gaza because this would require women to abandon sons, husbands, and other male relatives—not to mention that they would worry about never being able to return home. Israelis will object to facilitating the entry of hundreds of thousands of Palestinians; the collective national revulsion at what Hamas perpetuated would make this suggestion politically fraught, though it would illuminate the Israeli people's fundamental humanity to the world. Such an initiative could also help counter opposition to Israeli military operations against Hamas leaders, cadre, weaponry, and infrastructure. Israel will, of course, retain the capacity to return these refugees to Gaza when the war is over, and should experience benefits to clearing the looming battlefield of many civilians, who will be most at risk in the days ahead.
There is no perfect solution to alleviate the death and destruction that awaits in the Gaza Strip, but getting women, children, and the elderly out of harm's way would be a positive step that would reinforce the Israeli commitment to minimize harm to civilians even as it rightly seeks to destroy the threat posed by Hamas. It could also underscore President Biden's concern to protect innocent civilians while fully supporting Israel's security needs.
Alan Pino served as US national intelligence officer for the Near East for fifteen years, retiring in 2020.
Casimir Yost directed the Strategic Futures Group at the National Intelligence Council from 2009 to 2013. He is an adjunct instructor at Georgetown University's School of Foreign Service.
Further reading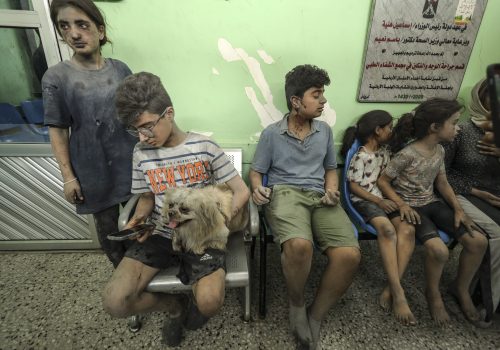 Thu, Oct 12, 2023
MENASource By Arwa Damon
Dr. G is no stranger to war zones. He's a plastic and reconstructive surgeon who often volunteers when bombs and disasters strike.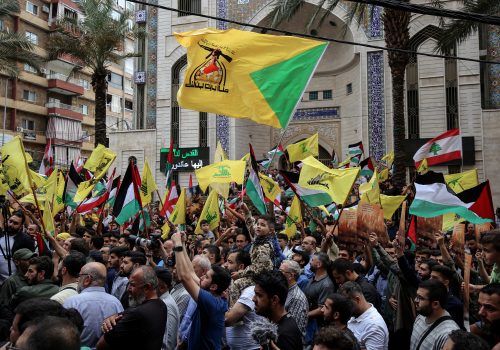 Wed, Oct 11, 2023
MENASource By David Daoud
The genesis of Operation Al-Aqsa Flood appears to originate with Hezbollah, at least in part. The pressing question now is what will Hezbollah do next?
Sat, Oct 14, 2023
MENASource By Shahira Amin
Whether Egyptian President Abdel Fattah el-Sisi will bow under US and Israeli pressure remains to be seen.