The kidnapping of a peace activist by Hamas reveals the cruel irony of the situation Israel faces
Last April, my dad sent a Passover greeting to his longtime friend, Vivian Silver. He shared a small joke in the form of a traditional Passover saying: "in every generation, we must see ourselves in Egypt," but replaced Egypt with "Kaplan Street." He was referring to the hub of the protests that had broken out across Israel this past year, which were a response to the Israeli government's divisive judicial reform proposals.
"My eldest grandson joined me on Kaplan," she replied. "What a source of pride!" The friends then proceeded to exchange photos of their grandchildren and wished each other well.

At seventy-four years old, Silver—who was abducted by the terrorist group Hamas on October 7—is no ordinary grandmother; she is a titan of the peace movement. The international media has profiled Silver extensively. Throughout her life, Silver has worked as a tireless champion for Arabs, spending decades supporting and building friendships with her Bedouin and Gazan neighbors. She founded the Arab-Jewish Center for Empowerment, Equality, and Cooperation in the 1990s to promote a shared society.
In the years before Israel unilaterally withdrew from Gaza in 2005, she traveled regularly to the Gaza Strip to support women. Later, she became active in Road to Recovery—an organization founded by the family of another victim of a Hamas attack—where she drove Palestinians in her car to receive medical treatment in Israel.
Silver and my dad go back decades. They were first introduced through the labor youth movement in 1974 and became part of a close-knit group of expats living on a kibbutz in the years that followed. Most of their cohort arrived at the table as "peaceniks," but Silver was among the few who maintained their dovish outlook.
Years later, I came to know Silver from her activism. In retirement, she founded an inspiring grassroots movement, Women Wage Peace, convening Jewish, Arab, and Palestinian women to promote non-violence and involve women in efforts to end the Israeli-Palestinian conflict. She has sat on the boards of several prominent peace and human rights groups, including Alliance for Middle East Peace (ALLMEP) and B'Tselem, and has spoken around the world as an advocate for the cause. I eventually honored her at an event in 2018, recognizing the work of peace builders in Israel: leaders who, day after day, defied cynicism to fight tirelessly for peace.
Now, Silver is among the hundreds of victims torn from their homes by Hamas and held hostage in the Gaza Strip. It is still unclear whether she is among the living or dead.
The hostage crisis Israel is facing is unprecedented. Its complexity defies that of anything Israel—or the world—has ever faced before. Yet, there is some familiarity with the territory.
Israel has a well-documented history of securing hostage releases through search and rescue, but more often, negotiations. In recent years, Israel has paid exorbitant prices for hostages or their bodies. In 1985, Israel exchanged over a thousand prisoners for three Israeli soldiers caught in the Lebanon war. In 2008, they traded 199 remains and five prisoners for the remains of two soldiers: Eldad Regev and Ehud Goldwasser. Later, in 2011, Israel negotiated the release of Gilad Shalit—a captured soldier who remains a symbol of Israeli nationalism—in exchange for more than 1,027 prisoners (many of whom had blood on their hands).
When Gaza hostage takers called Israeli families in recent weeks using the phones of the hostages, they uttered four words repeatedly: "Kidnap. Gaza. Gilad Shalit."
By some estimates, Israel has swapped roughly eight thousand prisoners for nineteen Israelis and the bodies of eight more over the past three decades. Israelis have generally accepted these widely disproportionate trades. "Redeeming a captive," or pidyon shvuyim, as it is called in Hebrew, is considered a core Jewish value. It is one that resonates deeply in a country with compulsory military service, where the nation's youth are likely to be sent to battlefields from which they may not return.
As a result, many of the past hostages—their names and stories—have been ingrained in the collective Israeli psyche. The campaign to get Shalit released was tremendously popular; 79 percent of Israelis favored the deal. Now, the campaign to bring home the two hundred hostages currently held in Gaza has taken on an unprecedented global dimension, with protesters around the world taking to the streets, plastering their photographs on buildings and social media, and demanding that the hostages be brought home. However, there has been little discussion so far on what price Israel should be willing to pay to do so.
Indeed, past negotiations have come at an incredible cost, chipping away at Israel's deterrence over time. The one-for-one-thousand ratio sent a clear message to Hamas that holding onto Israeli bodies is critical for extracting concessions from Israel. Kidnapping became a targeted strategy for foreign terrorist organizations like Hamas in the Gaza Strip and Hezbollah in Lebanon; their leaders have repeatedly pledged to abduct Israeli soldiers until, in the words of Hezbollah Secretary-General Hassan Nasrallah, "not a single prisoner" remains inside Israeli jails. Israel does not employ the death penalty, so any criminal sentence can be overturned through negotiations. As a result, the volume of threatened or intended kidnappings of Israelis has steadily grown with time; Israel frequently issues travel warnings to its citizens heading abroad.
In many ways, Hamas was founded on the back of prisoner exchanges, with most of its top leaders being re-released into Gaza in this manner. The group's founder, Sheikh Ahmed Yassin, was released in the 1985 exchange. Additionally, Yahya Sinwar, the group's current leader inside the Gaza Strip, was released alongside Ali Qahdi—who was said to have led the massacre in Israel and was one of the first to be assassinated in retaliatory strikes—as part of an exchange in 2011. At least six of the current top Hamas leaders have been released in prisoner exchanges with Israel.
For all its challenges, the alternative to negotiations—search and rescue—could come at an even higher cost. This approach and its associated risks are especially personal for Israeli Prime Minister Benjamin Netanyahu. His brother famously died in one of Israel's few successful hostage rescue operations in Entebbe in 1976, where he rescued a hundred hostages from a plane in Uganda. While the same military unit deployed in that mission is now on standby to operate in Gaza, history offers little guidance. A hostage situation with a single barricade or contained facility, such as an airplane or a building, requires less expansive intelligence to analyze the whereabouts of captives. Nevertheless, even in those scenarios, there is no guarantee of success.
In 1995, a failed effort to recover Nachshon Wachsman, a kidnapped Israeli soldier, ended in his death as well as that of a soldier and three Hamas operatives. The story is permanently etched into Israeli minds (Hamas member Jihad Yarmur, who was convicted in the killing, was later released in the Shalit exchange).
Unlike these prior cases, the details of the current hostages in Gaza are very murky. For starters, not all are being held by Hamas—some are in the clutches of Palestinian Islamic Jihad (PIJ). Additionally, the exact location of the more than two hundred hostages in Gaza are unknown and are likely spread throughout multiple locations. Most are presumed to be in Gaza's complex network of underground tunnels. Some may be above ground; strewn all over a densely populated territory, with the potential to be used as human shields by Hamas operatives. With that in mind, each airstrike launched into Gaza decreases the likelihood that a hostage survives.
Israel is left with few good options. Unlike in past crises, it is not yet clear how heavy a price tag Israel is willing to pay for the current hostages. They must choose between retaliation against Hamas and recovering innocent civilians, and will likely prioritize the former over the latter. Meanwhile, hostages are running out of time. Every minute that bombing strikes continue, the hostages will be less and less likely to return home alive.
In a hopeful development, four American hostages were released in mid-October through two Qatar-brokered agreements. Hamas has stated that it will "endeavor" to release foreign nationals it describes as "under temporary custody," though there has been little indication that negotiations for the remaining more than two hundred Israeli hostages are progressing either. Israel initially demanded humanitarian aid in exchange for hostages. Hamas, in return, demanded the release of all 5,200 Palestinian prisoners in exchange for Israeli hostages. Both sides are slow to indicate movement.
In these moments, it will be up to the United States, Europe, Canada—where Silver is originally from—and dozens of others in the international community to champion all the victims and their release as Israel navigates the complexities of its war. It is vital that Silver's name—her life and her legacy—isn't lost in the long list of casualties to come.
Carmiel Arbit is a nonresident senior fellow for Middle East Programs at the Atlantic Council. Her research focuses on US-Israel relations, the peace process, Israeli and Palestinian politics, Congress, and broader issues affecting the Middle East.
Further reading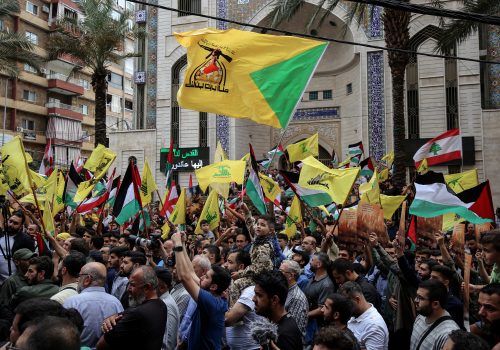 Wed, Oct 11, 2023
MENASource By David Daoud
The genesis of Operation Al-Aqsa Flood appears to originate with Hezbollah, at least in part. The pressing question now is what will Hezbollah do next?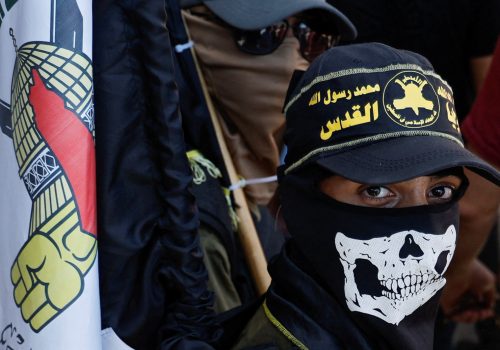 Tue, Oct 10, 2023
MENASource By Jason M. Brodsky
Both Israel and the United States should engage in deep introspection at the policy level over their failure to deter Hamas's brutal attack. 
Sat, Oct 14, 2023
MENASource By Shahira Amin
Whether Egyptian President Abdel Fattah el-Sisi will bow under US and Israeli pressure remains to be seen.