When Russia launched its full-scale invasion of Ukraine in February 2022, Moscow also turned Europe's dependency on its energy into an economic weapon against NATO allies across the continent. The lesson was clear: In the event of an actual war—or even a major geopolitical conflict falling short of war—trade sanctions, coercive economic tactics, and other punitive economic measures are potent weapons that authoritarian regimes can deploy against the West. As Secretary General Jens Stoltenberg urged in his keynote speech at the Munich Security Conference in February of this year, NATO allies need to take bolder action to ensure the resiliency of their economies against authoritarian pressure. Europe's dependencies go beyond Russian energy and include significant reliance on China for trade and investment. While not as concentrated as Europe's recent dependence on Russian oil and gas, many of China's investments in Europe raise concerns that nonetheless require urgent action by the Alliance.
The NATO summit in Vilnius, Lithuania, in July is an opportunity for leaders to mitigate geoeconomic risk within the Alliance and in southeastern Europe in particular. Specifically, all allies should commit in the communiqué to the prompt adoption of investment screening legislation—particularly the Balkan nations of Albania, Bulgaria, Croatia, Montenegro, and North Macedonia, where legislation is largely absent. While the European Union (EU) is Europe's lead institution on investment and trade issues, its technocratic approach has up to now failed to generate the necessary political will with all members of the Alliance to take investment security issues seriously. Putting the issue of investment screening on the wider transatlantic agenda will increase pressure on lagging allies to elevate investment security and accountability on NATO's southeastern flank. The Alliance can look to how 5G security was put on the agenda a few years ago as a case study of how it can generate political will among allies to address gaps in national security that are notionally economic in nature.
Because the implementation of economic security regulations carries risks of abuse and corruption, NATO, the EU, and key member states from both organizations should support those nations in the development of inclusive and effective legislation that mitigates against economic risk while protecting the democratic process.
Economic security underpins military security
Members of the EU and NATO face a number of threats from authoritarian corrosive capital and critical economic dependencies. Whether originating from private or state-owned enterprises, unaccountable investments lack transparency, accountability, and market orientation. Corrosive capital largely originates from authoritarian states and exaggerates governance gaps to influence economic, political, and social developments in recipient countries. For example, authoritarian regimes, particularly China, use subsidies and other uncompetitive practices to invest in critical or other digital infrastructure that can have a dual military-civilian purpose, such as in port infrastructure in southeast Europe which could be used to transit military gear in support of NATO operations. Nontransparent investment flows, particularly in Bulgaria and the Western Balkans, undermine transparency and abet corruption. In the higher value-added sectors of the economy such as the thriving information and communications technology sectors in Bulgaria, unaccountable investments threaten the valuable intellectual property of Europe's established firms and emerging start-ups alike. Last year, China weaponized Europe's critical trade and supply chain dependency on the huge Chinese market to block Lithuanian imports to China, seeking to punish Vilnius for its foreign policy choices. Europe's urgent transition in the last year away from Russian natural gas to renewable resources such as solar and wind power, which are dominated by China, risks replacing one set of strategic energy dependencies for another.
To address these challenges, many European countries have developed new EU-wide investment screening regulations and the European Union has proposed legislation to counter economic coercion. Since 2020, EU member states are required to have an investment screening mechanism in place as part of the EU-wide investment screening coordination framework—but the details are left up to the individual countries, which are responsible for their own national security.
NATO's southeastern flank is the most vulnerable and least-prepared region to protect its economies from authoritarian corrosive capital. Montenegro has become famous for its "white elephant" Chinese-funded infrastructure projects. Croatia is host to the Chinese Southeast European Business Association and has actively courted Chinese investments in critical infrastructure, including ports and the EU-funded and China-built Peljesac bridge, the first example of subsidized Chinese firms beating out European firms for EU-funded projects in Europe. Bulgaria and North Macedonia have more pronounced links to unaccountable flows of Russian capital, including in the energy sector.
Among these countries, only Croatia is in the early stages of exploring the development of an investment screening law, and it is doing so at a leisurely pace. Bulgaria is in an even earlier stage than Croatia, but has an opportunity with its new government to make progress. North Macedonia, Albania, and Montenegro also lack an investment screening mechanism, leaving NATO's most vulnerable members and economies open to the risk of corrosive capital and unaccountable investment. These governments have largely failed to put investment security legislation and processes on the table because of a lack of political will. An initiative by key allies to put this issue on the table at NATO would help push lagging governments in southeast Europe to prioritize this issue. Yet, a push by NATO allies to close the investment security gap in southeast Europe should also be coupled with practical assistance to help those allies develop inclusive, transparent legislation on investment screening.
The risks of regulating economic activity in fragile democracies
Emerging markets in NATO's southeastern flank, including Albania, Bulgaria, North Macedonia, and Croatia, face some of the greatest challenges to equipping themselves with the tools to protect their economies from national security threats. These allies face capacity and governance challenges that will require coordinated support from NATO, the EU, and key bilateral allies to help implement effective investment screening legislation.
First, the economies of southeastern Europe are among the least developed within NATO. As a result, most business leaders in these countries are desperate for any investment they can attract and are instinctively hostile to the idea of screening any investment. Coaxing the private sector into compliance with any relevant legislation will require an intentional and transparent process of policy dialogue between government and business to reassure business that legislation will not meaningfully harm the economy.
Second, these countries largely lack governmental capacity to effectively screen foreign investments, a highly technical process requiring competent bureaucrats armed with both economic and national security data and expertise. A related challenge is the need for the bureaucracy to maintain the confidentiality of proprietary corporate data during the screening process; leaks of government deliberations to tabloids are a pervasive problem in southeast European policymaking.
Third, the democracies of southeastern Europe are by and large low-trust societies with weak public-private dialogue and an often fragile rule of law, making effective and informed policy formulation a challenge. To ensure economic fairness and guard against regulatory abuse, any new tools allowing governments to regulate economic activity will need proper transparency, checks and balances, and oversight.
NATO and the EU face a conundrum in dealing with the geoeconomic challenges to southeastern Europe's market, particularly in Bulgaria and Croatia, which are already in the European common market. On the one hand, failure to develop screening mechanisms and other tools in these economies leaves both the EU and NATO vulnerable to economic risk that could impact the wider single market. On the other hand, given the governance and capacity challenges in these countries, a rushed or opaque policy process could result in lack of awareness and compliance by the private sector or the emergence of unintended consequences such as barriers to legitimate competition.
What the EU, NATO, and Three Seas Initiative can do
To address these challenges, NATO, the European Union, and individual allies can play complementary roles.
Through its regulatory role, the EU should take the lead in supporting these countries in developing economic security legislation. The European Commission can provide technical support to help governments align their investment screening legislation with EU standards, particularly countries that are candidates for accession, such as Albania and North Macedonia. Meanwhile, the Organisation for Economic Co-operation and Development can provide technical support to member governments such as Croatia to help them understand the likely impact an investment screening law will have on its economy and competitiveness as an investment destination.
Because the EU leads on economic and trade issues, NATO's role will involve helping allies assess national security implications of investment risk in dual-use economic assets that can have a military or other national security purpose. Here, planning groups within NATO's Resilience Committee can provide guidance on how to ensure that screening mechanisms meet compliance with NATO's baseline requirements for national resilience. In the interest of building political will, the NATO summit communiqué at Vilnius could set a deadline to have investment screening legislation in place by the seventy-fifth anniversary Washington summit next year.
Finally, select allies can provide bilateral mentorship and support for these southeast European nations on best practices for securing business buy-in and compliance with screening mechanisms. A system modeled after the Committee on Foreign Investment in the United States may not align with the needs, economic structure, or capacities of smaller countries in southeast Europe. Smaller allies such as the Czech Republic can advise southeastern European governments on the lessons learned from their experience, perhaps bringing in chambers of commerce and business associations to share their experiences on compliance with the law.
The Three Seas Initiative, an informal gathering supported by the Atlantic Council and including twelve Central and Eastern European member states focused on north-south infrastructure development, could also help. It could serve as a venue for members to coordinate economic-security regulations to ensure wider harmonization of economic policy. Differences in investment security regulations across countries complicate the kind of cross-border investments that the Three Seas Initiative is designed to attract and finance. The Three Seas business forums in particular can serve as a channel for business associations and chambers from within the Three Seas region and neighboring countries in the Western Balkans. The forums offer a place for parties to share their experiences, challenges, and concerns about complexities caused by differences in screening legislation within the region and to formulate recommendations on how to minimize the impact on the investment environment.
Ultimately, the national governments of Croatia, Bulgaria, Albania, North Macedonia, and Montenegro will have to do the hard work themselves to adopt these best practices and craft successful legislation. Governments will need to consult with the business sector before legislation is drafted to help promote understanding of these processes, incorporate recommendations to streamline red tape, and raise awareness in the business community of critical threats that can allow them to adapt their internal due diligence. But this will require a balance to ensure that economic security is not traded away for the sake of economic development. Including civil society is also essential to ensure effective transparency and monitoring of review processes to make sure they are not used for corrupt purposes or overlook key threats.
As NATO heads into its seventy-fifth year, its member states and partner institutions need to adapt to new challenges. Robust investment screening across the whole of the Alliance will help strengthen NATO against economic weapons that are increasingly central to today's conflicts.
---
Jeffrey Lightfoot is a nonresident senior fellow at the Scowcroft Center for Strategy and Security and is the Bratislava-based program director for Europe at the Center for International Private Enterprise.
John Kay is a program manager at the Center for International Private Enterprise and worked previously in the Balkans with the US Agency for International Development.
Further reading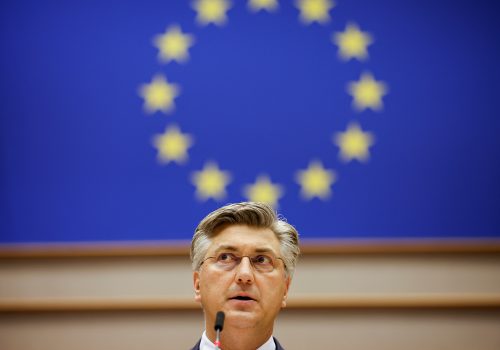 Wed, Mar 1, 2023
New Atlanticist By Nick Fouriezos
Croatian Prime Minister Andrej Plenković appeared at an Atlantic Council Front Page event where he spoke about the war in Ukraine, his country's path to the EU, and more.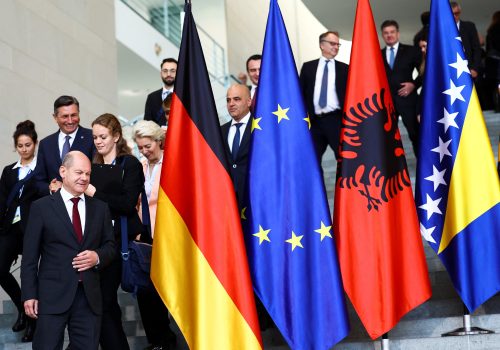 Thu, Nov 3, 2022
New Atlanticist By Damir Marusic, Maja Piscevic, Jörn Fleck
Thursday's Western Balkans summit is a sign of momentum for regional economic cooperation and integration—and it couldn't come at a more important time.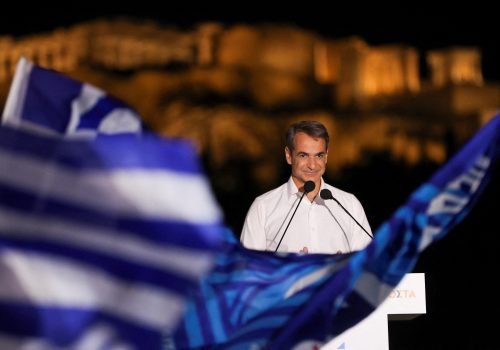 Wed, May 24, 2023
New Atlanticist By Katerina Sokou
Prime Minister Kyriakos Mitsotakis's party secured 40 percent of the vote in parliamentary elections on May 21. After more than a decade of economic troubles, Greece may be entering a new era of stability.