For a nation that has been through as much political and economic turmoil as Greece has had to endure during a decade-long financial crisis, the results of its parliamentary elections on May 21 came as a surprise. No pollster or political analyst expected the kind of comfortable lead that the country's ruling New Democracy Party secured under Prime Minister Kyriakos Mitsotakis.
At 40 percent of the vote (and a whopping 20 percentage points above second-place Syriza, the leftist party of former Prime Minister Alexis Tsipras) the New Democracy Party's showing was higher than when Mitsotakis was first elected to power in 2019. In fact, it is the best of any incumbent Greek government in half a century. The impressive win is widely considered a vote of confidence in the Greek prime minister, who went to the polls asking for a second term to complete his pro-business agenda.
But as much as it says about how Greek voters evaluate his first term, the result also speaks volumes about the state of the opposition, especially Syriza, which failed to persuade voters that it had a compelling governing proposition and refused to shed its populist rhetoric.
Given a new voting law of proportional representation, New Democracy was still a few seats shy of forming a majority government. Thus, Mitsotakis has called for a runoff election as soon as June 25, which will be held under a different voting law that may well propel New Democracy to a majority, given the bonus of as many as fifty seats that it grants to the first-place party. As for the prospect of Mitsotakis forming a coalition government, a lack of appetite or scope for such cooperation all but rules it out.
[The] strategic direction of Greece is not in question in these elections, as all the mainstream parties support Greece's defense cooperation with the United States and are committed to the eurozone.
Contrary to the years of the financial crisis, these elections in Greece did not attract wide international attention. The fact that no government was formed did not rattle the markets, nor did it create cause for geopolitical concern. On the contrary, the Greek stock market rallied on the news on Monday.
This is partly because the strategic direction of Greece is not in question in these elections, as all the mainstream parties support Greece's defense cooperation with the United States and are committed to the eurozone. This is also true on foreign policy, where they agree on the strategic priorities of a country that is moored to the West and playing a stabilizing role in the wider region. As US State Department Spokesperson Matthew Miller congratulated the people of Greece on the elections in anticipation of the runoff, he noted that "the US-Greece bilateral relationship has strong support across political parties in both the United States and Greece. It has been strengthened over years of cooperation between multiple administrations and governments in both countries."
That said, New Democracy is focused on further deepening the US-Greece strategic partnership, including on defense, and continuing to support Ukraine by providing it with military aid and implementing sanctions against Russia. Greece under the leadership of Mitsotakis has also gained influence within the European Union (EU) on issues such as the energy transition and energy security, which could continue as Greece has a goal of tripling its regasification capacity (converting liquefied natural gas back to gas) this year. Greece is also expected to continue to exert tight control over its borders. And despite a rocky relationship with Turkish President Recep Tayyip Erdoğan (who also seems poised for reelection on May 28) Mitsotakis is open to a rapprochement, if anything to avoid a replay of recent tensions.
Yet the biggest focus of a second New Democracy term would be on the economy. The May 21 election was the first in Greece after the end of the post-bailout monitoring. Under Mitsotakis's reign, Greece registered one of the fastest economic growth rates in the eurozone in 2022, at 5.9 percent, and he promises to push with the reforms that will further increase foreign direct investment and improve Greek competitiveness, while also making good use of the 30.5 billion euros that Greece is due to receive from the EU's Recovery and Resilience Facility.
But as the Financial Times notes, "Greece's economic revival is still a work in progress." Despite significant improvement, the legacies of the debt crisis are still evident in its gross domestic product (GDP) and unemployment numbers, with New Democracy promising to continue increasing salaries and pensions to deal with a cost-of-living crisis. And Greece has committed to primary surpluses of 2 percent of GDP per year, which may prove difficult to achieve if public expenditures exceed the government's projections amid higher inflation.
Indeed, the Greek prime minister offered an economic reason for calling the elections a couple of months early: to regain the investment-grade credit rating that the country lost during its debt crisis, considered a prerequisite to sustainably increase growth and manage its debt. As S&P Global Ratings changed its outlook for Greece from neutral to positive last month, it signaled that an upgrade to investment grade may be a matter of months away. But the credit rating agency also noted that this is subject to preserving political stability. And as the governor of the Bank of Greece warned, there is no fiscal room in Greece for all of the political parties' electoral promises.
But even as the prospect of another debt crisis does not seem near, the New Democracy government withstood more immediate challenges on the road to its electoral triumph. These include the 2020 Evros border crisis—in which thousands of migrants and asylum seekers tried to breach the Greece-Turkey border with the encouragement of the Turkish government—as well as the devastating effects of the pandemic, heightened tensions with Turkey, and the cost of the energy crisis for Greek households and the economy.
So, despite the tragic loss of life in a train accident in March that exposed the inefficiencies that are still plaguing Greece's public sector, or a wire-tapping scandal that embroiled the prime minister's office last year, it was the quest for stability and the promise of a more efficient and bolder government that gave New Democracy its impressive lead. Now, Mitsotakis is betting this will be confirmed in the runoff.
---
Katerina Sokou is a nonresident senior fellow with the Atlantic Council's Europe Center, Theodore Couloumbis research fellow on Greek-American relations at the Hellenic Foundation for European and Foreign Policy, and the Washington DC correspondent for Greek daily newspaper Kathimerini, where she is also a columnist.
Further reading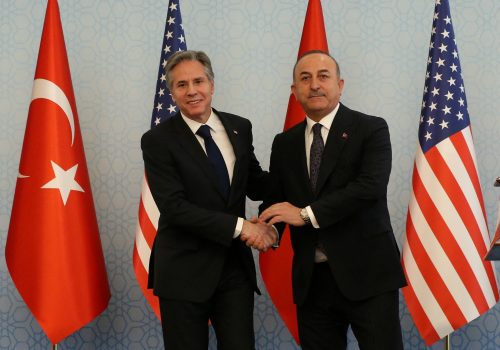 Mon, Feb 27, 2023
TURKEYSource By Atlantic Council IN TURKEY
Atlantic Council experts give their perspective on US secretary of state's visit to Turkey and Greece in the aftermath of Turkey's devastating earthquake.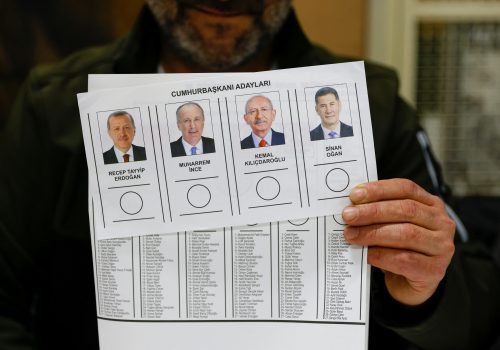 Mon, May 15, 2023
New Atlanticist By Atlantic Council experts
Neither Turkish President Recep Tayyip Erdoğan nor top challenger Kemal Kılıçdaroğlu was able to reach 50 percent of the vote on May 14. Here's what to expect now.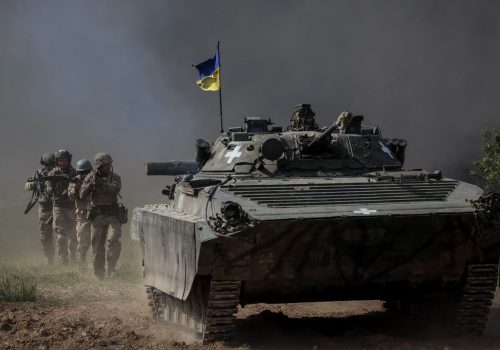 Tue, May 23, 2023
UkraineAlert By Richard D. Hooker, Jr.
Ukraine's coming counteroffensive has a great chance of succeeding due to a number of factors including superior leadership, equipment upgrades, and strong morale, writes Richard D. Hooker, Jr.