Watch the full event
As Ukraine fights to maintain its national autonomy while pushing for European integration, it has found an ally in Croatia, which has faced similar challenges since achieving independence just three decades ago.
"There are many parallels from Croatia to Ukraine today, from Vukovar to Mariupol for instance," said Croatian Prime Minister Andrej Plenković at an Atlantic Council Front Page event on February 22, naming two cities that were the target of significant siege and urban warfare.
Despite intense periods of conflict that devastated its economy and its citizens, Croatia has proven itself a success story—and can now serve as a beacon for other nations that, like Ukraine, will continue to navigate the tricky process of European integration and nation building.
Plenković noted how on January 1, Croatia became the first country to simultaneously join the eurozone currency union and visa-free Schengen area, and it's now one of only fifteen members of those two groupings plus NATO. "In the span of three decades, from a country which was not even recognized, we managed to enter this core group," he said.
Plenković is the longest-serving prime minister in Croatia's history, with more than six years in office, a time that has seen the ongoing migrant crisis, stalled European Union (EU) enlargement, and now the invasion of Ukraine. The latter, he said, should serve as a "lesson" for Western leaders "about recognizing the threats as they are for international law, for international security, for the global system of governance. And also to completely abandon the politics of naïveté."
Read on for more highlights from his remarks and conversation with Paula J. Dobriansky, vice chair of the Scowcroft Center for Strategy and Security at the Atlantic Council.
The newest member of the club
Plenković acknowledged his country's relatively fortunate position within the EU right now. It is, alongside Slovenia, the only former Yugoslavian country to be accepted into the EU and has joined the eurozone and Schengen area faster than Bulgaria and Romania—even though they joined the EU before Croatia did.
Plenković noted that Croatia is "a net beneficiary country" that brings in more EU funds than it contributes. It "enables the government to invest in areas that need to catch up," he said, such as infrastructure, environmental protections, and "elevating the living standards of our people."
But Plenković acknowledged that European integration has been a difficult thing for some Croatians to grapple with. "People who are living in Croatia today knew how it was not to have our state," he said. "Some of them are wary of the impact of other actors into what we decide what to do. My point was that by joining NATO and the EU, we have only become stronger. Some people appreciate [it], others less."
A model for the rest
Plenković envisioned Croatia's speedy integration as a model for other countries that want to join the club. "No one has more knowledge of the most recent accession process than we do."
Plenković confirmed that Croatia is supportive of Ukraine's efforts to join the EU going forward: "There is strong political pressure coming, especially from Poland and Baltic countries, to move forward with Ukraine."
As for Serbia's EU candidacy, Plenković was a little more careful with his words. "When it comes to Serbia, our relationship has been burdened by the events of thirty years ago," he said. "After our session now, I will even go and visit an area near Vukovar where we are still looking for the remnants of missing persons who died thirty years ago, so there are many sensitivities. But we are determined to normalize our relations." Plenković has continued to meet with Serbian President Aleksandar Vučić, including at Davos, and the nation's foreign ministers have met on multiple occasions as well.
Plenković was steadfast in his belief that current candidate countries will benefit from EU membership. "EU membership is the only attraction, the only real source of transformative power and the political will to change in many of the polities which are not yet in the EU."
A shared history of conflict
Plenković is a firm supporter of ongoing efforts to bolster Ukraine's defenses and economy. "My government was swift and articulate in condemning Russian aggression and in extending solidarity to Ukraine in all potential ways," he said. Plenković summed up his vision of aiding Ukraine with one word: sustainability. "Sustainability of Ukrainians to resist, sustainability of Western assistance of Ukraine, and sustainability of the Western governments to live up to the challenges that we are faced with, which are prices of energy, inflation, food, and keeping the social cohesion in our countries."
Plenković also noted Croatia's role in housing Ukrainian refugees. "We are hosting around twenty-two thousand refugees from Ukraine, and they are well integrated. Children are going to our schools. Due to the proximity of Slavic languages, it is even easier in a Slavic country than somewhere else."
Plenković saw some glimmers of hope in the situation, too, particularly in the way that Russian aggression has spurred increased European unity. "The unity of the EU is really unprecedented. This unity is unique in international affairs for the last three decades. I can't recall of any remotely similar scenario where international support was so strong."
---
Nick Fouriezos is a writer with more than a decade of journalism experience around the globe.
Watch the full event
Further reading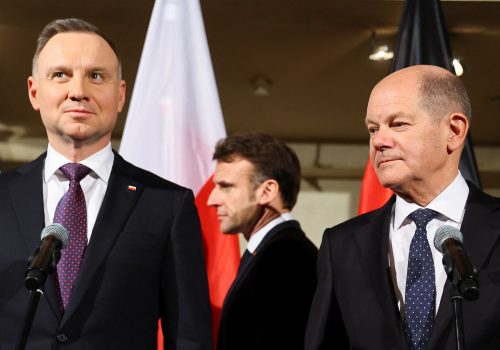 Wed, Feb 22, 2023
New Atlanticist By Anna Wieslander
There is fear of escalation, fear of having Ukraine fully in the European family, fear of a defeated Russia, and fear of a defeated Ukraine.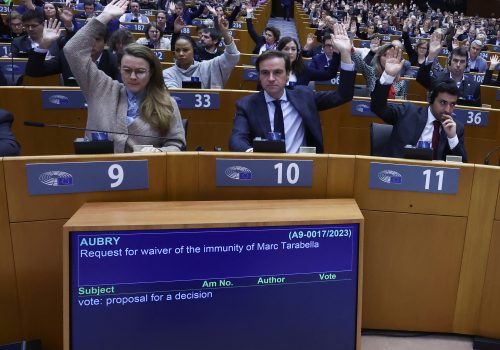 Thu, Feb 2, 2023
New Atlanticist By Atlantic Council experts
How will the EU continue to bolster its security? Can Brussels forge a new path toward better relations with its partners? Our experts give their recommendations on how to get there.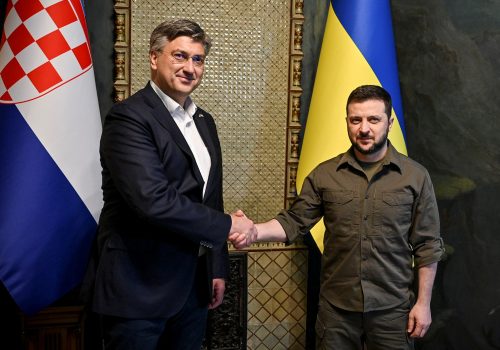 Sun, Jun 19, 2022
UkraineAlert By Vladyslav Rashkovan
Croatia's journey from war and partial occupation by a more powerful neighbor to membership of the European Union is a source of inspiration for Ukrainians as they fight against Russia's ongoing invasion.