Speeches by political leaders share the same important qualities as real estate: What matters is location, location, location. On Wednesday, French President Emmanuel Macron chose the GLOBSEC forum in Bratislava, Slovakia, to deliver an important speech on France's foreign policy in Europe. A significant portion of his thirty-five-minute speech and the discussion that followed was aimed at reassuring Central and Eastern European (CEE) partners of France's reliability (credibility was never so much in question). This skepticism about French reliability comes in part from CEE partners that had expected greater French involvement in NATO's enhanced forward presence after Russia's invasion of Crimea in 2014. These same CEE partners have since then scrutinized any French moves regarding engagement with Russian President Vladimir Putin as a possible risk to their own security.
Moreover, Macron's ambitious agenda to ensure European sovereignty will only move forward with the inclusion of CEE countries. In fact, it's an agenda that must be built with them. The stakes were thus high for the French president when he stepped on stage in Bratislava. But while location is important, what's said in speeches by leaders matters even more. Macron's speech shows his intent to build a stronger bridge between Western Europe and Central and Eastern Europe.
Ukraine needs 'concrete and credible security guarantees'
France has supported Ukraine throughout Russia's full-scale invasion of the country beginning in February 2022. At the same time, France is one of the few countries deciding to remain discreet about the exact type and quantity of military aid it is sending to Ukraine. It also engaged Putin in the first few months of the war to convey key messages to the Russian president. Moreover, France has spent time and resources to address concerns from the Global South, whose stance on the war Macron views as important. As a result, some of France's attention and support in the form, for example, of food aid has gone to the Global South and not directly to Ukraine. This has conflicted with the views of some leaders in CEE countries, who have sought to make Ukraine the sole priority. In all, these policies, combined with its track record of outreach to Russia before the invasion, occasionally fell short of convincing France's allies and partners of its commitment to deliver on its intent to support Ukraine "as long as necessary."
In that regard, the speech offers three important points. First, Macron laid out the conditions for an eventual peace in Ukraine to be an enduring one. He stressed the necessity of avoiding a ceasefire that would simply turn into a frozen conflict.
Second, in line with the recent Group of Seven (G7) leaders' statement, Macron underscored the need to "give Ukraine concrete and credible security guarantees" and rebuked the inadequacy of the 1994 Budapest memorandum, which provided Ukraine with non-legally binding security assurances rather than outright security guarantees.
Third, Macron demonstrated how the French policy toward European Union (EU) enlargement has strengthened significantly in just the last year. Remember that it was Macron's trip to Kyiv in June 2022 with leaders from Germany, Italy, and Romania that laid the groundwork for the EU's historic decision to grant candidacy status to Ukraine and Moldova. In Bratislava this week, the French president went further in stating that he supported a policy of EU enlargement with no intent of stalling (while also noting the need for the EU to have the capacity to effectively integrate more countries). He said, "the question is not about the if, or the when, but about the how." Macron further emphasized this point by reiterating that the European Political Community is no alternative to EU enlargement.
NATO just had 'the worst of electric shocks'
While US-French cooperation runs deep, Macron also believes in a need to make Europe stronger through strategic autonomy. This view is usually met with skepticism, sometimes less so in the United States than in the rest of Europe, where strategic autonomy can be perceived as potentially detrimental to NATO unity. In his Bratislava speech, Macron pushed back against such skepticism by dismissing the arguments that a stronger Europe would necessarily weaken the transatlantic community while also reinforcing "the European pillar of NATO." Macron notably thanked Washington twice for critical US engagement in European security. He saluted the efficiency of NATO collective defense and, after referring to the Alliance as "brain dead" in 2019, said Wednesday that "Putin jolted it awake with the worst of electric shocks."
In all, Macron's speech offered an opportunity for more fruitful and closer cooperation between France and CEE countries. This is both due to France's evolving foreign policy on key issues for these countries and to the tone Macron struck, which might be as important. Indeed, in a major applause line of the speech, Macron referred to a comment in 2003 by the then French President Jacques Chirac, saying that the CEE countries supporting the war in Iraq missed "the opportunity to shut up."
"Some said you had missed an opportunity to stay quiet. I think we also lost an opportunity to listen to you," Macron said. "This time is over."
---
Marie Jourdain is a visiting fellow at the Atlantic Council's Europe Center. Before that, she worked for the French Ministry of Defense's Directorate General for International Relations and Strategy.
Further reading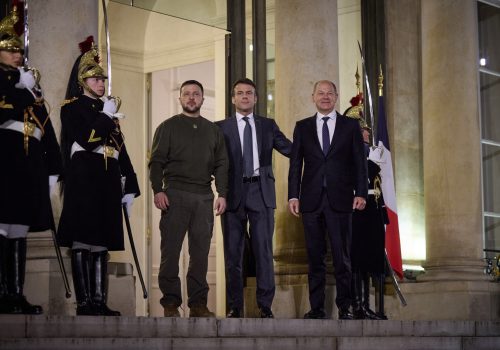 Thu, Feb 9, 2023
New Atlanticist By Atlantic Council experts
Ukrainian President Volodymyr Zelenskyy zipped from London to Paris to Brussels this week. His message to leaders and lawmakers was more military aid is needed.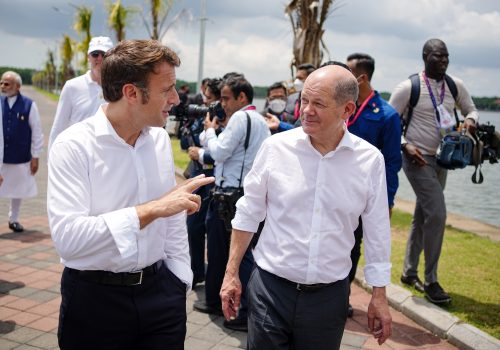 Fri, Jan 20, 2023
New Atlanticist By Marie Jourdain, Jörn Fleck
The January 22 France-Germany summit, amid bumpy relations between the two powers, comes at a pivotal time for Europe and the transatlantic alliance.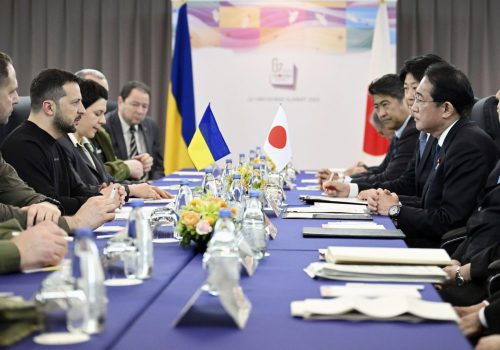 Sat, May 27, 2023
UkraineAlert By Yuna Potomkina
Over the past 15 months, Ukraine has built an international coalition of partners prepared to arm the country against Russia's invasion. This unprecedented diplomatic success offers important lessons, writes Yuna Potomkina.