Warsaw may have just edged closer to Brussels. According to exit polls released Sunday, opposition centrist and progressive parties led by the Civic Platform Party appear to have gained enough seats to form a coalition and oust Poland's ruling right-wing nationalist Law and Justice Party, which has led the country since 2015. Civic Platform leader Donald Tusk declared victory based on the exit poll results for these parliamentary elections, which saw the highest turnout in the country's post-communist history. Below, former US Ambassador to Poland Daniel Fried, the Atlantic Council's Weiser Family distinguished fellow, answers crucial questions on how this election will shape the country's future. 
What message are the Polish voters sending with these results?
According to exit polls, Poles seem to have voted for centrist, liberal, and leftist alternatives to the rightist ruling Law and Justice Party. Law and Justice came in first by a significant margin but may lack the parliamentary numbers to form a coalition. A liberal/centrist/left coalition appears slightly more likely at this preliminary point. Despite a pro-government slant by the Polish state-owned television network TVP, the Polish electorate seems to have voted for a change of course.
What can we expect as Law and Justice tries to form a government? 
Law and Justice leader and Deputy Prime Minister Jaroslaw Kaczynski is a skilled politician who excels at just the sort of inside negotiations that forming a parliamentary majority will require. But he will likely face an uphill battle. If the exit polls are accurate, Law and Justice will win two hundred seats in the Sejm, the lower and more powerful house of Poland's parliament. A majority requires 231 seats. The potential governing coalition among the liberal Civic Platform, the centrist Third Way coalition, and The Left appears set to gain 248.
Nevertheless, President Andrzej Duda (who was not running in these elections) will almost certainly give Law and Justice the first chance to form a parliamentary majority in the coming days if it has, as seems likely, come in first among all the parties. It may take weeks before we know the shape of the next government. The precise distribution of Sejm seats may make this a faster or slower process.
What impact do you see in these results on Poland's support for Ukraine? 
The hard-right Konfederacja Party, the only explicitly anti-Ukraine party that will enter parliament, did poorly, finishing last among the parties that entered parliament (again, if exit polls are accurate). The Polish Peasants Party, part of the centrist Third Way coalition, will maintain strong objections to allowing Ukrainian grain to be sold in Poland. This issue aside, the other major Polish political parties support Ukraine and oppose Russian aggression; this consensus policy is likely to remain intact.
Will these results move Poland closer to the European Union? 
The Law and Justice Party has made accusations against Germany a staple of its campaign and has been in a prolonged fight with the European Union (EU) over its efforts to reform (opponents say politicize) Poland's judiciary. Much of the party's political profile is based on styling itself as a champion of Polish national interests in opposition to European bureaucrats. A coalition led by the Civic Platform Party would almost certainly seek to improve Poland's relations with the EU. Its leader, Tusk, served as president of the European Council from 2014-19.
Further reading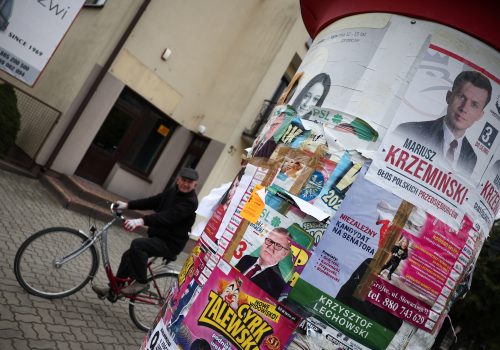 Wed, Oct 11, 2023
Eye on Europe's elections By
What's at stake in the October 15 election, as the ruling right-wing Law and Justice party seeks a third consecutive term? Atlantic Council experts have you covered on all things Poland.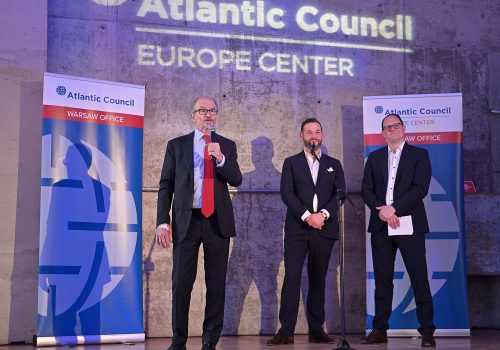 Thu, Jun 1, 2023
New Atlanticist By Daniel Fried
Poland and the United States must keep Ukraine front and center, maintain transatlantic unity, and champion democratic values. Our Warsaw Week charted a way forward.
Fri, May 26, 2023
Atlantic Debrief By
For another special Warsaw Week episode of #AtlanticDebrief, Aaron Korewa discusses with US Ambassador to Poland Mark Brzezinski the importance of the US-Polish relationship.