Watch the full event
As the European Union looks to reassess its relationship with China, European Commission Executive Vice-President Margrethe Vestager gave an early preview of what reposturing around economic and technological innovation might look like.
"We have no interest in decoupling from the second largest economy in the world. Rather, we need to build a de-risking strategy in order to manage the relationship that we will have in China," Vestager said Friday at an Atlantic Council Front Page event in Washington.
It won't be easy, though. Europe will need to juggle technological, climate, and economic concerns and use all the de-risking tools in its disposal, which Vestager said includes Europe's new Foreign Subsidies Regulation, international screening and procurement instruments, and outbound investment controls.
Meanwhile, the European Union (EU) and its members will have to carefully balance regulation and much-needed government financing for new technology development while not stifling domestic innovation from private enterprise, which could also have effects on its economic and philosophical rivalry with China.
That delicate dance was exemplified by the conversation around ChatGPT, as Vestager commended a recent letter from prominent tech leaders calling for a "pause" in developing artificial intelligence (AI) as a sign that society is taking AI concerns seriously, while also urging caution about actually holding off on developing such technology.
"Imposing a pause would be not only difficult to achieve, but maybe also not the way to go, because, as we speak, they're coding in China," Vestager said. "What we need is a direction. Where you say, well, this is where we want to go."
Across all these competing sectors, Vestager had one clear message: urgency.
"We have very little time, and we can only do it together," she said of the United States and the EU.
In her role, Vestager addresses critical challenges around economic competition, trade and technology, digital sovereignty, and green energy, all of which she discussed in her conversation with Jörn Fleck, senior director of the Europe Center at the Atlantic Council.
Read on for more highlights.
Addressing the EU-China relationship
Will the Commission's repositioning on China going forward be more like Lithuania or more Germany? "I would hope you can expect more Europe," Vestager said, going on to say that the European approach will need to be specific in its strategy. "I think precision, in what we see as risky, is absolutely key," she said, alluding to how low-risk products need to be treated differently than sensitive technologies.
Vestager said Europe should be aggressive in its strategy to combat China as an economic competitor and systemic rival, coming off the heels of Commission President Ursula von der Leyen's call Thursday to reassess Europe's diplomatic and economic relationship with China, ahead of her trip to China next week along with French President Emmanuel Macron. In the coming days, Europe "must put much more muscle on the bone of the strategy, so that we can take actions," she said.
A critical part of Europe's pivot will be around reducing its strategic dependencies on China, a lesson gleaned from watching Europe struggle with soaring energy costs amid Russia's war against Ukraine. "We should only need to learn this once. Now we need to act upon it," Vestager said. However, other tactics will be needed as well, as Europe can't succeed with just one approach, but will need to "combine the tools we have."
Combating Chinese cyber attacks and technology competition is key, with the acceleration of the digital age presenting unique challenges for democracies around the world. That will include addressing 5G networks but also data integrity and disinformation campaigns that threaten human rights. "We cannot throw away, in just a few years, what it has taken us decade after decade after decade to achieve," she said.
On technology
Commending a recent op-ed by US President Joe Biden aimed at keeping "Big Tech" accountable around privacy issues, Vestager noted that the EU has had the General Data Protection Regulation in place since 2016 and is currently investigating TikTok's use of data. However, she added that such controls are not enough: "As long as this kind of data is for sale, and China can buy it anyway, we still have work to do."
She also addressed the challenges of moderating content, citing the EU's Digital Services Act as one key effort to make sure platforms have systems for taking down illegal content while still preserving freedom of expression by "enabling people to come back if they find that they're not being fairly treated," she said.

Platforms must conduct risk assessments to see how they are affecting young people's mental health and how their service could be misused to undermine democracy, so that they can mitigate those concerns. "We want a digital market that is open, that businesses can get access to data that they would otherwise not have access to… and that they should not fear their data is being used against them," she said.
Change in the digital marketplace will be difficult to create without public buy-in, she said: "In my experience, when you change legislation, that is difficult, but what you have changed is perception. When you implement legislation, you want to change behavior—one hundred times more difficult."
However, Vestager warned against overregulation that kills healthy competition, as open, dynamic markets, and the innovation they bring, will be critical to advancing core technologies to confront major challenges, from China to climate change. "What we are in the midst of is, of course, a very small window to make sure we get some of the design right for a fully digitized world that honors the basics of our beliefs."
That lesson was exemplified by the AI conversation, in which Vestager said she felt like the European Commission's work to assess some of the high-risk cases was "on track," including tools to help developers and regulators, such as the AI Roadmap and AI for Good initiative. Rather than ban AI technologies like ChatGPT, Vestager urged agreement around central questions, such as "what are the guardrails" and "what is the direction of travel, when it comes to AI?"
Climate change
Commending Europe's commitments to reach net-zero carbon emissions by 2050, Vestager noted how policies such as the US Inflation Reduction Act and the EU Green Deal Industrial Plan can push clean energy forward. Those initiatives must be mutually reinforcing, though, and also not result in a transatlantic subsidy race that doesn't accelerate green efforts worldwide. "The paradox is that, while we have this back and forth in the short term, mid- to -long-term, there is enough for everyone," Vestager said. "We need net-zero industries in the US, in Europe, in India, in China, in every jurisdiction. Otherwise we will fail."
Avoiding disruptions to trade and investments will be essential to making progress on net-zero goals, said Vestager, who underscored the need to reinforce transatlantic supply chains after their weaknesses were exposed during the COVID-19 pandemic. "We need to be able to depend on one another, and we need to be able to trust that we can do that also on a rainy day."
Similar to technology, fighting climate change will require a delicate balance between enforcing regulation and encouraging innovation. Political leaders have a responsibility to make the green transition happen, Vestager said, but they also cannot succeed without relying on the free market. "This is why it's so important to balance how you subsidize, how you incentivize, how you fix the market failures that are out there, in order to not break these market dynamics that are crucial for us all to be successful."
---
Nick Fouriezos is a writer with more than a decade of experience reporting around the globe.
Watch the full event
Further reading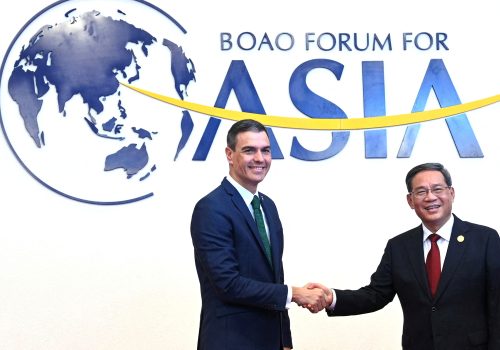 Thu, Mar 30, 2023
New Atlanticist By Ana Palacio
Spanish Prime Minister Pedro Sánchez's visit to China this week is both significant and symbolic—just a week after Xi Jinping met with Vladimir Putin in Moscow.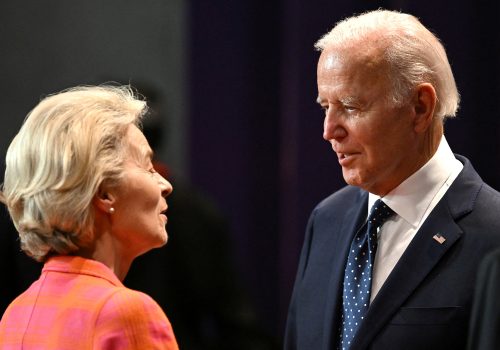 Thu, Mar 9, 2023
New Atlanticist By Jörn Fleck, James Batchik, Nicole Lawler
Expect coordination on supporting Ukraine and weakening Russia, addressing China—and, possibly, an attempt to move past the rift sparked by the Inflation Reduction Act.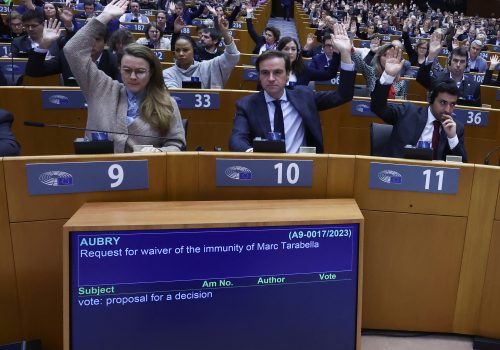 Thu, Feb 2, 2023
New Atlanticist By Atlantic Council experts
How will the EU continue to bolster its security? Can Brussels forge a new path toward better relations with its partners? Our experts give their recommendations on how to get there.