"Operation Shield and Arrow" harkens back to an older form of warfare, but its methods are modern. Early Tuesday, forty Israeli aircraft launched a targeted attack on sites in northern and southern Gaza. The strikes killed three senior commanders of the Palestinian Islamic Jihad (PIJ) militant group and ten others, including children. Israel struck again later Tuesday, stopping what it said was an attempted retaliation. Will this conflict escalate further? What does it mean for Iran, Saudi Arabia, and other regional players? Below, Atlantic Council experts share their insights.
This post will be updated as news develops and more reactions come in.
Jonathan Panikoff: The attacks push judicial reform and normalization down the road
Shalom Lipner: The operation comes as the Israeli government is at a fraught political juncture
Tuqa Nusairat: Palestinians continue to face daily violence
Andrew L. Peek: Iran, Saudi Arabia, and the United States are important factors as well
---
The targeted killing of three senior PIJ leaders by Israel early Tuesday is likely to spark at least a temporary resumption of hostilities with PIJ, one of the more prominent terrorist groups operating out of the Gaza Strip. The Israeli strikes follow PIJ's firing of 104 rockets into Israel after the death of one of the group's senior members, who had been on a hunger strike in an Israeli prison. Israel's actions are not unusual, but they come during a confluence of challenges, both domestic and international.
The strikes will temporarily unite Israeli political leaders on the left and right. Both opposition leader Yair Lapid and far-right coalition member Otzma Yehudit—a political party led by National Security Minister Itamar Ben-Gvir—are supporting the strikes. But the temporary national coalescence is likely to be short lived. The strikes will probably push the judicial reform debate that has torn Israeli society apart a bit farther down the road. But the history of these skirmishes, especially when they do not include Hamas directly, suggests that a conflict with PIJ is more likely to last in the range of seven to fourteen days, rather than multiple weeks or a month-plus. And once operations are complete, the focus will again revert to the domestic judicial crisis.
At the same time, senior White House officials are in Israel to back-brief Prime Minister Benjamin Netanyahu on last weekend's conversation in Riyadh between Saudi Crown Prince Mohammed bin Salman and US National Security Adviser Jake Sullivan. Reporting indicates that normalization between Israel and Saudi Arabia was a point of discussion. In striking PIJ, however, Israel is attacking a terrorist group directly supported by Iran at a time when Riyadh is seeking to restore diplomatic relations with Tehran. Undoubtedly, Saudi Arabia, Israel, and Iran will all seek to compartmentalize these issues. But Iran's malign influence in the region ensures that such compartmentalization is not a permanent answer. Like Israel's domestic challenges, it just pushes the real issue further down the road. 
—Jonathan Panikoff is the director of the Scowcroft Middle East Security Initiative at the Atlantic Council's Middle East Program. A former career US intelligence officer, Panikoff served as the deputy national intelligence officer for the Near East at the National Intelligence Council (NIC) from 2015 to 2020.
The operation comes as the Israeli government is at a fraught political juncture
The launch of Operation Shield and Arrow on May 9—when three senior PIJ commanders were killed in targeted Israel Defense Forces (IDF) airstrikes—put an end to speculation about the Israeli government's resolve to hit back powerfully against multiple rocket attacks from Gaza. The fact of a PIJ response is a foregone conclusion. What remains uncertain, however, is the future trajectory of this particular showdown.
Netanyahu—renowned for his disinclination toward military adventurism—would be satisfied certainly to contain the current round of fighting, leaving a depleted PIJ leadership to lick its wounds and returning to an earlier status quo where Hamas kept a (relative) lid on terrorist attacks emanating from the Gaza Strip. The nuanced language employed by the IDF, which isolated PIJ as the exclusive focus of its Gaza campaign, speaks precisely to this objective.
But escalation cannot be ruled out. Hamas has already declared that it intends to enter the fray with a vengeance. Eyes are trained also on Israel's northern border for signs that Hezbollah might be mobilizing to open a second front. And following the dangerous precedent of May 2021—when rioting erupted in Israeli cities with mixed Jewish and Arab populations during Operation Guardian of the Walls—Israel's domestic security could find itself compromised from within as well. Across the battlelines, hawkish elements of Netanyahu's cabinet will be pressing uncompromisingly for the IDF to stay the course until all of Israel's enemies are vanquished.
This predicament meets the Israeli government at a fraught political juncture, lagging in the polls as its judicial reform agenda stalls and the cost of living continues to soar. With opposition leaders Yair Lapid and Benny Gantz pledging their support for the IDF action, and Ben-Gvir halting his party's boycott of coalition business, Netanyahu—if he manages Shield and Arrow responsibly—is poised to stabilize his majority in parliament. An outcome which the Israeli electorate perceives as suboptimal could, on the other hand, precipitate the demise of his tenure as premier.
—Shalom Lipner is a nonresident senior fellow for the Middle East Programs at the Atlantic Council. He previously served seven consecutive Israeli premiers over a quarter-century at the Prime Minister's Office in Jerusalem.
Palestinians continue to face daily violence
Israel's airstrikes on Gaza early on May 9 were another example of its consistent attacks on a besieged Palestinian population in the Gaza Strip and West Bank, and of lack of accountability from the international community. The airstrikes that killed more than a dozen Palestinians, including six women and four children, need to be contextualized. Just last week, a Palestinian prisoner died in Israeli custody after an eighty-six-day hunger strike in protest of being held in "administrative detention." Israeli authorities demolished a European Union–funded Palestinian elementary school near Bethlehem. And numerous raids and attacks on Palestinians brought their death toll in the first fourth months of the year to more than 110, the highest in years. Last month, during the holy month of Ramadan, Israeli forces raided the Al Aqsa Mosque, desecrating sacred spaces and allowing extremist Israeli settlers to enter the compound.
Besides the fact that such strikes have become a more regular occurrence, the timing in particular is tied to domestic Israeli politics as Netanyahu faces a significant threat to his agenda and leadership. Israelis continue to protest his judicial reform proposal for the eighteenth consecutive week, which generated significant international sympathy and put the spotlight on the extremist coalition he relied on to come to power. Netanyahu's strength and ability to rally Israelis around him has more often focused on his military "successes" and shows of force against Palestinians. Striking Gaza in the midst of weekly protests against him is a convenient tactic to distract from the negative domestic and international headlines about his so-called anti-democratic push.
As Netanyahu has continued pushing for the expansion of settlement activity, continued the targeting and humiliation of Palestinians in the occupied territories, and elevated the most extremist voices in Israeli society, he will continue to use strikes and crackdowns against Palestinians to advance his image internationally and domestically as a strong protector of Israel. Even under a liberal Israeli coalition, airstrikes on the Gaza Strip and raids in the West Bank are a consistent occurrence and a symptom of Israeli insecurity as an occupying power. Whether the strikes lead to a wider escalation in violence is less relevant for Palestinians who, if not killed by airstrikes, will continue to face daily violence at checkpoints, in their neighborhoods, and in their places of worship.
—Tuqa Nusairat is the director for strategy, operations, and finance at Atlantic Council's Rafik Hariri Center and Middle East Programs.
Iran, Saudi Arabia, and the United States are important factors as well
Israel is the master of small ball, especially with Iran. The United States looks for the grand bargain, such as a comprehensive nuclear deal. Israel is perfectly content to use limited and asymmetric attacks to degrade the threat Iran and its proxies pose.
So it is with PIJ, which Netanyahu has been clear that he views as a proxy of Iran. Tuesday morning's airstrikes against PIJ leadership will not end the threat but will probably disrupt the group's strategic operations in the short run.
The real question is why Iran seems to be escalating against Israel when it is reconciling with other states in the region such as Saudi Arabia. The answer is that it is trying to break apart the sweeping normalization between Israel and the Gulf Arab states, the primary threat to Iranian domination of the Persian Gulf. The Abraham Accords are something more than a peace treaty and something less than an alliance. Israel, the United Arab Emirates, Bahrain, and Morocco—plus Saudi Arabia—could constitute the heart of a sustainable security coalition that can balance the threat from Iran for the foreseeable future.
At their core, the accords were intended to replace US power with Israeli power. The Sunni Arab states believe Washington is in the midst of a bipartisan departure from the region, and they need to replace the security the United States provided with something else. That something else is Israel, which for them had some baggage but also would never go anywhere.
This is intolerable for Iran. It believes it can eventually outlast the United States but cannot outlast Israel. That is why its reconciliation with Saudi Arabia is combined with increasing pressure, like support for PIJ: because the incentives go in opposite directions. Israel must fight and Saudi Arabia's incentive is to settle.
—Andrew L. Peek is a nonresident senior fellow at the Atlantic Council's Middle East Programs. He was previously the deputy assistant secretary for Iran and Iraq at the US Department of State's Bureau of Near Eastern Affairs.
Further reading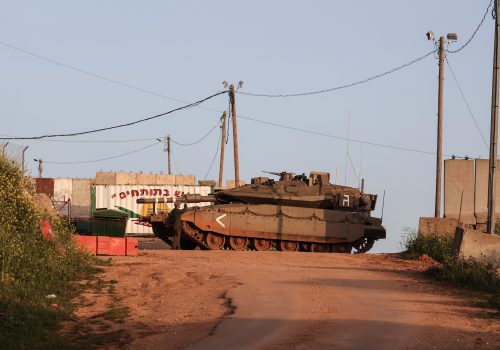 Thu, Apr 13, 2023
MENASource By Nicholas Blanford
The bottom line of this latest flare-up of violence along the Lebanon-Israel border is that Hezbollah, in coordination with Hamas, launched the largest barrage of rockets into Israel in nearly seventeen years without facing any repercussions.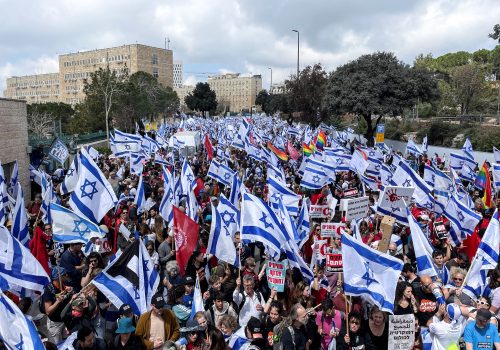 Mon, Mar 27, 2023
New Atlanticist By Atlantic Council experts
What's next for Israel and its relations with the world? Our experts offer their insight.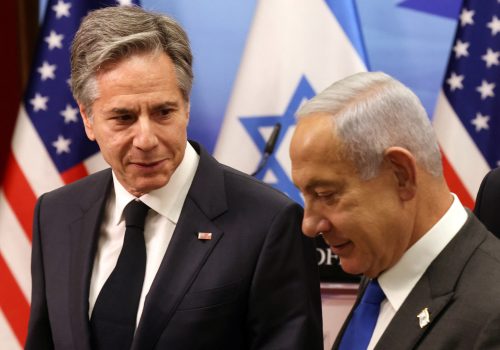 Thu, Feb 2, 2023
New Atlanticist By Daniel B. Shapiro
During his visit, the US secretary of state pressed the need and opportunity for expanding and deepening the process of regional integration represented by the Abraham Accords and the Negev Forum.