Experts react: What to know about Israel's expanding military operations in Gaza
Is this the endgame or just the beginning? On Friday, Israel announced that it is "expanding" ground operations in Gaza, with the goal of eradicating Hamas, the terror group that attacked Israel on October 7. Since then, Israeli airstrikes have pummeled Gaza, and hundreds of thousands of Israel Defense Forces (IDF) troops have amassed on the border, preparing for a ground invasion. What is Israel doing? And what does it mean for Gazans, the region, and the United States? Below, Atlantic Council experts share their insights.
Click to jump to an expert analysis:
Carmiel Arbit: Israelis are ready for war and will resist calls for a ceasefire
Jonathan Panikoff: Is this the start of a full ground invasion or a smaller counterinsurgency operation?
Tuqa Nusairat: Israel risks creating a newly traumatized and radicalized generation of Palestinians
Alex Plitsas: The operation will likely take months to achieve its goal
Daniel E. Mouton: A ground invasion will directly affect Israel's long-term security
R. Clarke Cooper: Israel and its allies must stay vigilant against threats throughout the region
---
Israelis are ready for war and will resist calls for a ceasefire
After a three-week delay, the Israeli government is now proceeding with its ground offensive in Gaza. The operation will focus heavily on the Hamas tunnels—known as the Gaza metro—and on other Hamas infrastructure.
The human toll will be staggering. Israel accuses Hamas of using civilians as human shields and must weigh strategic assets with the humanitarian costs, particularly as international pressure mounts. In the aftermath of the al-Ahli Baptist hospital scandal, all eyes will be on al-Shifa hospital—the largest hospital in Gaza—which is said to be sheltering 40,000 people but the Israeli military has maintained for decades is the main hub of Hamas operations in Israel.
As the casualties and devastation grow, the international pressure on Israel will mount for a ceasefire—but the appetite in Israel for a full-scale operation is so far unwavering. Israelis have banded together in preparation for a full-scale war, volunteering across the nation to support soldiers, displaced families, and others. Voices on the left that would typically demand a ceasefire have been almost entirely muted. The families of hostages—whose fate grows more precarious with a ground operation—are among the few voicing concern, not for the operation but for its impact on their loved ones.
Significant questions remain as to how far Israel will be willing to go in its stated determination to destroy Hamas. In past operations, Israel has limited its actions and deterred rather than destroyed Hamas. Many Israelis feel this approach represented a caving to pressure from the West to adhere to international humanitarian norms rather than protecting its own security—a decision that led to the October 7 attacks. It also reflected the reality that Israel had no plans for an alternative leadership in Gaza, a reality that remains unchanged. Israel has more leeway to operate in the aftermath of October 7, but it is already starting to face the same pressure again, and the war is still in its earliest days. How far Israel's leaders will be willing to go—and what steps they will be willing to take to balance their humanitarian responsibilities with their military ambitions—remains an open question.
—Carmiel Arbit is a nonresident senior fellow with the Middle East Programs and the Scowcroft Middle East Security Initiative at the Atlantic Council.
Is this the start of a full ground invasion or a smaller counterinsurgency operation?
It was only a matter of time before Israel's ground operation expanded in response to Hamas's October 7 terrorist attack, but there remains an open question still as to what the size and scope will be. Does this mark the beginning of a full-scale ground invasion or is this preparation for a more focused, smaller-footprint counterinsurgency operation? The lull that preceded this expanded military operation reflects US efforts behind the scenes to cajole Israel to not rush and think through its strategic goals and potential end states before committing to a ground operation. In the coming days, Jerusalem's decision as to what kind of operation to undertake may be revealed.
The delay gave the United States some time to build up its own deterrence posture in the region. With the USS Dwight D. Eisenhower and its strike group in the Mediterranean and the USS Gerald R. Ford moving into the Persian Gulf, the United States is prepared for the war to escalate beyond Gaza. US strikes on Friday against Iran-backed Syrian militia sites were a direct reaction by Washington to drone and missile attacks against US personnel and bases earlier in the week. But those sorts of provocations from Iran, which risk escalating this conflict beyond Gaza, pale in comparison to what has thus far been tit-for-tat attacks between Israel and Hezbollah in the north, which have the potential to result in an unintended escalatory spiral that leads to a full-scale war in northern Israel.
But the United States, while not dictating Israel's response, would almost certainly prefer that Israel not engage in a full-scale ground invasion. Instead, the United States would likely prefer smaller, targeted ground operations that, combined with aerial attacks, would reduce the death toll of innocent Palestinian civilians, though the numbers should still be expected to be quite high. The United States is probably assessing that this course of action, combined with its own deterrence efforts in the region, is the best chance to limit the conflict from spreading beyond Israel and Gaza, a goal shared by European and Middle Eastern countries, too, not to mention China.
In either scenario, the timeline of Israel's effort to decimate Hamas is likely to be long—measured in weeks or months, not days. And in both scenarios, overwhelming Israeli success at destroying Hamas could bring Hezbollah into the conflict as a means to try to save the group. But regardless of how Israel undertakes its ground operation, when it's over, the more strategic question will still have to be answered: Who is responsible for Gaza now?
—Jonathan Panikoff is the director of the Scowcroft Middle East Security Initiative at the Atlantic Council's Middle East Program.
---
Israel risks creating a newly traumatized and radicalized generation of Palestinians
Analysts will say that Israel needs to conduct a ground invasion in Gaza to eradicate Hamas and establish deterrence in the aftermath of the October 7 attack. Since Hamas was elected and began to govern Gaza in 2007, Israel has engaged in four major assaults on Gaza, none of which have resulted in eliminating the threat Hamas poses. Over the past twenty days, Israel has engaged in a cataclysmic bombardment of the Gaza Strip and its 2.2 million inhabitants, killing an average of 400 Palestinians per day as the death toll exceeds 7,000, according to figures from the Gaza Health Ministry, with perhaps hundreds more still waiting to be unearthed from under the rubble. If the situation in Gaza was a humanitarian crisis before October 7, what has happened in recent days is a catastrophe that will take decades to recover from and yet is unlikely to ensure Israel's security.
What will remain of Gaza's population, and among Palestinians elsewhere in the occupied West Bank and East Jerusalem and inside Israel proper, will be a newly traumatized and radicalized generation of youth, none of whom were born or of voting age when Hamas was elected. If Israel decides to maintain its occupation of Gaza with ground troops indefinitely, it too will suffer significant losses that will quickly turn an already enraged Israeli public against this attempted military "solution."
As images of the destruction of Gaza have emerged through on-the-ground, first-hand accounts, international public opinion has moved in favor of a ceasefire, despite the glaring opposition among Western leaders. The imminent ground invasion and the ongoing decimation of Gaza by air—which has already resulted in significant loss of life, more than 600,000 Palestinians internally displaced, and 45 percent of homes destroyed or damaged—will lead to the largest humanitarian catastrophe the conflict has not seen since 1948. As a result, Hamas's self-declared raison d'etre—"resisting the [Israeli] occupation with all means and methods"—will only grow in the minds of Palestinian youth. This will render unsuccessful Israel's attempts to eliminate Hamas militarily.
As Gaza plummeted into darkness on Friday night, so too will the region continue to witness dark days ahead as Israel and its Western allies continue to seek military solutions for a decades-old conflict that can only be solved by addressing the legitimate grievances of the Palestinians and their cry for an end to the occupation and for an independent Palestine.
—Tuqa Nusairat is the director for strategy, operations, and finance at Atlantic Council's Rafik Hariri Center & Middle East Programs.
---
The operation will likely take months to achieve its goal
Israel has begun the conclusion of kinetic shaping operations designed to degrade and destroy as much of Hamas military capabilities in Gaza from the air as possible. These operations have been in support of Israeli Prime Minister Benjamin Netanyahu's stated goal of the demilitarization of Hamas and are in preparation for a ground incursion.
At the same time, Israel has begun the initial phase of a multi-phased ground incursion in which Israeli troops are likely to move into northern Gaza. There they will likely conduct a cordon and search operation in which they will go building-to-building to search for and destroy Hamas' military capability, including command and control, weapons caches, key leaders, and Hamas fighters who decide to stay and fight. Civilians have been asked to leave the area north of Wadi Gaza, which amounts to approximately 1.1 million out of 2.2 million Palestinians in Gaza.
This operation will likely take months if Netanyahu's goal is to be achieved and will be a bloody, difficult fight. It is estimated that Hamas has hundreds of miles of tunnels under Gaza in addition to its above-ground structures. The more than two hundred hostages taken by Hamas on October 7 could be in any of these sites.
The humanitarian situation in Gaza continues to deteriorate. A United Nations resolution overwhelmingly passed on Friday calling for a humanitarian ceasefire is a reflection of those conditions. The humanitarian situation remains a potential Achilles' heel for the operation in Gaza.
For the past three weeks, Iranian proxy Hezbollah has engaged in cross-border fire and skirmishes from southern Lebanon with Israeli forces in northern Israel as fears of a second front remain real. It is unknown if Hezbollah will fully commit its arsenal of an estimated 150,000 rockets and missiles, many of which are capable of striking Jerusalem and Tel Aviv. If Hamas's military capabilities are destroyed, Iran could activate Hezbollah, but in doing so Hezbollah and Iran run the risk of Hezbollah being severely degraded by Israel and potentially by the United States, if Israel were to become overwhelmed. In doing so, Iran would expend its largest proxy, limiting its ability to respond indirectly and avoid a direct confrontation.
Additionally, Iranian proxies in Iraq and Syria have struck US bases in those countries, wounding more than twenty US troops. The United States struck two Iranian-supplied weapons depots in Syria in response and publicly named Iran as being behind the attacks.
The situation remains an unstable powder keg, and the threat for regional escalation remains real. Two factors to watch are the size and scale of a ground incursion into Gaza and the humanitarian conditions in Gaza. Those are the two things that the regional actors who may seek to escalate the conflict will seize on as justification for doing so.
—Alex Plitsas is a nonresident senior fellow with the Middle East Programs' N7 Initiative, a partnership between the Atlantic Council and Jeffrey M. Talpins Foundation working to strengthen and deepen Arab-Israeli normalization. He is also currently a principal and industry director for aerospace and defense and high-tech electronics at Providence Consulting Group.
---
A ground invasion will directly affect Israel's long-term security
Given the recent increase in airstrikes, the recent ground incursions, and cuts to internet service, it appears that the IDF is poised to begin its anticipated ground operation into Gaza. Whether the operation begins will be a political decision as there are countervailing pressures from the White House and elsewhere for additional hostage releases, the evacuation of foreign citizens, and the amelioration of the humanitarian situation. If an IDF ground operation were to begin, then the scale and conduct of the operation will have effects far beyond the Gaza Strip. This operation, even if it accomplishes the objective of eliminating Hamas, will directly affect Israel's long-term security.
The first effect will be whether the IDF commits such a large force to Gaza that the size of this force might allow others, such Lebanese Hezbollah or other Iranian-affiliated militias, to believe they can conduct larger opportunistic attacks against Israel. Deterring this sort of attack is one of the reasons why the United States rushed additional forces to the region. The second effect will be a product of how the IDF conducts combat operations in Gaza. Hamas will have every incentive to operate among the civilian population and create dilemmas for the IDF. The IDF will have a near-impossible task in trying to eliminate Hamas without greatly adding to the toll of Gaza's civilian casualties. Nonetheless, failing to account for the civilian population will make it impossible to establish suitable post-conflict conditions in Gaza. The White House has correctly highlighted the importance of Gaza's civilian population as the ground operation could create barriers to Israel's continued normalization with Saudi Arabia and elsewhere. Israel's security not only requires the elimination of Hamas, but it also depends on Israel living in peace with Palestinians and on expanding its diplomatic relations in the region.
—Daniel E. Mouton is a nonresident senior fellow at the Scowcroft Middle East Security Initiative of the Atlantic Council's Middle East Programs. He served on the National Security Council from 2021 to 2023 as the director for defense and political-military policy for the Middle East and North Africa for Coordinator Brett McGurk.
---
Israel and its allies must stay vigilant against threats throughout the region
Tonight, Israel's allies and adversaries alike are closely observing and assessing the efficacy of the Israeli military offensive operations against Hamas. Beyond the immediate operational focus in Gaza, it is critical for Israel and allied states to remain diligent in their shared regional counterterrorism and security cooperation efforts. Since October 7, security threats throughout the Middle East have increased, emanating from the Israel-Hamas war. Tehran's support to its proxies, along with Iranian production and proliferation of advanced weapon systems, such as cruise missiles, unmanned aerial systems, and ballistic missiles, require enhanced US security cooperation to counter such threats and promote an integrated air and missile defense concept of operation.
Israel's sovereign defense may have been tested by the terrorist actions of Hamas, as well as by those who insist on drawing a moral equivalence between Hamas's terrorist acts and the self-defense of Israel, but the ironclad strategic partnership between the United States and Israel remains.
Further, in this latest iteration of the fight against terrorism, the mutual commitment of the United States and Israel to advance support of regional security must not lose long-term strategic sight of the historic achievements and potential future opportunities of the transformative Abraham Accords.
—R. Clarke Cooper is a nonresident senior fellow with the Atlantic Council's Scowcroft Middle East Security Initiative and is the senior director of Guard Hill House, LLC. He previously served as assistant secretary for political-military affairs at the US Department of State.
Further reading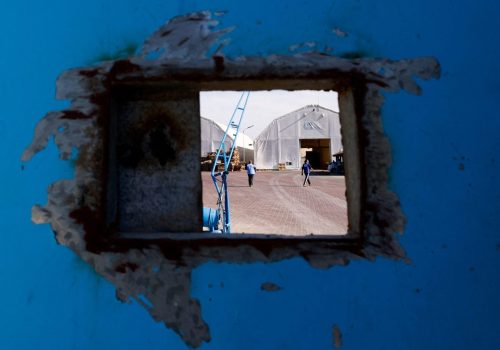 Tue, Oct 24, 2023
The Big Story By Kirsten Fontenrose
It's hard to predict what decisions the players will make tomorrow, but here are the early warning signs that could indicate what will come next in the Middle East and beyond.
Wed, Oct 11, 2023
New Atlanticist By Alex Plitsas
Israel appears set to initiate a months-long ground campaign that is designed to completely eliminate the terrorist threat posed by Hamas and to prevent and deter a attack like October 7 from ever happening again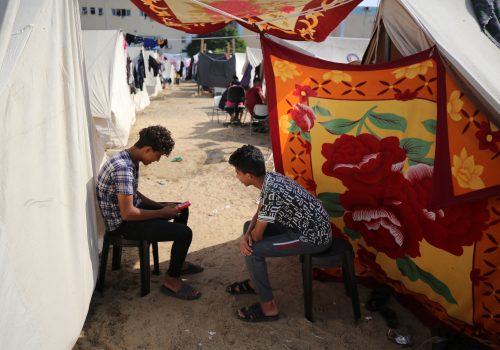 Fri, Oct 27, 2023
MENASource By Alan Pino and Casimir Yost
There is no perfect solution to alleviate the death and destruction that awaits in the Gaza Strip, but getting women, children, and the elderly out of harm's way would be a positive step.