Turkey marks a hundred years as a republic this year. First as Turkey's prime minister and then as its president, Recep Tayyip Erdoğan has been at the political helm of the republic for a fifth of that century. His victory on Sunday in a runoff election now sets him up for five more years in power.
At the same time, Turkey is beset by change, including a reeling economy at home and open conflict in its neighborhood. To its north, Russia wages war on Ukraine. To its south, Syria is on edge. Below, Atlantic Council experts share their insights on what to expect on these issues and more.
Click to jump to an expert reaction:
Defne Arslan: It's time for Turkey to shift its economic policy
Borzou Daragahi: Erdoğan signals he will tighten his grip
Rich Outzen: Expect more strategic semi-independence and balancing among great powers
Yevgeniya Gaber: How Erdoğan could use his leverage on Russia's war in Ukraine
Ariel Cohen: Expect Turkey's relationship with Europe and the US to weaken
Ali Bakir: Stability alone will not solve Turkey's pressing issues
---
It's time for Turkey to shift its economic policy
Turkey is getting ready for another five-year term under Erdoğan with an AK Party-led alliance holding a majority in the parliament. Given the presidential system and with a parliament majority behind him, the reelection of Erdoğan will give Turkey a five-year stable term without elections, except for municipal elections to be held in ten months. Erdoğan's reelection means Turkey will be entering another era of centralized decision-making, however this five-year term can also be regarded as securing political stability for Turkey. If Turkey's economic team can go back to credible and more conventional economic policies that can fix the current problems through setting strong economic benchmarks and implementing crucial structural reforms, then I believe Turkey can be a destination for foreign capital in time, given the current state of other emerging markets.
The Turkish economy currently has serious problems, including a high inflation rate and low currency reserves caused in part by a controlled exchange rate regime. Current unconventional policy is not helping Turkey achieve a high growth rate or a boost in its exports. In short, the economy needs to be addressed quickly. It is important for Erdoğan and the new government to reassure confidence in the Turkish economy both for domestic and foreign investors. With a strong economic team and more conventional and independent policies, this is possible. In his victory remarks, Erdoğan discussed the Turkish economy at length, which shows that he is determined to deliver a stronger road map for the economy. Regarding regional energy policies, I do not expect any shift there. Current policies will continue. We will be hearing from the new cabinet this weekend, if not by Friday, but early news signals that the economy is a major priority for Erdoğan.
—Defne Arslan is senior director of the Atlantic Council IN TURKEY and Turkey programs, and former chief Turkey economist and senior energy policy adviser in the US embassy in Ankara.
Erdoğan signals he will tighten his grip
Early signs suggest that the reelection of Erdoğan will lead to further erosion of human rights and political freedoms in Turkey.
In the run-up to the second round of voting, it was an open question as to whether Erdoğan, who had promised to serve only one more five-year term, would burnish his legacy by easing some of the harsh measures he has imposed against his liberal and leftist political opponents and minority communities.
But in a pair of victory speeches on Sunday in Istanbul and Ankara, Erdoğan was hardly magnanimous in victory. He dispensed quickly with the obligatory post-election call to put aside differences. "There will be no losers in such a victory. The winner is Turkey," he said, dutifully thanking all Turks who voted.
But his tone quickly darkened. He slammed his opponent Kemal Kılıçdaroğlu as incompetent and smirked as the crowd booed him. He described jailed Kurdish political leader Selahattin Demirtas and other political opponents as "terrorists."
He accused the Anglophone, French, and German media outlets covering Turkey of trying to overthrow him. He drew howls of delight from the crowd when he warned that opposition parties were pursuing a pro-LGBTQI+ agenda. "For us, family is sacred," he said.
He also warned that he would prevent political opponents from damaging Turkey's "success with other people and other intermediaries," suggesting he would crack down on journalists, human-rights campaigners, and political dissidents who attempted to pressure Ankara by appealing to international governments and institutions.
Erdoğan's vow to stay in office for just one more term appeared to fall by the wayside. "My commitment is until I die, until the grave," he said.
Erdoğan still has time, opportunity, and breathing space to moderate his ways, draw in opponents, and focus the nation's efforts on improving the country's battered economy, which is now the most pressing concern for most Turks. But Erdoğan's post-election posturing suggests he may have already settled on a path of demonizing vulnerable minorities and targeting political opponents to retain social control ahead of potentially rough economic times.
—Borzou Daragahi is a nonresident senior fellow at the Atlantic Council's Middle East programs and an Istanbul-based journalist.
Expect more strategic semi-independence and balancing among great powers
When an incumbent president wins reelection—as Erdoğan has in Turkey by a roughly 52-48 margin—one expects more continuity than change in foreign policy. For Erdoğan, this means hewing to three pillars that have evolved as the basis for Turkish foreign policy under his lead: strategic semi-independence (anchored by NATO with expansive caveats), balancing and hedging among great powers, and a carrot-and-stick mixture of hard power and adaptive diplomacy in Turkey's immediate neighborhood.
NATO remains the cornerstone of Turkish security, and Ankara has spoken in favor of admitting Ukraine and Georgia. After extracting concessions on defense cooperation and prosecution of the Kurdistan Workers' Party (PKK) terror group, the Turkish parliament approved Finland's accession in March. As Sweden's new counter-terror legislation takes full effect next month, the prospects for Swedish accession are looking up. Under Erdoğan's upcoming presidential term, Turkey will remain a strong contributor to the Alliance's training, readiness, and mutual defense missions. Should the war in Ukraine end during his presidential term, Erdoğan can be expected to continue offering strong defense partnership to Ukraine, as he has for the past decade.
Yet NATO membership offers little help to Erdoğan in an arc of conflict—and tension with Russia—that spans Turkey's eastern and southern borders. The counter-PKK campaigns in Iraq and Syria, standoffs in the Caucasus and Libya, and the unresolved Syrian civil war all require that Erdoğan alternately deter and negotiate with Moscow, Tehran, Damascus, and other regional powers without much help from the West. One might add the Mediterranean and Aegean seas, where Turkey butts heads with Greece and Cyprus, necessitating an independent approach. In this "zone beyond NATO" for Turkish security, Erdoğan is likely to leave the door open for deals while rattling the saber occasionally for effect.
Syria stands out as a matter of personal legacy for Erdoğan; he will want to remove the PKK-linked People's Defense Units (YPG) from the Turkish border, while facilitating the safe return of significant numbers of Syrian refugees to their homeland. What mixture of diplomatic finesse and military threats compels Syrian leader Bashar al-Assad to provide assurances on refugee protection and border security remains to be seen. If Ankara believes it can weaken the YPG and bring Assad to the table through drone and artillery strikes alone, it may forgo a large ground operation, but a major new operation against the YPG this year or next cannot be ruled out. Syrian refugees and Turkish nationalists both favored Erdoğan in the recent election, and the Turkish president feels an obligation to both—which he will seek to fulfill by ending YPG control of border areas and keeping Assad from annihilating the Syrian opposition or returning refugees.
Erdoğan emerges from his reelection campaign with a reasonably strong public mandate, an experienced foreign policy team, endorsement of his conservative-nationalist approach, and some margin for risk-taking. It will be interesting to see how he uses those things.
—Rich Outzen is a nonresident senior fellow with the Atlantic Council IN TURKEY and former military and civilian adviser in the US State Department.
How Erdoğan could use his leverage on Russia's war in Ukraine
Erdoğan's winning the presidential elections means much more continuity rather than change in Ankara's foreign policy and business as usual with both Russia and Ukraine. Turkey's ambivalent stance on the Russian invasion of Ukraine—trading and developing economic cooperation with the former while providing support for the self-defense of the latter—will likely remain unchanged. Turkey's balancing policy between the two warring parties has paid off, not least in domestic politics. At the same time, Erdoğan's shuttle diplomacy between Kyiv and Moscow has brought concrete results—enabling prisoner swaps in the early days of war, brokering the grain deal, and facilitating meetings of the delegations. With Erdoğan strengthening his position with a new "vote of confidence" from the Turkish people, and Russian President Vladimir Putin losing his grip on power both internally and externally, Erdoğan might play hard this time—pushing both sides for a ceasefire, maintaining the work of the grain corridors, and negotiating to get the rest of the Turkish ships out of Ukrainian ports.
One might assume that with a new, much more nationalistic parliament, the issue of Crimean Tatars and other Turkic communities discriminated against and persecuted by the Russian occupational authorities in Ukraine would play a bigger role in the future. However, this is very unlikely since both Turkey's economic woes and geopolitical setting in the region demand its close cooperation with Russia. Tackling the problem of Syrian refugees, refueling exhausted central bank reserves, and accumulated problems in relations with the United States and European Union will keep Russia high among Turkey's top partners, no matter what. "[Turkey's] relations with Russia are no less important than those with the United States," was Erdoğan's message in the final days of the campaign. It's no surprise that Putin was quick to congratulate Erdoğan on the victory—even before the official results were announced.
At the same time, ongoing projects with Ukraine—most notably in defense industry and military cooperation—will also likely remain in place, meaning that no time will be wasted on a transition period in Ankara had the leadership changed.
—Yevgeniya Gaber is a nonresident senior fellow with the Atlantic Council IN TURKEY and a former foreign-policy adviser to the prime minister of Ukraine.
Expect Turkey's relationship with Europe and the US to weaken
Erdoğan's unprecedented two decades in office and third presidential term of five years will have far-ranging consequences for Europe and Asia. As Turkey continues its ascent as a major power, it will drift away from the West and weaken its relationship with Europe and the United States. Ankara is building ties with China through the Shanghai Cooperation Organization, which Erdogan is weighing joining. He also has aspirations to become a member of the BRICS group (Brazil, Russia, India, China, and South Africa).
At the same time, its support of Ukraine and power projection into the Caucasus via Azerbaijan will lead to clashes with Russia and Iran, as will Turkey's continuing involvement in the Middle East, where Iran is demonstrating insatiable quasi-imperial ambitions. The Turkey-Azerbaijan axis and Ankara's support of the Organization of Turkic States, a tool of Turkish foreign policy in Central Asia, will likely bring both Moscow's and Tehran's ire.
Arab allies of Turkey, including Qatar, and old-new "friends" such as Saudi Arabia may also become weary of Ankara's vast ambitions rooted in the Ottoman legacy. Frustrated with barriers to US arms supplies, Turkey, a leader in drone technology with its widely lauded Bayraktar, is likely to embark on an even more robust military-industrial build-up to boost its muscle. This could include investing more in its native fifth generation TAI Kaan (TF-X / F-X) fighter jet, its Altay Main Battle Tank, and its Hisar and Siper missile systems.
Finally, the challenges of economic reform and curbing inflation will be front and center. Erdoğan will likely (and hopefully) review his religiously inspired anti-usury, inflation-denying monetary policy. He may also support economic growth by building up Turkey's role as an energy hub, with Azeri, Eastern Mediterranean, Iranian, Russian, Turkmen, and Gulf gas pipelines going through the country and into Europe. Erdoğan may also push for constructing a massive Mediterranean-Black Sea canal to bypass the congested and hard-to-navigate Bosporus, representing a significant economic development engine for the next decade and beyond.
—Ariel Cohen is a nonresident senior fellow at the Atlantic Council's Eurasia Center.
Stability alone will not solve Turkey's pressing issues
With Erdoğan's win, both the presidency and parliament are now aligned under a single political front. This will likely facilitate Erdoğan's task of maintaining stability and ensuring the continuity of his policies. However, this is not a panacea; no magical solutions will materialize to the most pressing issues.
Internally, this scenario could spell disaster for the opposition. The opposition coalition may now crumble, signaling the end of Kılıçdaroğlu's political career, with Meral Akşener, head of the Good Party (Iyi), another possible political casualty. Sweeping changes are anticipated within the opposition camp if they are willing to show responsibility.
The most pressing issue on Erdoğan's agenda is the economic situation. The president has already made clear that he has no intention of revising his unconventional economic theory. Should pressure mount, he would likely resort to a mix of strategies, including soliciting more money from regional partners and allies such as Azerbaijan, Libya, Qatar, Saudi Arabia, Kuwait, and the United Arab Emirates. Moreover, Erdoğan may expedite the exploration of oil and gas in the Black Sea and possibly in the Eastern Mediterranean and boost defense exports to secure hard currency. As he continues the normalization process with regional countries, including Egypt, to stabilize the situation and increase Turkey's trade with the region, Syria is poised to emerge as the most significant obstacle.
From Erdoğan's viewpoint, if normalization with Assad becomes inevitable due to the emerging regional and international dynamics, it should come at a price. Erdoğan will likely seek financial support from Qatar, other Gulf countries, and the international community to fund housing projects in liberated areas to accommodate returning refugees. He insists that Assad should demonstrate commitment on at least three fronts: countering the YPG and Kurdish Democratic Union Party (PYD), ensuring the safety of those who choose to return voluntarily at the current moment, and making notable progress on the political front in accordance with United Nations Security Council Resolution 2254. Should Assad fail to show such commitment, Erdoğan will be in a suitable position vis-à-vis Russia to launch a new military operation in northern Syria versus the offshoots of the PKK, backed by the nationalist voices in the parliament.
Under Erdoğan's leadership, Turkey will prioritize its own interests and bolster its autonomous and independent foreign policy, as well as its forward defense policy. He has already reached out to Biden's administration to try to resolve some persistent issues, including the F-16 fighter jet deal, and may discuss other hot topics such as Russia's invasion of Ukraine and Syria. Ankara is expected to affirm its position on the YPG and even show more assertiveness with its deployed unmanned combat aerial vehicles. Erdoğan will likely reassert Ankara's position toward Sweden, emphasizing the need to counter terrorism to ensure Sweden's access to NATO. Moreover, Erdoğan will likely reach out to Putin to ensure the continuation of Ankara's constructive efforts in halting the ongoing war against Ukraine.
—Ali Bakir is a nonresident senior fellow in the Scowcroft Middle East Security Initiative in the Middle East programs and an assistant professor at Qatar University's Ibn Khaldon Center for Humanities and Social Sciences.
Further reading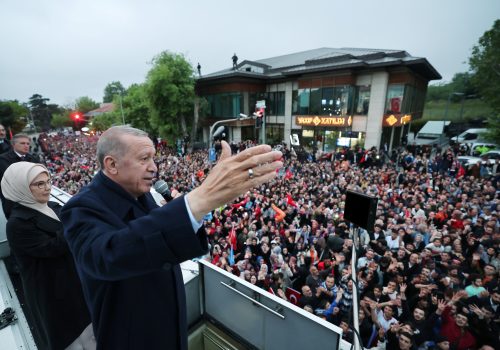 Sun, May 28, 2023
Fast Thinking By Atlantic Council
Turkish President Recep Tayyip Erdoğan triumphed in his re-election bid on Sunday. Our experts break down what to expect next on the war in Ukraine, NATO enlargement, Syria, and more.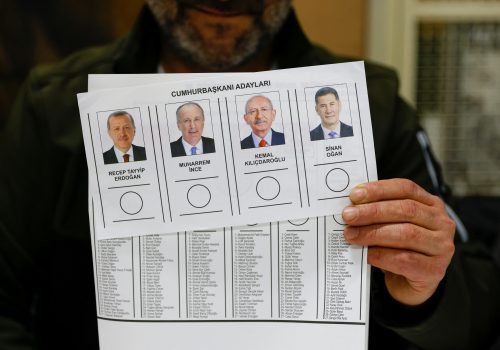 Mon, May 15, 2023
New Atlanticist By Atlantic Council experts
Neither Turkish President Recep Tayyip Erdoğan nor top challenger Kemal Kılıçdaroğlu was able to reach 50 percent of the vote on May 14. Here's what to expect now.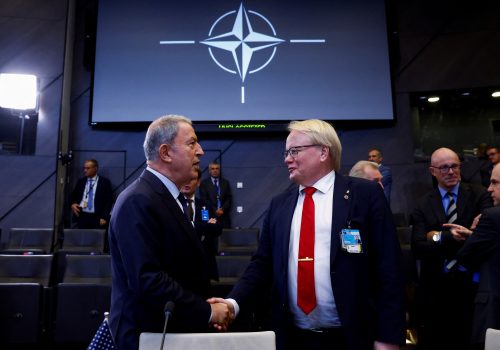 Tue, Apr 4, 2023
TURKEYSource By Grady Wilson, Pınar Dost
Turkey is not yet ready to greenlight Sweden's NATO accession but significant progress has been made. Here's a possible outline of a compromise.