It sounds momentous in German, and it is. On Wednesday, Germany released its first comprehensive Nationale Sicherheitsstrategie, or national security strategy. Chancellor Olaf Scholz called the document a "major change" that seeks to integrate military planning with security issues ranging from climate change to alliances. It also carries forward the chancellor's announcement of a Zeitenwende, or historical turning point, following Russia's continent-unsettling invasion of Ukraine and Germany's years of overdependence on Moscow for energy.
Below, Atlantic Council experts answer the most urgent questions about Germany's new strategy and the path forward for this major European power.
1. How has Russia's war in Ukraine changed Germany's view of its security environment?
Germany's new national security strategy calls out Russia as "the biggest threat to peace and stability in the Euro-Atlantic area." For now, that means Germany isn't at risk of going back to the way things were regarding its relationship with Russia. That is good news.
—Rachel Rizzo is a nonresident senior fellow at the Atlantic Council's Europe Center.
Germany's first-ever national security strategy is one step in Germany security-proofing its politics and policies in the face of Russia's war in Ukraine and the seismic changes in European security the war has brought. The disagreements, delays, and drawn-out process in finalizing the strategy show how challenging both the "mental" Zeitenwende required of Berlin decision makers and its practical implementation are. For far too long, strategic and security criteria seemed to play too little a role in German decision making. The national security strategy means progress on that front. Germany's allies should consider the old adage "Der Weg ist das Ziel"—meaning "the journey is the reward," or "the way is the goal." Sure, the pace is too slow, and the end product is missing progress on key institutional elements like a national security council. But having undergone this process and attempted more of a whole-of-government and -society approach, Germany and its political decision makers have inched the ball forward on what is needed for the mental Zeitenwende and a more robust strategic culture in Berlin. 
—Jörn Fleck is the senior director of the Europe Center.
Germany takes a comprehensive societal view on its security environment, focusing not only on the immediate challenge that Russia poses, but also on hybrid threats arising from climate change, pandemics, world hunger, and poverty, as well as disinformation and cyberattacks.
—Roderick Kefferpütz is a nonresident senior fellow at the Atlantic Council's Europe Center and director of the Heinrich-Böll-Stiftung European Union office in Brussels.
2. What does the focus on wehrhaft reveal about strengthening Germany's armed forces?
The focus on wehrhaft—both the ability and, importantly, the willingness to defend oneself—goes beyond the necessary but in-and-of-itself insufficient modernization of the German armed forces. It means Germany has to build the strategic culture across government and society to consider geopolitical and security matters more prominently in comprehensive ways. Linked to that is the guiding principle of a "policy of integrated security" that runs through the strategy. Here implementation will be a steep hill to climb because of a variety of factors: from Germany's federalist structures in law enforcement, intelligence, cybersecurity, and disaster management to variations on security concepts among the three-way governing coalition and growing budgetary constraints.
—Jörn Fleck
Germany is realizing that burgeoning trade ties and diplomacy alone don't provide security. Peace comes through strength, and Germany's first national security strategy rightfully emphasizes the importance of credible deterrence and lists the goal to make the Bundeswehr one of the most effective conventional armed forces in Europe.
—Roderick Kefferpütz
Germany's national security strategy states that "the Federal Government will make the Bundeswehr one of the most effective conventional armed forces in Europe in the coming years, one that is able to respond and act rapidly at all times." Given the current state of the Bundeswehr, it has a long way to go. The strategy also states that Germany will reach its 2 percent of gross domestic product (GDP) defense spending target, something it has said for years but hasn't been able to reach yet. The strategy offers no clear sense of how this might be different going forward. It states that Germany will get there gradually over a "multi-year period" and "initially in part via the newly created special fund for the Bundeswehr."
Unfortunately, in that same vein, one other glaring sentence stood out to me: "Given the considerable demands on our public finances at present, we will strive to implement this Strategy at no additional cost to the overall federal budget." This doesn't seem to make sense.
—Rachel Rizzo
3. How does Germany see its role in NATO and Europe going forward?
The strategy clearly underlines how essential European security, stability, and peace—as well as the role of the United States in Europe—are for Germany. A commitment to NATO's 2 percent goal on defense spending—even if qualified as a multi-year average—is a good signal. So are commitments to enhanced forward presence in NATO and support for European security and defense policies and initiatives. But allies will find few tangible commitments to a greater German role and responsibility in hard security.
—Jörn Fleck
Collective defense is held high with NATO's Article 5 mentioned alongside the European Union's mutual assistance clause Article 42 as well as Article 4 of the Aachen Treaty with France. However, with regards to meeting NATO's 2 percent of GDP goal, Germany has added the caveat of meeting this target "as an average over a multi-year period." This underlines the difficulty the German government has in reaching this goal, particularly in these times of budgetary constraints.
—Roderick Kefferpütz
4. What does the strategy say about how Germany views China?
With a separate China strategy in the works, Germany's new national security strategy says few things beyond the holy trinity of China as a partner, competitor, and systemic rival. It does acknowledge a rise in rivalry and competition, probably a careful compromise between the chancellor's realist approach and the Greens' more hawkish stance on China. But as so often with European initiatives, not everything about China bears a China label or framing. Trust that the strategy's extensive discussions of supply-chain security, innovation and technology, and access to natural resources were driven with de-risking from Beijing in mind.
—Jörn Fleck
China is a conflictual issue within the governing coalition, and a first China strategy is expected to be released in the coming months. While Germany abides by the catch-all phrase that China is a partner, competitor, and systemic rival, it does acknowledge that the latter two elements have gained more traction in light of Chinese efforts to change the world order. However, the Indo-Pacific at large and likeminded partners such as India, Japan, South Korea, or Taiwan do not receive any attention in the national security strategy.
—Roderick Kefferpütz
Germany's national security strategy offers the familiar framework of partner, rival, and systemic competitor for its relationship with China. However, what's one word that doesn't appear once in the strategy? Taiwan.
—Rachel Rizzo
5. What is missing in the strategy?
This strategy is comprehensive when it comes to nontraditional hard security threats, but it fails to address hard power questions in new arenas of competition. There is very little attention given to how geopolitical frontier areas, such as the Arctic, Antarctic, deep sea, and space might affect the security environment and international order.
—Roderick Kefferpütz
Not surprising for those who had followed the process but still a huge missed opportunity is the lack of institutional and process changes that would help the implementation of the Zeitenwende. Here, clearly the creation of a National Security Council–like format stands out. Most long-term observers of Germany will agree this is urgently needed to effectively coordinate an inter-agency process across the federal government and with state authorities and international partners, but also to drive strategic culture more in the medium term. Also missing are a clear follow-up process for implementation—always the biggest challenge with these strategies and who owns them—and installation of a regular review that forces future governments to keep up this process in regular intervals.
—Jörn Fleck
Further reading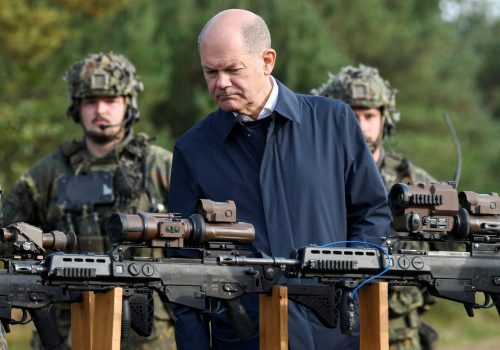 Mon, Feb 27, 2023
New Atlanticist By Roderick Kefferpütz
While Germany has made progress, doubts remain about whether Chancellor Olaf Scholz is truly undertaking a structural and mentality change in foreign and security policy.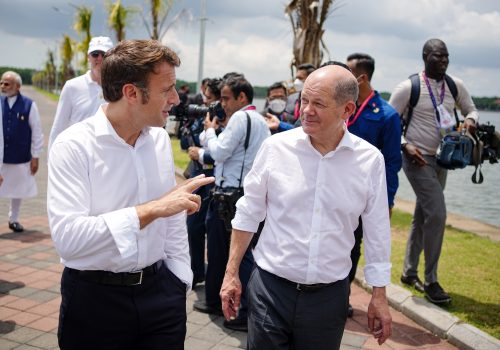 Fri, Jan 20, 2023
New Atlanticist By Marie Jourdain, Jörn Fleck
The January 22 France-Germany summit, amid bumpy relations between the two powers, comes at a pivotal time for Europe and the transatlantic alliance.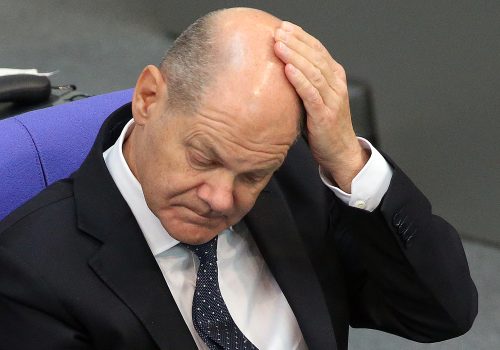 Thu, Feb 23, 2023
New Atlanticist By Noah DeMichele
The Zeitenwende is the chancellor's brainchild, yet he has been its major roadblock. Scholz has habitually hesitated when faced with key decisions.