On Sunday, Estonian voters delivered a strong message to their political leaders and the region at large: The ability for Ukraine to fight back against its aggressor is existential for an independent Estonia. By earning a surprisingly strong 32 percent of the vote in the parliamentary elections (an increase of 3 percentage points over the result four years ago), Prime Minister Kaja Kallas's Reform Party solidified itself as the leader of the next ruling coalition. Meanwhile, the far-right EKRE secured just 16 percent (10 percentage points below what polls had projected). Here are five things revealed by these results:
1. National security must include national cohesion
Following Russia's full-scale invasion of Ukraine last year, Estonia became a major donor to the war effort while also facing the highest inflation rate of all European Union (EU) countries at 25 percent, with very limited government support for Estonian households and companies. Then Kallas' first coalition collapsed in June 2022.
The government's 2023 budget represented a pivot and a recognition that national security is also about national cohesion: Along with increased defense spending came new support to the Estonian population and companies to deal with high energy prices, plus increased pensions and family allowances. Estonia also more deeply integrated its ethnic Russian community (which is between 25 percent and 30 percent of the population) by beginning the transition to having schools teach only in the Estonian language, removing Soviet-era war monuments from public places, offering Estonians alternative Russian-language information sources to those based in Russia, and investing to develop the Narva region close to the Russian border.
2. Foreign policy competency mattered more than the economy
The far-right EKRE called for prudence regarding Russia, denouncing the economic consequences for Estonia of the country's massive aid to Ukraine while rejecting the welcoming of Ukrainian refugees (Estonia has taken in the second-most Ukrainian refugees per capita of any country). But this strategy did not resonate with voters, not even ethnic Russian voters, who usually vote for the Center Party (which was expected to lose votes) but were wooed by the EKRE. Kallas, on the contrary, demonstrated her leadership in foreign policy to reassure voters. To some extent, the vote breakdown suggests that Estonian voters see economic struggle as the accepted price to pay in the name of preserving shared values and national security.
3. For struggling fringe parties, the future may depend on where they sit
The Center Party (EKE) performed quite poorly, because of the radical changes following the Russian invasion and past corruption scandals. The relative decline of the conservative Isamaa (Fatherland) party is probably more a result of internal difficulties (some key party officials having left to create another more liberal party), while the Social Democratic Party had a limited ability to attract new voters. That is not the case for Eesti 200, which will enter Parliament for the first time, having run on a socially liberal platform pushing for more state intervention in the economy. These groups now must adapt for survival: They might opt to be in the opposition or to join Kallas's coalition.
4. E-voting is the wave of the future
A stunning 51 percent of the votes in this year's election were cast online—making Estonia the first country in the world where electronic votes outscore the traditional ballot box. The e-vote was favored by Reform Party supporters, while the EKRE performed better with in-person balloting. The high turnout of 63.7 percent (including Estonians living abroad, who usually are less likely to vote) should be noted especially by other European countries where more voters might participate if they could vote electronically. E-voting requires ample resources committed to securing the vote, verifying identification, and more, but Estonia is proving that this method is now favored by most of its population—a trend that must be taken into account when talking about the future of democracies.
5. Expect continuity in foreign affairs
Forming the coalition may take time, and Kallas, with thirty-seven seats, needs to partner with other parties to reach the required fifty-one. She could turn to the newcomer Eesti 200 (fourteen seats) and the Social Democrats (nine sets). An alternative could be to reconstruct the current coalition with the Social Democrats and Isamaa, but that is less likely. Nevertheless, don't expect major changes for Estonian foreign policy—which is built on strong support to Ukraine, the EU, and NATO—and budgetary orthodoxy. If anything, the prime minister's international stance is here to stay.
---
Marie Jourdain is a visiting fellow at the Atlantic Council's Europe Center and a former staffer for the French Ministry of Defense's Directorate General for International Relations and Strategy.
Further reading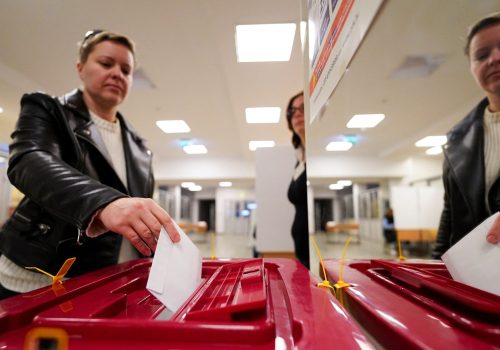 Mon, Oct 3, 2022
New Atlanticist By Lisa Homel
As dramatic government reshuffles across Europe sweep far-right forces into power, Latvians seem to prefer continuity.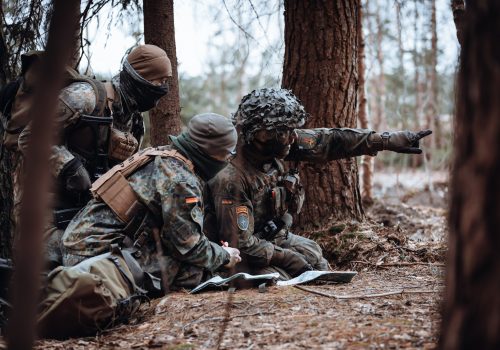 Tue, Mar 29, 2022
Event Recap By Nick Fouriezos
Estonian President Alar Karis, Latvian President Egils Levits, and Lithuanian President Gitanas Nausėda, proposed a number of options to counter Russian aggression at an Atlantic Council Front Page event Tuesday.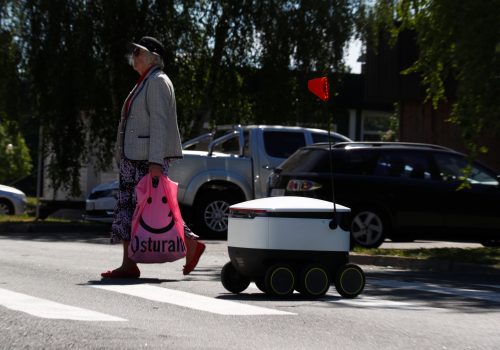 Thu, Jul 1, 2021
New Atlanticist By Nick Fouriezos
Estonian President Kersti Kaljulaid and Anne Neuberger, deputy US national security advisor for cyber and emerging technology, made the case for "trusted connectivity" at the Atlantic Council.