Israel, Libya, and Italy were just reminded that diplomacy requires more than diplomats
The sentence, or some variation of it, has been uttered by diplomats for centuries, but here it proved incendiary. "I spoke with the foreign minister about the great potential for the two countries from their relations," said Israeli Foreign Minister Eli Cohen in a statement on August 27, confirming a meeting the week before with his Libyan counterpart, Najla Mangoush. News of the meeting between the Libyan and Israeli officials, and the implication that its aim was to advance the North African state in becoming the next signatory of the Abraham Accords, flooded the media in the following days.
The news provoked several protests and incidents in Tripoli and elsewhere in Libya, which does not recognize Israel. Demonstrators stormed a house owned by the United Nations–backed Prime Minister Abdulhamid Dbeibah and torched it. An attempted attack against the main offices of the foreign ministry was also carried out. Disorder in the streets has continued in the days since. Reports that the meeting was championed by Italy, Libya's former colonizing power, and held in Rome added to the demonstrators' fury given Italy's contentious past relations with the country and its people.
Libyans' outrage is fairly easy to understand. The first criticism is that the Libyan government took a big risk in carrying out such important diplomacy without any public discussion and, in so doing, underestimated the feelings of the population. The second criticism is that the Libyan government appeared open to engagement with an Israeli government widely perceived in the region as very right-wing and uncompromising on the Palestinian issue. Thirdly, news of the meeting provided a unique opportunity for the opponents of Dbeibah's government, which is widely perceived in Libya as corrupt and nepotistic, to take to the street and attempt to oust the prime minister.
Multiple motivations
Given these easily expected outcomes, what was driving this diplomacy in Rome? The different actors' thought processes are easily understandable. For Israeli Prime Minister Benjamin Netanyahu, this was an important opportunity to demonstrate his foreign policy prowess while he is confronted by political challenges at home. Furthermore, by taking steps to further increase the number of Arab states that recognize Israel, the Israeli leader might hope to improve relations with key governments in Europe and establish positive momentum while negotiations continue regarding Israel-Saudi normalization.
Dbeibah, too, was attuned to the changing political winds in the international community toward Libya, from a supportive stance a few years ago to a more critical one as of late. He must have wanted to generate as much support internationally for his leadership as possible. What better way than making the Jewish communities happy and grateful? This belief, albeit evidently flawed, that by making Israel happy one could gain the support of the whole Jewish population of the world, and thus of the states where its individuals live, is a deeply rooted belief in the Arab world—and a longstanding anti-Semitic trope.
For the Italians, the reason for playing a part in this meeting may be harder to comprehend but is very similar. Italy's government must have sensed an opportunity to win over the influential Libyan Jewish diaspora and the votes that the community carries in Italian elections, especially in Rome. Italian officials might have also considered the idea of being lauded for having played an important role in such a breakthrough in international politics. Nevertheless, none of the actors involved is so naive to have believed that such a step could be kept secret indefinitely. For Israel in particular, secrecy would have defeated a main purpose of why it was interested in advancing relations with Arab states—that it hoped to increase its popularity in the international community.
People I have spoken with both in Libya and in Italy who are close to the decisionmakers all agree on one point: It is more probable that the goal among the parties was not for the meeting to remain totally secret, but rather for each of the participants not to actively divulge the news about it. That is, not to give it much publicity in order to defuse opposition and thus reap the fruits of the deed and avoid the repercussions. This hasn't happened, and now Libya is back to instability and potential conflict among the various armed groups.
The Libyan prime minister has been on damage control in the days since. To stress his government's distance from the event, Dbeibah fired Mangoush, who has since fled Libya. She seems to be a scapegoat, who most probably will not serve in Dbeibah's government going forward as he tries to keep his increasingly shaky hold on power. Another potentially more problematic consequence is that of the sudden resurgence of radical Islamist leaders in Libya in response to the news. Finally, there is also a wider, geopolitical consequence that should not be overlooked. The signing by some states of the Abraham Accords has radicalized the position of regionally important players such as Algeria (and its neighbor Tunisia as well). If Dbeibah is ousted from office and a new government that includes the forces that pushed him out comes to power, then the new government could be tempted to join the Algerian-Tunisian entente, and in so doing move away from the influence of Egypt.
Even if the situation calms down, there still remains the bitter feeling that this crisis could have been easily avoided if the various internal and international actors had acted with more knowledge and care.
Back to school
What are the lessons to be learned from this incident? Western actors in particular should realize that any regime, even the most authoritarian one, has some form of internal give-and-take with the various constituencies that compose its sociopolitical environment. Therefore, any external pressure should be exercised with attention to the peculiarity of each state in order not to cause uproars and instability. This lesson is particularly important for Italy, whose new government is expressing its intention to play a more active foreign policy, one that sees it acting more energetically abroad.
For the Israelis, it is tempting to think that the lesson is that such discussions should be handled through intelligence channels, which may be better able to keep secrets, rather than through the foreign ministry. But perhaps today it is no longer possible to keep such matters secret at all, at least not on such a politically sensitive topic. Therefore, the lesson should be that it cannot afford such unforced errors in the future, and that any publicity about its diplomacy with Arab countries should be carefully planned and only executed with the full agreement of its partners. Therefore, Israel's approach should be more pragmatic and focused on the general benefit of whatever action is undertaken, so as to minimize eventual backlashes.
For the Libyan government of Dbeibah in particular, the lesson is that trying to pursue personal interests through international agreements and accords of any kind stands little chance of success if the interest is not widely shared with the population. The question of legitimacy cannot be avoided.
As the Libyan example shows, the principle of searching for a way to begin a process of cooperation, if not regional integration, between Arab states and Israel is an important and noteworthy endeavor that should be nevertheless treated with extreme care. An approach lacking sufficient care can end with a setback to the cause of regional peace and stability.
---
Karim Mezran is a distinguished Libyan-Italian scholar, director of the North Africa Initiative, and resident senior fellow with the Rafik Hariri Center and Middle East Programs at the Atlantic Council.
Further reading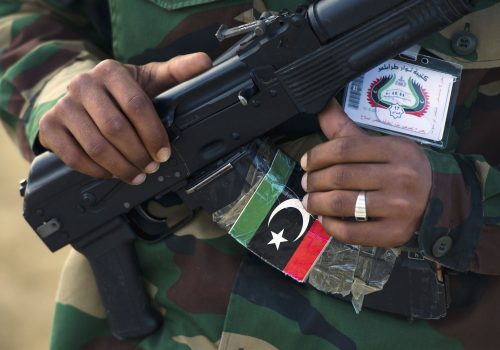 Thu, Aug 24, 2023
Podcast By Alia Brahimi
Host and Nonresident Senior Fellow Alia Brahimi speaks with Libya expert Emadeddin Badi about tthe surge of African, Syrian and Russian mercenaries in Libya since 2019.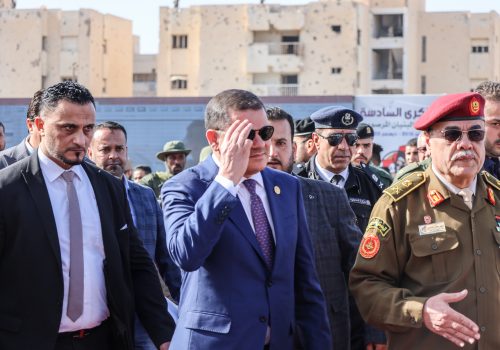 Thu, Aug 3, 2023
Report By Karim Mezran and Alessia Melcangi
The current Libyan situation is complex, influenced by numerous factors, including the conditions of the 2011 revolution. The misconception of it being a whole people's revolution led to a focus on elections instead of national reconciliation, hindering the rebuilding of consensus and a new social contract.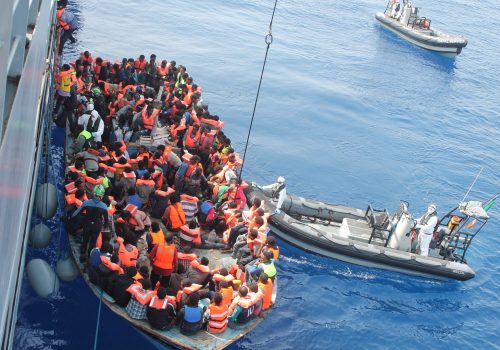 Thu, Aug 3, 2023
Report By Matteo Villa and Alissa Pavia
Irregular migration from North Africa to Europe, especially through the Central Mediterranean route connecting Libya and Tunisia to Italy, is increasing once more. Italy has witnessed a surge in irregular arrivals, with approximately 136,000 migrants disembarking between June 2022 and May 2023, almost comparable to the high arrival period of 2014-2017 when around 155,000 migrants landed each year.