Yevgeniy Prigozhin's Wagner Group rebellion began in Ukraine near Bakhmut, halted on Russia's M4 highway roughly two hundred kilometers south of Moscow, and ended with Prigozhin reportedly on the way to Belarus. While the insurrection was contained largely to the Russian border cities of Rostov-on-Don and Voronezh, Wagner's so-called "march for justice" laid bare the weakness of Russian President Vladimir Putin's regime—in ways that are likely evident to surrounding, largely post-Soviet countries. This peek behind the Kremlin curtain could have significant ripple effects across Eurasia as Russia's neighbors react to the crisis.
As Wagner forces turned toward Moscow, Putin called Kazakh President Kassym-Jomart Tokayev to brief him on the situation. Kazakhstan's readout of the call was brief but called the rebellion "an internal affair of Russia." This seemingly mundane bit of diplomat-speak carried an outsized amount of geopolitical weight—it implied that Kazakhstan would not help Russia in its "internal affair." Just eighteen months ago, Tokayev had called the Russian-led Collective Security Treaty Organization (CSTO) to help shore up his own mandate when popular protests spun into an armed uprising. Hours later, 2,500 mostly Russian CSTO troops entered Kazakhstan, violently put down the unrest, and exited the country six days later. Now, with Putin facing a similarly fast-moving threat, Tokayev signaled that Kazakhstan wouldn't be there to help. 
Tokayev's indifference is even more interesting in the context of his Eurasian Economic Union (EEAU) speech on May 24 chiding Putin for his ultra-close relations with Belarus at the expense of the other members of the EEAU, including Kazakhstan. Kazakhstan and Russia share the world's longest land border, but Tokayev may continue to seek diplomatic space between Astana and Moscow.
Russia's preeminence in Eurasia was once taken as a given, but the specter of Russian power may now be waning…
Almost 750 kilometers south of Rostov-on-Don, Georgia's borders remained open even as President Salome Zourabichvili called on Prime Minister Irakli Garibashvili to convene the country's security council and urged authorities to secure its border crossings with Russia. Garibashvili opted not to call the security council together and appeared to take no measures at all to prepare for any potential ripple effects of instability in Rostov-on-Don and beyond. Both the president and prime minister belong to the anti-Western Georgian Dream (GD) party, which has sought closer ties with Moscow as a means of ensuring "stability" for Georgia. The Prigozhin rebellion undermines some of GD's talking points as it looks to consolidate power ahead of hotly contested parliamentary elections in October 2024.
Putin's calls to Uzbek President Shavkat Mirziyoyev and Armenian Prime Minister Nikol Pashinyan yielded relatively neutral readouts, though Pashinyan asked to stay apprised of further developments. While Pashinyan has expressed anger at the fecklessness of the CSTO to support Armenia's defense against Azerbaijan, Russia remains the nominal guarantor of stability in the disputed region of Nagorno-Karabakh and Armenia's key backer. A weaker Russia would further strengthen Azerbaijan's hand in peace negotiations.
While the mutiny was ongoing, Turkish President Recep Tayyip Erdogan declared Ankara's readiness to play a role ensuring "peace and harmony" in Russia. Iran's foreign ministry spokesperson emphasized support for "rule of law." Both countries already maintain commercial and military ties with Moscow but don't depend on the Kremlin for legitimacy or as a power backstop. Each could seek to leverage Kremlin weakness and extract further concessions.
The end of the immediate crisis came via Russia's closest neighbor and ally: Belarusian dictator Alyaksandr Lukashenka won credibility with Putin for brokering the agreement that halted Prigozhin's march on Moscow. For years, Putin has financially backed Lukashenka's grip on power with billions of dollars and more recently has moved to integrate Belarus into a "union state" with Russia. The Prigozhin agreement turned the tables on Putin, making the oft-bumbling Lukashenka look competent, decisive, and more useful to the Kremlin—at least for now.
But Lukashenka may soon face his own problems at home. The Kastus Kalinouski Regiment, which currently fights on the side of the Ukrainian army, issued a call to take up arms against the Lukashenka regime. The democratic forces of Belarus, led by Sviatlana Tsikhanouskaya, also reinvigorated opposition efforts to oust the longstanding dictator.
And the war in next-door Ukraine carried on. There, observers watched with glee as Russian authorities squirmed and flailed to try to maintain order in four Russian regions. Ukrainian memes mocked and cheered on Russian infighting, while Ukraine's armed forces liberated a village that had been under Moscow's occupation since 2014.
When Prigozhin agreed to halt Wagner's advance, Ukrainian President Volodymyr Zelenskyy took a more serious tone; he acknowledged the chaos but appealed to the West for more support: "Ukrainian soldiers, Ukrainian guns, Ukrainian tanks, Ukrainian missiles are all that protect Europe from such marches as we see today on Russian territory." Prigozhin's march toward Moscow began not over Russia's maximalist goals in Ukraine, but over the methods by which they should achieve them. Kyiv is gearing up for the war to continue, despite turmoil in Russia. Even amid the confusion, Russian forces fired rockets at civilian apartment blocks in Kyiv, killing three people.
Prigozhin's Wagner insurrection exposed the brittle nature of the Putin regime and the limits to the power it can project even within Russian borders. Russia's preeminence in Eurasia was once taken as a given, but the specter of Russian power may now be waning, with major implications for the region. Leaders and elites across Eurasia will now be closely tuned in to Moscow for further signs of weakness. Declining Kremlin power could usher in a new era of more independent foreign policies in Central Asia and the South Caucasus, as countries look to grow relations with the US-led West, China, and Turkey.
---
Andrew D'Anieri is assistant director at the Atlantic Council's Eurasia Center. Follow him on Twitter at @andrew_danieri.
Further reading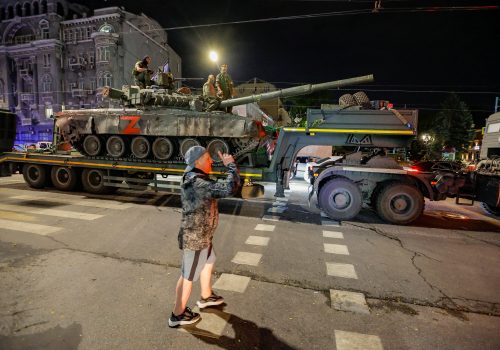 Sat, Jun 24, 2023
New Atlanticist By Atlantic Council experts
How did Prigozhin's rebellion get as far as it did? And how will its aftermath affect Putin's hold on power and the war in Ukraine?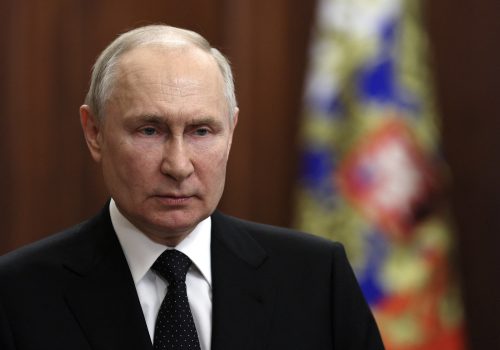 Sat, Jun 24, 2023
New Atlanticist By John E. Herbst
Most analysts have argued that Putin's control in Russia was rock solid. That Prigozhin got this far suggests otherwise.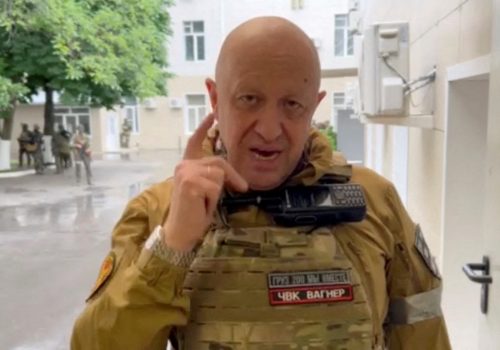 Sat, Jun 24, 2023
New Atlanticist By Digital Forensic Research Lab
A special edition of the Russian War Report on Wagner Group's mutiny against the Russian military and occupation of Rostov.