Should NATO extend Stoltenberg's term as leader?
As NATO Secretary General Jens Stoltenberg meets with US President Joe Biden at the White House on Tuesday, there is a lot for them to discuss. Ukraine's long-awaited counteroffensive has just begun, and key decisions will face allies at the NATO Summit in Vilnius less than a month away. One of those decisions may be confirming the "who"—and also the "when"—of changing NATO's top leader in the midst of an ongoing war.
Stoltenberg has announced he will conclude his secretary general tenure as planned at the end of September. He has served since October 2014*, just a few months after Russia invaded Ukraine's eastern Donbas region and Crimea. Since then, Stoltenberg has shown himself to be NATO's most impactful wartime secretary general. It would surprise no one should historians ultimately deem him the strongest, most capable secretary general in Alliance history. He has kept NATO out of direct combat with Russia while boldly marshaling allied support for Ukraine with mountains of nonlethal matériel and the promise of political backing for "as long as it takes." (NATO members themselves provide Ukraine lethal warfighting matériel outside of NATO structures, as the core of the fifty-nation Ukraine Defense Contact Group.)
Should NATO members accept Stoltenberg's decision to step down? Or should he be pressed to stay on as NATO navigates the fierce fighting and political choices ahead; until the path of the war in Ukraine is better known, perhaps in early 2024? Alliance members may decide as soon as their July 11-12 NATO Summit in Vilnius.
There is a good case for Stoltenberg staying longer. He has been remarkably successful at countering Russian propaganda and nuclear threats and in parrying the internal disruptions of highly contentious members, including by former US President Donald Trump and current Turkish President Recep Tayyip Erdoğan and Hungarian Prime Minister Viktor Orbán. He has also skillfully guided Alliance responses to China's growing presence and influence in Europe. Above all, Stoltenberg has been the stalwart pillar of Alliance cohesion. As the war in Ukraine intensifies this summer and into the fall, and especially should Russia up the ante on nuclear threats, NATO would do well to have Stoltenberg's seasoned leadership.
Allies might feel an urgency to select Stoltenberg's replacement at the upcoming Vilnius summit, but they are not required to at that time. That decision could be made later in 2023 or early 2024, still in time for a new secretary general to be installed at the seventy-fifth anniversary summit in Washington DC. If Stoltenberg does indeed step down this September, he will have already completed nearly ten years of service, making him the second-longest serving NATO secretary general after Joseph Luns, who served from 1971 to 1984. Stoltenberg has given NATO a full measure of service. Yet changing captains in the heat of battle should give some NATO capitals pause.
Key calculations in choosing Stoltenberg's eventual successor
Whether in September or later, when Stoltenberg does depart and a new secretary general is needed, whom should the allies select?
Some members chafe at the fact that twenty years after new members from Eastern Europe joined the Alliance, no candidate from those seven countries has been selected as secretary general. Other members, including the United States, have shown notable interest in seeing women chosen for high leadership positions. Women leaders have been elected as heads of state for many NATO members, as well as for international organizations such as the European Commission (Ursula Von der Leyen), the International Monetary Fund and European Central Bank (Christine Lagarde), the World Trade Organization (Ngozi Okonjo-Iweala), and the United Nations General Assembly (Maria Fernanda Espinosa Garcés).
To be sure, NATO is past due to join the growing club of glass ceiling breakers. That achievement must be weighed in the context of giving both any prospective candidate and the Alliance the best conditions for success. The conditions facing the next secretary general could not be more challenging. There will be no quiet time for a transition before assertive transatlantic leadership and momentous decisions will be required.
Most immediately, it is critical that NATO solidarity and momentum not slacken in backing Ukraine's military success over Russia. By the end of this year, the war in Ukraine will likely have moved into a new stage, either—and hopefully—toward a full Ukrainian victory or into a steady stalemate. Until then, and as Vilnius approaches, the war and other major issues—Sweden's NATO membership, defense spending levels, confronting China's challenges—will demand unrelenting leadership and diplomacy. The months ahead are not optimum for farewelling NATO's most capable leader—or for welcoming a new one. Proceed with caution!
Correction: An earlier version of this piece incorrectly stated Stoltenberg began his role as secretary general in March 2014. He was appointed as secretary general designate in March 2014, but formally began the role in October 2014.
---
Charles Barry is a visiting research fellow at the Institute for National Strategic Studies at the National Defense University. Since 1990, he has assisted senior US and NATO officials in developing three NATO Strategic Concepts and preparing for fourteen NATO summits. These views are his own and do not reflect those of the US Department of Defense or the National Defense University.
Further reading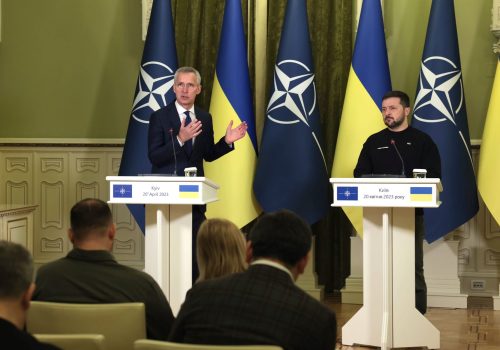 Tue, May 23, 2023
Issue Brief By Hans Binnendijk, Franklin D. Kramer
This issue brief evaluates membership and other security options for the alliance and its members to consider with regards to Ukraine, from formal actions by NATO as a whole to collective or individualized efforts by member nations.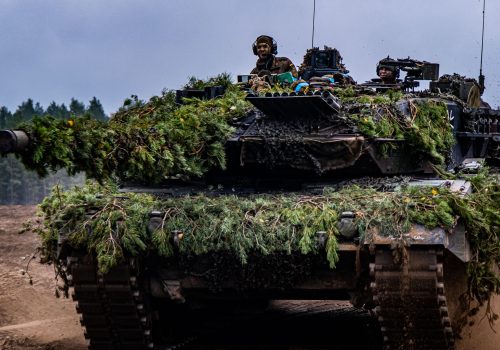 Tue, Apr 18, 2023
Issue Brief By Franklin D. Kramer
Ahead of the NATO Summit in Vilnius, this issue brief sets forth six priority actions that NATO should undertake to enhance its deterrent and defense posture.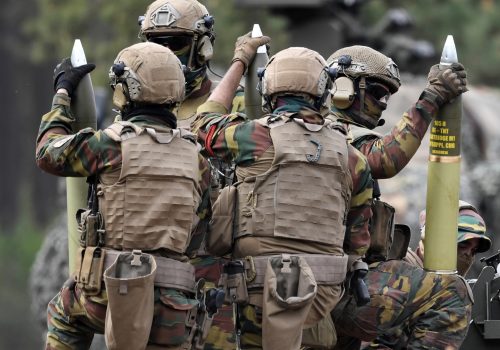 Thu, Jun 8, 2023
New Atlanticist By Giedrimas Jeglinskas and Viltaute Zarembaite
The upcoming NATO summit in Vilnius offers an opportunity for government officials and the defense industry to get on the same page about the true urgency of inadequate defense supply chains.