Since Russia's invasion of Ukraine, decarbonization has emerged as an increasingly high priority for the transatlantic community. The European Union's (EU) early discontent with the US Inflation Reduction Act also demonstrates that transatlantic policy consensus will be essential to the success of any decarbonization strategy. In January, NATO and the EU released their latest joint statement on how the two organizations plan to cooperate in the years ahead, including expanding and deepening cooperation on "the security implications of climate change." This is good news. Unfortunately, the same issues that impede increased EU-NATO cooperation on other projects will continue to affect deeper cooperation on climate and decarbonization strategies. However, the Group of Seven (G7) could be a good platform to help inform each institution on ways to better coordinate their individual strategies and work together where able.
In recent years, NATO has become much more active in identifying global warming as a threat and focusing on how it can do its part to combat climate change and bolster energy security. Following NATO's Madrid Summit last year, it released its Strategic Concept, in which it proclaimed "NATO should become the leading international organization when it comes to understanding and adapting to the impact of climate change on security." Furthermore, NATO policymakers have recognized that there is a potential danger of redundant replication of climate projects between the climate policies of NATO and member states that would not have additional value toward addressing climate change. The Strategic Concept does partially account for this, as it argues that NATO should strengthen its cooperation with the EU to accelerate the development of NATO's climate strategy.
In contrast to NATO, the European Union has been a significant player in climate action dating back to as least 2001, when it issued Directive 2001/77/EC, which promoted renewable electricity generation. Moreover, some EU member states had already attempted to "mainstream" climate policy into NATO strategy. For example, some German senior officials hoped that the Permanent Structured Cooperation (PESCO) program, established in 2017, would introduce climate change as a challenge for NATO to face. Despite such efforts, these attempts with PESCO have had mixed success at best.
Likewise, NATO-EU cooperation is regularly hampered by the Cyprus dispute. Turkey, which is the only state that recognizes the breakaway republic of Northern Cyprus and has stationed military forces in its territory, is a NATO member but not an EU member, whereas Cyprus is an EU member but not in NATO. Turkey justifies its opposition to NATO-EU cooperation on the basis that doing so would imply its recognition of the Republic of Cyprus. In fact, following the aforementioned NATO-EU joint declaration, Turkish diplomats reportedly expressed discontent with the declaration and distanced themselves from it. As the Cyprus dispute is unlikely to be resolved soon, further NATO-EU cooperation on climate action beyond vague declarations is doubtful under existing channels.
On the surface, it might seem like NATO-EU cooperation should be easy (despite the Turkey/Cyprus issue) given that, for example, the two organizations are just a few miles from each other in Brussels. Unfortunately, when speaking with employees at both organizations, it's always surprising at just how lacking the overlap and coordination truly is. Hence, any effort to develop, say, a NATO- or EU-led policy steering body to develop strategies to address climate change will likely run into the same issues most other NATO-EU cooperation projects run into.
To avoid this, the G7 could potentially act as a primary steering platform for NATO and the EU to develop climate strategies before being disseminated to NATO and EU member states to implement or deliberate further.
How would this work?
To start, the G7 could provide a permanent guest invitation to the NATO secretary general to attend G7 meetings, much like how the G20 provides permanent guest invitations to several intergovernmental organizations. This would ensure that the NATO secretary general has a direct means of communication with the European Commission and the United States simultaneously, which would help in preventing transatlantic discord like that seen over the US Inflation Reduction Act. It would also reduce chances of a NATO-EU impasse developing over the Cyprus dispute before consensus is reached at the most senior policymaking levels of NATO and the European Union, as neither Turkey nor Cyprus will be present in this channel.
Discussing climate change from a security perspective will not be a matter of 'mission creep' for the G7.
Beyond its membership structure and distance from the Cyprus dispute, the G7 is a suitable vehicle for NATO-EU cooperation because of its existing security and climate agenda, which is increasingly aligned with that of NATO's. Except for Japan, every member of the G7 is a NATO ally, and the European Union is represented at the body by the European Commission. And, although it was originally formed as an informal forum to discuss economic policy following the 1970s energy crises, the G7 has put security on its agenda as far back as 1980 when the Soviet Union invaded Afghanistan. It has also addressed global warming since 1985. Discussing climate change from a security perspective will not be a matter of "mission creep" for the G7.
Additionally, the G7 has already incorporated a commitment to achieving net zero carbon emissions since 2015 and recognized climate change as an existential security risk in 2022. The same year, the G7 launched the Partnership for Global Infrastructure and Investment (PGII) to assist with global climate financing and introduced the G7-led Climate Club to tackle climate change, with membership open to all countries. Climate is a high priority for the recently concluded G7 Summit in Hiroshima as well, with the G7 ministers of Climate, Energy and the Environment releasing new ambitious targets for 2030, such as increasing offshore wind capacity.
The G7 has engaged in greater cooperation with NATO as well. Since February 2022, the G7 has coordinated closely with NATO in response to Russia's invasion of Ukraine. This included the convening of the 2022 G7 Summit just prior to NATO's Madrid Summit, with European Commission President Ursula von der Leyen, European Council President Charles Michel, and Japanese Prime Minister Fumio Kishida in attendance at the latter. Later, during the G20 Bali Summit, the G7 and NATO issued a joint statement for the first time in their histories to express their concern about the missile strike in Polish territory.
Altogether, there is a strong opportunity for meaningful NATO-EU cooperation by using the G7 as a convening platform for climate change-related discussions. The demand to accelerate decarbonization campaigns has never been stronger in all three organizations, and they should seize this opportunity together.
---
Francis Shin is a research assistant in the Atlantic Council's Europe Center.
Rachel Rizzo is a nonresident senior fellow at the Atlantic Council's Europe Center.
Further reading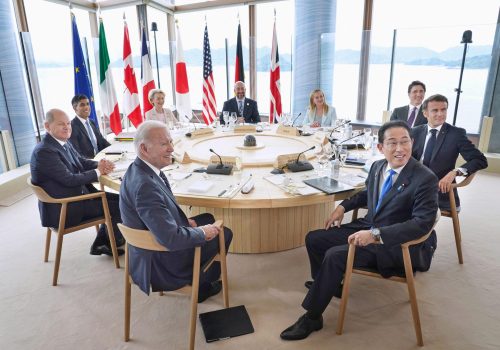 Sat, May 20, 2023
New Atlanticist By Atlantic Council experts
As leaders of the Group of Seven countries gather in Hiroshima, Atlantic Council experts share their insights on what is coming out of the summit about Russia, China, the global economy, and more.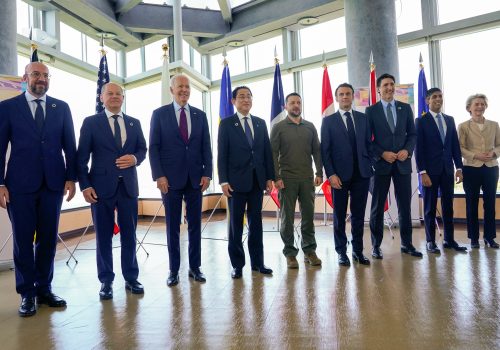 Sun, May 21, 2023
Inflection Points By Frederick Kempe
A strong performance at the G7, juxtaposed with the United States' debt ceiling drama, highlights the challenges facing US international leadership.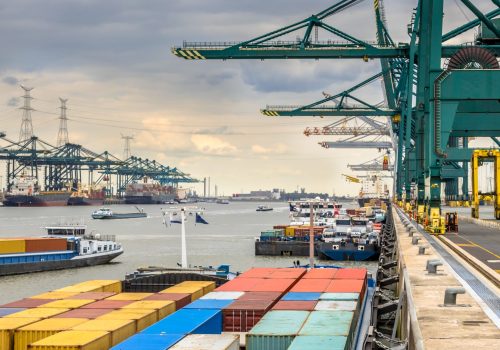 Wed, May 10, 2023
Econographics By Niels Graham
One year into the Russia's invasion G7 nations continue to export nearly $5B a month to Moscow. A new proposal by the US at the G7 could greatly reduce this.