The just-concluded C+C5 Summit in Xi'an, China, provides a window into the challenges facing the Central Asian states that emerged from the rubble of the Soviet Union. This may well be the most difficult geopolitical environment on the planet.
Central Asia is literally at the center of what Halford Mackinder called the "World-Island," the vast continental expanse from the Atlantic Ocean off Europe's west coast to the Pacific Ocean off East Asia's east coast. It is abutted by two great, revisionist powers: China and Russia, which aim to overturn the international liberal order that has incubated the seventy-five most peaceful and prosperous years in the history of humankind. The two powers have historically pushed hard to ensure their influence in, if not direct political control over, the region. To the south, things are not much better, as the region's neighbors include Iran and Afghanistan.
Only thirty years independent of Russia-led Soviet domination, the Central Asian states have done well to reduce still-substantial Russian influence and establish peaceful and increasingly cooperative relations among themselves. In other words, they have largely managed intraregional squabbles that would allow outsiders to gain advantage. To decrease dependency on Russia, for nearly two decades they have worked with China on oil and gas pipelines to avoid a Kremlin stranglehold on their hydrocarbon exports. This was less problematic in the first decade of the century, when China's foreign policy was characterized as "peaceful rise," and more problematic in recent years as Chinese leader Xi Jinping turned to "wolf warrior" diplomacy.
China poses an interesting set of issues for the Central Asian states. Yes, it's useful as an offset to Russia, but dangerous as a potential hegemon. For many years Chinese intellectuals have laid claim to all or part of Kazakhstan and Tajikistan, whose governments duly took issue with such revanchist rhetoric. More recently, China's ambassador to France, Lu Shaye, suggested publicly in April that China does not respect the sovereignty of former Soviet states because, according to him, they do not have "effective status in international law." Beijing eventually walked back the comments, but to Central Asian leaders it may have looked like Lu was being punished for saying the quiet part out loud.
Even so, China is attractive to Central Asian states because it offers economic growth and, unlike Russia, has a diversified and strong economy with which to fund foreign direct investment—though the economic benefits of those projects often go back to China. The Central Asian states see their security in having as many contacts as possible with strong outside actors, which beyond China and Russia includes the United States, the European Union (EU), Japan, South Korea, and India.
Xi has likely initiated this C5+C Summit because he has watched the lower-energy C5+1 forum, started in 2015 by then US Secretary of State John Kerry. The May 18-19 summit in Xi'an sought not only to enhance Chinese influence in the region, but also to one-up the United States by raising the summit to the executive, rather than secretariat, level. Central Asian leaders went to Xi'an with two somewhat contradictory truths in mind: the possibility of economic gain through increased partnership with Beijing and the dangers of potentially overwhelming Chinese influence in the region.
Given the possible economic advantages, there is a good chance that some Central Asian states may agree to a project or two with China. The long-discussed China-Kyrgyzstan-Uzbekistan rail project may soon move ahead, though readouts from the summit do not directly mention the project. Turkmenistan has rare leverage over China in discussing a new natural gas pipeline—Turkmen gas today accounts for 40 percent of all of China's gas imports. But Turkmenistan and China failed to produce a bilateral statement after the summit, as each of the other four Central Asian states did. The Xi'an summit yielded eighty-two agreements between China and the five Central Asian states, but many of these pledges were long on rhetoric and short on discrete projects.
A more robust US role
All of this provides an opportunity to the United States and other Western countries. It would be naive for Washington and its allies and partners—which rightly see China as the greatest long-term threat to their security—to cede the Central Asian steppe to Beijing. The Central Asian states have been pleased with the C5+1, but they may feel slightly disappointed that the platform has not yet yielded significant benefits.
Washington should seek ways to energize economic cooperation but also help find clearly defined security solutions in Central Asian countries. At the same time, the United States should work with the EU, South Korea, and Japan to enhance opportunities for Central Asia to work with the democratic world.
Washington clearly has its work cut out to boost US economic engagement with Central Asia, but there are significant opportunities to diversify and deepen trade and investment ties. US trade with the region was just below $3.5 billion in 2022, roughly one tenth the amount for both Russia and China. While geography will prevent the United States from overtaking Russia and China, developing the Middle Corridor trade route along and across the Caspian Sea will open the region to Western markets. Central Asia also has the potential to become the next global information technology hub and dramatically increase service exports to the United States, Europe, and East Asia.
US foreign direct investment (FDI) in Central Asia topped $40 billion in 2021, though it went almost entirely to hydrocarbon development in Kazakhstan. China's FDI in the region reached $70 billion in 2022, though with the Belt and Road Initiative slowing down, that figure may fall over the next few years. Russia, its economy throttled by war and sanctions, managed just $3.6 billion in FDI in 2022. Western capital and expertise can play a major role in diversifying investment in the region to balance existing resource extraction and physical infrastructure projects.
Kazakhstan has the world's largest uranium reserves but mainly exports the raw materials to Russia. US investment in moderate uranium enrichment in Kazakhstan would push the country's exports up the value chain and provide ready-made products as the West's green transition places more emphasis on nuclear power. Both Kazakhstan and Uzbekistan would like to increase their light manufacturing and food processing capacity, but they need capital, expertise, and efficient management in order to make meaningful inroads. More diversified national economies will increase economic growth in the region. They will also make the Central Asian states more resilient to external shocks and less reliant on powerful, potentially hegemonic neighbors.
The influence of China and Russia in Central Asia cannot be denied—it's why the region's leaders flew to Moscow for Victory Day and to Xi'an for Xi's summit. But each of the Central Asian states has reason to be wary of its great power neighbors. Central Asian leaders will look to gain economic benefits from China, while being careful not to mortgage their sovereignty to Beijing.
A more robust US policy in the region, in coordination with its Western partners, can offer additional economic benefit to Central Asia with none of the downside risk of extraterritorial ambition. The US government should look to support US investment in the region and demonstrate that Washington can be the reliable, peaceful partner that the Central Asian states desire but cannot count on in China.
---
John E. Herbst is senior director of the Atlantic Council's Eurasia Center and former US ambassador to Uzbekistan.
Andrew D'Anieri is assistant director of the Eurasia Center.
Further reading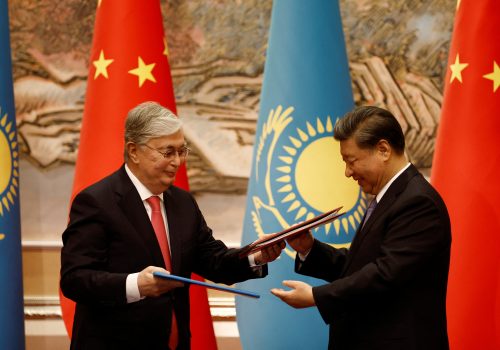 Sat, May 20, 2023
New Atlanticist By Niva Yau
A region that even within the last few years championed "multi-vector diplomacy" today risks becoming dangerously dependent on Beijing.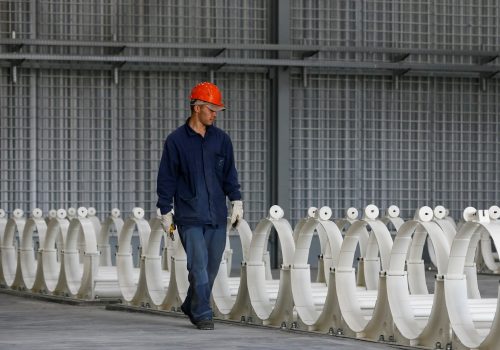 Fri, Apr 28, 2023
Report By Margarita Assenova, Ariel Cohen, and Wesley Hill
The five Central Asian states can make a meaningful contribution to mitigating the world's energy and food deficits, but this will require determination by local governments and the commitment of Western government and business partners.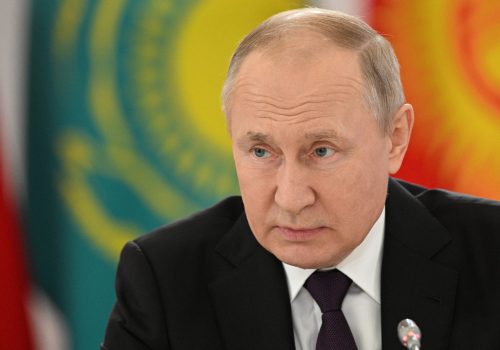 Wed, Nov 30, 2022
UkraineAlert By Kamila Auyezova
Putin's rapidly unraveling invasion of Ukraine is eroding Russian influence throughout the former Soviet Empire. This process of imperial retreat is nowhere more visible than in Kazakhstan, writes Kamila Auyezova.