Preparations are underway here in Vilnius for the upcoming NATO leaders' summit, but there is difficult and important diplomatic work ahead. If there is one thing the summit needs to accomplish, it's to confidently demonstrate the scale and the speed of the Alliance's ability to defend freedom. 
The run-up to the July 11-12 summit in Lithuania has revealed both continuity and chaos: Continuity in that NATO Secretary General Jens Stoltenberg will now stay on in his role for another year, after he had earlier said he would step down in the coming weeks; chaos in the fascinating but incomplete coup d'état in Russia. But at this juncture of history—with war raging in Ukraine, uncertainty complicating relations with China, and shifting internal political landscapes in some member states—the Alliance has more work to do to ensure that the international rules-based order remains relevant and potent.
Ukraine's desire for a firm commitment on joining NATO is likely to hover over the summit. The secretary general and other national leaders have expressed reservations about taking any groundbreaking action on the issue, tempering the expectations of Ukrainians and their most vocal supporters. Yet there is still time to formulate consensus language that goes beyond the empty narrative of the 2008 Bucharest Summit, which only said that Ukraine would become a member at some point.
Assessing the threat picture
Defense spending is a perennial focus at these summits. Since the Alliance's founding seventy-four years ago, the issue of Europe's underspending on defense and security has haunted the halls of NATO. While the current ambition to set 2 percent of gross domestic product as a floor is a step in the right direction, success remains far-fetched: Only seven of the then thirty allies met the guideline in 2022 (before Finland's accession). At the same time, success is very real in strengthening the cyber pledge and the official launch of the NATO Innovation Fund, the first-of-its-kind one billion euro multi-sovereign venture capital fund. Good things can happen in Vilnius.
The question is, will those good things include welcoming Sweden to the Alliance? The puzzle of the Turkish hayir, or no, on Sweden's accession initially seemed like a misunderstanding, later evolved into a national election issue, and now, unfortunately, has become an example of allied disunity. The same goes for Hungary's unacceptable drag of the ratification. Yes, allies argue all the time, and NATO offers a forum to align on all the important issues. Democracies know how to deal with these disagreements without compromising members' security. Without Sweden, NATO is weaker, the Baltic Sea is less secure, and Turkey and Hingary, too, will be less secure.
Taking a step back and looking at the threat picture—and at the elevated volatility due to Russia's brutal war against Ukraine—one cannot help but ask: What do allies need to do to ensure that NATO remains relevant in deterring aggression against the Alliance and beyond? Are NATO members sufficiently protecting its most vulnerable members and its vast geographic boundary to the east? Does "tripwire" deterrence still work? Can deterrence succeed without proper defense?
Last year, NATO leaders in Madrid made huge promises to be specified and agreed in due course—kicking the can down the road?—on strengthening the eastern perimeter with more troops and better readiness. In other words, the initial enhanced Forward Presence (eFP) battalions no longer seem to suffice for effective deterrence on the eastern flank. The same goes for reinforcements, which had been signaled as up to 300,000 troops (and now 400,000 troops), yet whose deployment requires both logistical support and prepositioned equipment and armaments for their deterrent role. All of the above is to be underscored by NATO's new defense plans, which are in the works.
A speed-and-scale mindset
To make deterrence and defense credible, NATO must make key decisions to act at relevant speed and scale. "Tripwire" deterrence is, hopefully, outmoded thinking—and the realization that defense is a key element of deterrence is slowly setting in. To be fair, it took three years for NATO to set up its eFP in the form of multinational forces in Estonia, Latvia, Lithuania, and Poland. Can the Alliance be taken seriously if it continues to build its defense at this pace?
The same goes for scale. Will the "brigade-per-country" principle become obsolete in a year or two? A piecemeal approach to defense yields great public relations benefits, many pats on the back, and self-congratulatory speeches. But at the end of day, when an adversary moves further, allies are left scrambling precisely because they underdelivered.
Speed and scale call for more allied troops in place, more prepositioned equipment and ammunition, and swift reinforcement—plus the autonomy of NATO's supreme allied commander. Essentially, it is a resource question, yet it is affected by how urgently the Western public views the existential threat. If the military and economic support the West has provided to Ukraine so far is a gauge of its threat perception, then there is something to be proud of. Yet much more could have probably been done and faster.
The test in Vilnius will be this: Can leaders adopt a speed-and-scale mindset for a stronger deterrence?
---
Giedrimas Jeglinskas is a nonresident senior fellow at the Transatlantic Security Initiative in the Atlantic Council's Scowcroft Center for Strategy and Security. He previously served as the assistant secretary general for executive management at NATO and as the deputy minister of defense of Lithuania in charge of capability development, defense acquisition, industry, and technology partnerships.
Further reading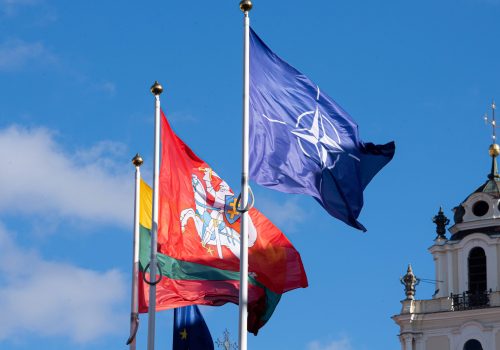 Tue, Apr 11, 2023
Issue Brief By Charles Barry and Christopher Skaluba
A successful NATO summit in July requires significant progress on a host of NATO's political and military priorities, especially those enumerated at Madrid.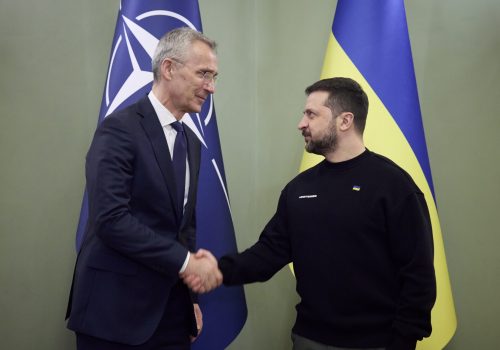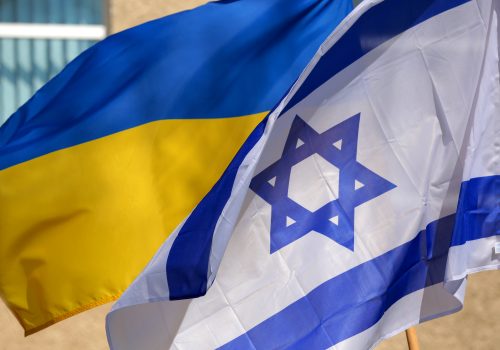 Thu, Jul 6, 2023
New Atlanticist By Ian Brzezinski
Granting NATO membership to Ukraine is critical to ensuring it wins the war against Russia quickly and decisively.