Over the past weekend, Saudi Arabia hosted senior officials from more than forty countries and international organizations in Jeddah to discuss the ten-point peace plan presented last year by Ukrainian President Volodymyr Zelenskyy. He participated virtually, and the United States was represented in Jeddah by National Security Advisor Jake Sullivan.
This was a follow-up to a similar forum in Copenhagen in June, but there was a notable difference: the Jeddah talks included more of the heavyweights from the Global South. If Brazil, India, and South Africa were already in Denmark, now also China—the major Russian diplomatic backer—joined the group, dispatching Li Hui, the government's special envoy for Eurasian affairs. All these countries are members of BRICS, a group that also includes Russia. In general, participation in Jeddah was broader compared to Copenhagen. This is a strong signal to Moscow that the diplomatic ebb is flowing to its disadvantage. It is no surprise that Moscow criticized the talks as "doomed to fail."
It takes two to negotiate… and Moscow still doesn't appear ready for meaningful talks on ending the war.
The fact that Saudi Arabia hosted the talks certainly played a role in getting more non-Western countries on board. It provided some additional credibility to the meeting. Also, declining Riyadh's invitation would have been more difficult for some countries from the Global South than refusing to participate at a forum held in Europe. Saudi Arabia thus scored yet another diplomatic point. In March, the Saudis helped China become the mediator of the Riyadh-Tehran deal, and now Beijing may have been returning the favor with its presence in Jeddah. Crown Prince Mohammed bin Salman has been in a frenzy to add some constructive diplomacy to his questionable record of fierce regional policies, including the war in Yemen, the blockade against Qatar, and the Saudi-driven push for Syria's return to the Arab League. The crown prince has shown a great deal of foreign policy flexibility. Despite having refused to impose sanctions on Russia in response to Moscow's full-scale invasion of Ukraine, it's still conceivable to see him now help Ukraine with its outreach to the Global South if this could help to improve his and his country's international standing.
Contrary to their characterization in some media, these are not peace talks yet. That fact was missed also by Brazilian Special Advisor for International Affairs Celso Amorim when he critically pointed out Russia's absence in Jeddah. It takes two to negotiate, however, and Moscow still doesn't appear ready for meaningful talks on ending the war. Rather, the talks in Jeddah were a Ukraine-focused initiative to prepare the ground for future peace negotiations and get key players closer to Kyiv's position, if not on board with all of it. That's why Moscow wasn't there.
I had a chance to speak with two of the participants of the Jeddah meeting. They confirmed reports that no tangible outcome was reached during the plenary. According to them, Zelenskyy's ten-point peace plan was not discussed in detail, and the plenary's speeches were, as one participant characterized it, rather static and expected presentations.
However, participants agreed in principle that Ukraine's territorial integrity must be one of the bases for any meaningful talks about a solution to the ongoing conflict. They also emphasized the importance of upholding the United Nations (UN) Charter and rules-based international order. This already could be considered an important achievement. I was also told that China was quite active and constructive in Jeddah.
Participating countries have agreed that the format should convene again soon.
Still, let's not be fooled. Beijing and some other countries in the Global South will likely balance their cooperative stances with views that lean toward Russia on different occasions. Nevertheless, the Jeddah meeting provided a platform for the leading countries of the Global South to hear directly from Ukrainians and in an environment that pushed them to say words and agree to principles that can be built on later. Additionally, even if the plenary felt a bit static, the sumptuous Jeddah locale offered an opportunity for bilateral meetings that could go into more detail on how to provide help to the Ukrainian cause.
There was no final communiqué coming out of the Jeddah meeting except for a general statement that Saudi Arabia released at the end of the gathering, naming all the participating entities and stressing the importance of the continuation of the consultative process. Participating countries have agreed that the format should convene again soon. In the meantime, several working groups will be set up to discuss the key topics of the Ukrainian peace plan, including nuclear security, Russian accountability, food security, and prisoners of war. Several participating states already offered expertise in areas prioritized by the Ukrainian peace plan. China—as confirmed by the European officials I spoke with—has signaled its interest in attending the next round of these talks as well, while publicly praising the Jeddah event.
As for what's next, Zelenskyy wanted to hold a peace summit that would rally global leaders behind Ukraine's demands during the UN General Assembly in New York in September. This now doesn't appear to be a realistic scenario, though a summit toward the end of this year remains a plausible goal and the Jeddah talks were an important step in this direction.
By all accounts, Ukraine went into the meeting realizing that it was not going to convince all the participants to adopt the entirety of its ten-point peace plan right away. Even Kyiv's staunchest supporters in Washington and NATO's eastern flank have their own reservations regarding some of its provisions, be it energy or food security. And Ukrainian leadership knows this. Still, they opted for pushing forward the maximalist proposals, and they have every right to do so. In the end, it should be up to Ukrainians to say what the peace they will live with should look like.
If Ukraine's goal for the meeting was to build a broader consensus behind their cause, then it also should have helped Kyiv understand where the current limits of their diplomatic offensive lie. Despite all the support Ukraine enjoys from the West and the credit it may be gaining among the countries of the Global South, it walks a fine line. It must find the right balance between its maximalist demands—however just they may be—and the readiness of the international community to accept them. The Jeddah meeting and the talks that follow have the potential to become an important front in Ukraine's ongoing diplomatic offensive, in parallel to the military one, in explaining the main purpose of its struggle: a just peace and security as opposed to protracted war.
---
Petr Tůma is a visiting fellow at the Atlantic Council's Europe Center. He is a Czech career diplomat with an expertise on Europe, the Middle East, and transatlantic relations. He previously worked at the Czech Embassy in Washington, DC. His views are his own.
Further reading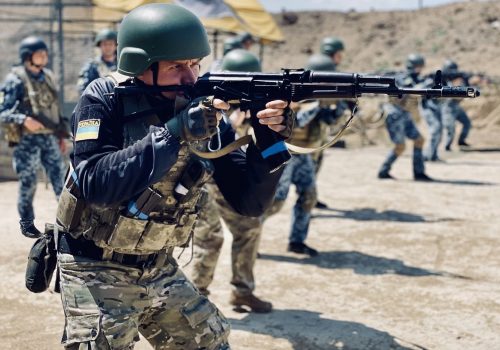 Mon, Jun 26, 2023
UkraineAlert By Arseniy Yatsenyuk
Former Ukrainian Prime Minister Arseniy Yatsenyuk offers his five-step vision for the decisive defeat of Russia's Ukraine invasion and a genuinely sustainable peace in Eastern Europe.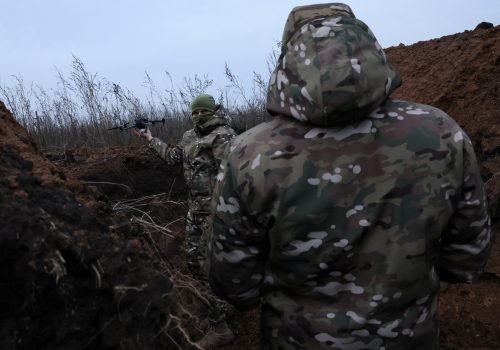 Wed, Nov 30, 2022
Atlantic Council Strategy Paper Series By Stephen J. Hadley, William Taylor, John E. Herbst, Matthew Kroenig, Melinda Haring, and Jeffrey Cimmino
Ukraine's counteroffensives, backed by expanded and accelerated US and allied support, continue to push Russian forces out of Ukrainian territory, although at a reduced rate. These hard-won successes, however, bring with them possible challenges that also must be addressed.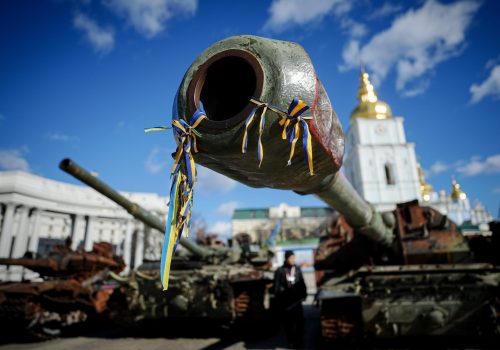 Fri, Mar 3, 2023
UkraineAlert By Peter Dickinson
Perhaps the best way to illustrate the perils of appeasing Putin with a premature peace deal is by imagining where the world would be today if Ukraine had indeed fallen one year ago, writes Peter Dickinson.