Watch the full event
The world is watching closely to see if the United States, United Kingdom, and other allies will lose their stamina in the coming months to support Ukraine, warned UK Foreign Secretary James Cleverly.
"If we signal to the world that we have only got about eighteen months' worth of staying power, then we create a more dangerous environment for the future," he said. "That's why this is so very important."
Cleverly spoke at an Atlantic Council Front Page event hosted by the Europe Center on Tuesday. He explained that failure in Ukraine would bring back a world order in which big and powerful countries prey on weak ones. "So we'd better spend the time and money defending those institutions now, or the costs—both in terms of financial costs and human costs—will be much, much, much higher in the future," he said.
Cleverly said that instead of providing jets, the United Kingdom has been focusing on training the next generation of fighter pilots and working with the Ukrainian army. Ahead of an expected Ukrainian counteroffensive, "we have to keep looking at opportunities to enhance and speed up the support we give to Ukraine," he said.
In response to critics who argue the West should limit its support to Ukraine at the risk of leaving its "military cupboards bare," Cleverly replied that "if we're saving stuff up for a rainy day, this is the rainy day." With the invasion posing such a threat to the international security architecture, "we need to respond robustly."
Below are more highlights from the event, moderated by Atlantic Council President and Chief Executive Officer Frederick Kempe, which covered the United Kingdom's refreshed foreign-policy strategy.
A change of pace
In the UK Integrated Review Refresh foreign-policy plan, released in March this year, "the thing that has changed is more… pace rather than direction," Cleverly explained.
He said that his office still stands by the assumptions, reflections, and observations made in the 2021 Integrated Review, which said that the United Kingdom would have to think carefully about its posture toward China, that Russia was a risk, and that allies and partners would be vitally important to the national interest.
But that strategy needed a touch-up, Cleverly argued, after a whirlwind year-and-a-half: Beijing became closer with Moscow, Russia invaded Ukraine, and the Kremlin weaponized energy and food supplies. In addition, the "geopolitical center of gravity" began to shift more quickly toward the Indo-Pacific and Global South, Cleverly explained. "We are not either alarmed by or shocked by that gentle shift… but we do have to respond to it," he said.
The China challenge
There are critics who say that the West should redirect its focus from Ukraine to China; but "we can't just pretend Ukraine isn't happening," Cleverly said, adding that the world is closely watching how the West responds to Russia's full-scale invasion. "[Beijing] will make decisions based on what they observe us doing."
On the possibility of China playing a peacemaking role in the war, Cleverly said he'd "welcome" an intervention that brings "a just and sustainable conclusion," no matter where it comes from. However, "it needs to be more than just headline-grabbing stuff," he added. "It needs to be genuine."
At the same time, China is "big," "influential," and "powerful," Cleverly noted, which means that London will need to "engage" with Beijing.
But the United Kingdom cannot ignore the fact that "China does many things that we fundamentally disagree on," Cleverly said, pointing to its abuses against Uyghurs, its assertiveness in the South China Sea, and its failures to protect intellectual property. When such issues come up, "we raise [them] directly," he said, in addition to taking self-protective measures and strengthening long-term alliances in the region.
"In cooperation, collaboration, and concert"
The foreign secretary noted that the United Kingdom will need to strengthen its "pre-existing relationships" with its partners and allies—including the United States and Commonwealth countries—to make sure that they're "meaningful and mutually beneficial" for their national security and "not just some romantic narrative."
Cleverly said that rebuilding Ukraine will take public and private money (in addition to Russia paying for the damage it caused). The West needs to "make the case that [investments] will be safe and secure" and that Ukraine won't be invaded again, Cleverly explained. "The exact mechanism for doing so… certainly is open to discussion," he added, saying that he is "definitely not closing the door to NATO membership" for Ukraine.
The United Kingdom, Cleverly said, will need to work closely with allies and partners on all areas of defense "simultaneously." Whereas past conflict was primarily kinetic, he explained, future challenges are more likely to be in domains such as cyberspace and the economy: "Isolation in any of those fields would be counterproductive."
In March, Chancellor of the Exchequer Jeremy Hunt said the United Kingdom wouldn't engage in a global clean-energy subsidy race following the passage of the US Inflation Reduction Act. Cleverly said that he understands why the United States would want to "protect its people" in "an increasingly unpredictable and competitive world," but he also encouraged the United States to "do that in cooperation, collaboration, and concert with [its] like-minded friends around the world."
Cleverly said that King Charles III, whose coronation took place this past weekend, also plays a part in shaping the United Kingdom's global role and its relationship with allies. His majesty's focus on the environment, diversity, and alleviating poverty are "issues which will define the modern era and the future," Cleverly explained, adding that this focus makes the monarchy "very relevant" today.
Katherine Walla is the associate director of editorial at the Atlantic Council.
Watch the event
Further reading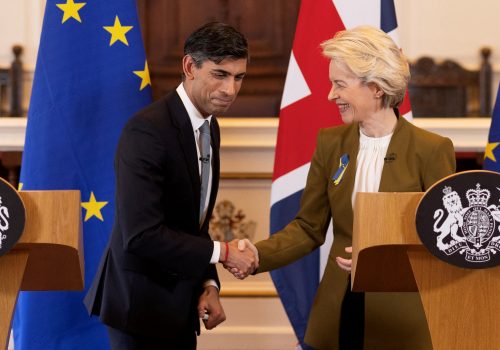 Fri, Apr 28, 2023
New Atlanticist By Jörn Fleck, Ben Judah
As EU ambassadors to London gather to discuss the future of the relationship, here are six ambitious but realistic ideas for cooperation.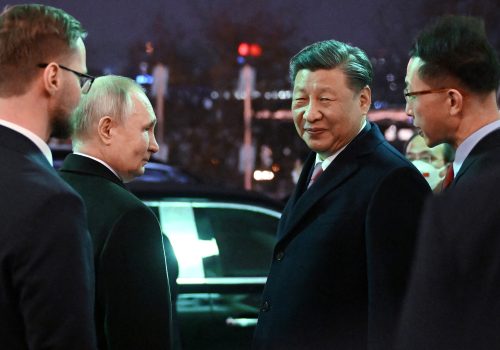 Fri, Apr 21, 2023
Hybrid Conflict Project By Gray Zone Task Force experts
As China weighs whether to adjust its tactics to avoid Russia's failures, the US can look to Ukraine's and the West's successes for lessons on how to counter Chinese aggression.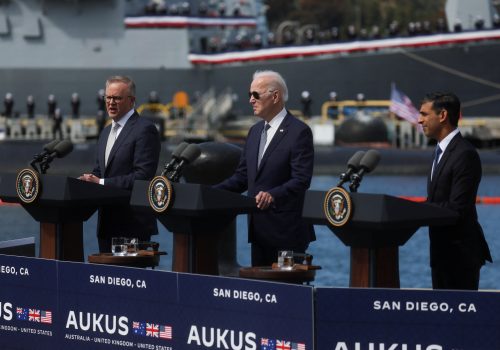 Tue, Mar 14, 2023
New Atlanticist By Atlantic Council experts
Dive into the details of the AUKUS submarine partnership just announced in San Diego by US President Joe Biden, UK Prime Minister Rishi Sunak, and Australian Prime Minister Anthony Albanese.