The United-States-Mexico-Canada Agreement (USMCA) is now halfway between its entry into force three years ago and its first required joint review in 2026. At this halfway point in the agreement's first phase, what are the upcoming challenges for Mexico as it seeks to maximize the benefits of its USMCA membership?
The USMCA has certainly been successful in increasing the volume of Mexico's trade with the United States and Canada. According to the US Census Bureau, in April 2023, the United States imported more goods from Mexico than from any other country; in 2022, Mexico-US trade was almost 27 percent higher than in 2019, and Mexico-Canada trade grew 21.8 percent in these same years. Between 2020 and 2023, Mexico received fifty billion dollars in US and ten billion dollars in Canadian investments.
This increase in trade and investment flows is explained not only by the USMCA's implementation, but also by the Biden administration's decision to diversify supply chains, relocate production to North America, and "de-risk" from China. By seeking to reduce the vulnerability of supply chains in North America, the integration facilitated by the USMCA acquired greater relevance for companies, workers, governments, and societies.
Even though the agreement has spurred dynamism in trade and investment, its implementation has not gone without serious challenges and confrontations, which Mexico will need to address before the 2026 joint review. These include differences in the way the three countries have chosen to comply with the USMCA, heightened scrutiny on labor and environmental issues, and incomplete implementation of the agreement's provisions.
Unsettled disputes
First, Mexico has faced difficulties on both sides of the USMCA's dispute settlement mechanism, established in Chapter 31. Mexico's use of this mechanism signals that it considers the agreement an effective instrument to defend its commercial and investment interests. Together with Canada, Mexico requested the establishment of a panel to settle its differences with the United States regarding the interpretation of the methodology to determine the regional value content of essential auto parts in cars manufactured in North America. The panel ruled in favor of Mexico, but there seems to be no interest in enforcing the ruling.
Mexico has also been the target of Chapter 31. Both the United States and Canada requested consultations regarding Mexico's energy policy in July 2022 and restrictions on trade in genetically modified corn in June 2023. While both consultation processes could still lead to requests for the establishment of panels, the parties have been in conversation regarding the substance of their concerns.
Chapter 31 is of great value to the private sector in North America because it offers a legal tool to solve differences. The USMCA offers a dispute settlement mechanism that works, unlike the World Trade Organization Dispute Settlement Body, which is paralyzed. The USMCA's panel reports are binding, and panel decisions are not affected by domestic political pressures.
However, it is the three governments' responsibility to comply with the panels' decisions, even if they are unfavorable, and to make sure that rulings are fully enforced. Not doing so undermines the value of the USMCA dispute settlement mechanism and the agreement itself.
High standards, heightened scrutiny
Second, Mexico has been subject to scrutiny on labor and environmental matters, reflecting US and Canadian national priorities and their need to respond to political pressure from their own domestic constituencies. Regarding labor, under the Rapid Response Labor Mechanism, the United States has initiated eleven cases against Mexico, and Canada has initiated one. Mexico's labor authority has sought to address the concerns raised in each case, avoiding sanctions and prohibitions on exports.
On environmental matters, Mexico has faced questioning from its partners regarding compliance with its environmental legislation and its USMCA obligations. For example, in February 2022, the United States requested consultations with Mexico on the protection of the vaquita porpoise, which is associated with totoaba illegal fishing. In May 2023, the US Fish and Wildlife Service determined that Mexico has not done enough to prevent the illegal trafficking of totoaba, so later this month, US President Joe Biden could decide to impose an embargo on the trade of wildlife products from Mexico, in line with Mexico's Convention on International Trade in Endangered Species of Wild Fauna and Flora obligations, which are also recognized in the USMCA. In labor and environmental affairs, the United States and Canada have used and may continue to use the USMCA mechanisms to pressure Mexico to comply with its obligations, since these issues are key to their own domestic political agendas.
Unfinished business
Third, Mexico has yet to fully implement several USMCA provisions. These include the Asia-Pacific Economic Cooperation Cross-Border Privacy Rules Framework, established in Chapter 19, which is already overdue. In addition, Mexico will have to become a signatory to the 1991 agreement of the International Union for the Protection of New Varieties of Plants as provided in Chapter 20. Likewise, the USMCA has a built-in agenda of future negotiations, such as the inclusion at the sub-federal level of provisions on state-owned companies and designated monopolies (Chapter 22), which should have been concluded in June 2023. Mexico needs to make sure that these provisions are enforced according to its USMCA commitments, since this will align its regulations and policies with those of its North American partners.
At the halfway point between USMCA's entry into force and its first joint review, Mexico has seen a substantial increase in its trade and investment flows, which are key engines for its economic growth. However, Mexico still faces serious challenges in the full implementation of its commitments and in making sure that the United States also complies with a panel report favorable to Mexico. It is in Mexico's interest to fully comply with the agreement while also requesting compliance from the United States, since that will provide certainty and predictability to investors in the region. This will facilitate the agreement's extension at the six-year review in 2026 and will allow Mexico to promote opportunities for North American productive integration and the relocation of supply chains.
---
Luz María de la Mora is a nonresident senior fellow with the Atlantic Council's Adrienne Arsht Latin America Center, where she supports the Center's Mexico work. From December 2018 to October 2022, she served as undersecretary of foreign trade in the Mexican Secretariat of Economy, during which she helped implement the USMCA.
Further reading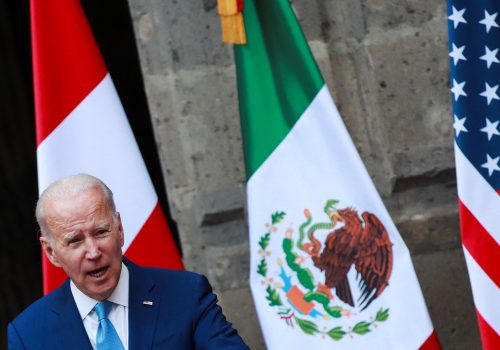 Tue, Feb 28, 2023
New Atlanticist By Willow Fortunoff, Mary Ann Walker
Local leaders are forging ahead on initiatives that enhance North American economic collaboration. By excluding them from key international summits, national leaders are missing out on a big opportunity.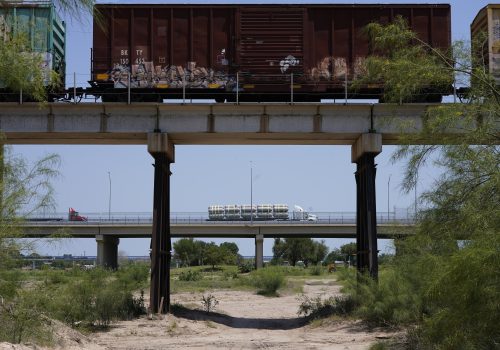 Mon, Feb 27, 2023
Report By
Atlantic Council research shows that a mere 10-minute reduction in wait times at the US-Mexico border can have increasingly positive effects on communities and economies on both sides of the border.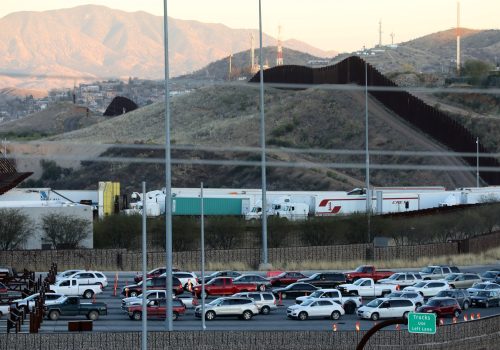 Fri, Feb 17, 2023
Report By Alejandro Brugués Rodríguez, Noé Arón Fuentes Flores, David Gaytan, John Gibson, Mayra Maldonado, Jason Marczak, Jorge Eduardo Mendoza Cota, José Ángel Moreno, Roberto Ransom, and Ignacia Ulloa-Peters
Atlantic Council's new data shows that a mere 10-minute reduction in wait times – without any additional action – can create thousands of Mexican jobs, grow the gross domestic product (GDP) of several Mexican states, and generate hundreds of thousands of dollars in new spending in the United States.