The venue is known for lofty ambitions that result in destructive failures. At the Vostochny Cosmodrome just last month, Russia's Luna-25 spacecraft took off, set out for the moon, and ended as a spray of debris across the lunar surface. At the same cosmodrome on Wednesday, Russian President Vladimir Putin hosted North Korean leader Kim Jong Un, hoping their rising partnership is not similarly doomed.
At the meeting in eastern Russia, Kim voiced his "full support" for Moscow and its "just fight" against Ukraine, even after US officials had warned North Korea not to provide weapons to the Kremlin for its brutal war. Below, Atlantic Council experts share their insights on the authoritarians' tête-à-tête.
Click to jump to an expert analysis:
Markus Garlauskas: A new authoritarian axis has been formed
Brian Whitmore: This 'Summit of the Rogues' only confirms Putin's isolation
Bee Yun Jo: Russia and North Korea (with China) are driving US-South Korea-Japan cooperation
Ryo Hinata-Yamaguchi: North Korea secures a much-needed comprehensive deal to boost its military technologies
---
A new authoritarian axis has been formed
Putin's statements about assisting North Korea's rocket development while hosting Kim at a Russian launch complex mark a new, more flagrant, and dangerous stage for Russia in its aiding and abetting of North Korea's weapons programs and its enabling of Pyongyang's defiance of United Nations (UN) Security Council resolutions. The Kremlin had long been quietly evading the enforcement of UN resolutions, particularly through petroleum smuggling to North Korea. Russia has also joined Beijing in obstructing UN reporting on violations of sanctions on North Korea, vetoing new sanctions after North Korean weapons tests, and arguing for an easing of sanctions on North Korea. Containing or slowing the progress of North Korea's weapons programs, already difficult, will be even more challenging than before as a result of Putin's new approach.
Meanwhile, North Korea may be close to sealing a major arms deal to provide Russia munitions beyond what it had already provided, and China is providing for Russia's military equipment needs just short of providing arms. Moscow is receiving robust and vital support from Pyongyang and Beijing for its war against Ukraine. As a result, it should now be clear that Russia, North Korea, and China constitute a new "authoritarian axis" that is not just symbolically and historically aligned in its rhetoric against the United States and its allies, but is now openly engaged in high-impact practical military and strategic cooperation. It is time to end wishful thinking that the differences among Beijing, Moscow, and Pyongyang will prevent such robust coordination. In historical context, the level of cooperation between these three authoritarian states already clearly exceeds the well-documented dysfunctional relationships and lack of mutual support between the original Axis powers of Nazi Germany, fascist Italy, and imperial Japan. This moment should be a long-overdue wake-up call for the United States and its friends and allies around the world to recognize this challenge to their security and common interests.
—Markus Garlauskas is the director of the Indo-Pacific Security Initiative of the Scowcroft Center for Strategy and Security and was the national intelligence officer for North Korea on the National Intelligence Council from July 2014 to June 2020.
---
This 'Summit of the Rogues' only confirms Putin's isolation
Putin's meeting with Kim at the Vostochny Cosmodrome in Russia's far east can best be described as the "Summit of the Rogues." It highlights Putin's international isolation and underscores his increased desperation.
Shunned by the West and unable to travel abroad (except to Belarus) due to war-crimes indictments, Putin was forced to appear at the BRICS Summit in South Africa by video link and was completely absent from the Group of Twenty (G20) Summit in India. His tight embrace of an international pariah like Kim is illustrative of the diminished prestige of the Kremlin leader, who not so long ago was fond of triumphantly and arrogantly strutting on the international stage.
This "Summit of the Rogues" also illustrates Putin's desperation as his invasion of Ukraine continues to falter. The fact that the Kremlin leader is so desperate for artillery, rockets, and other munitions that he is forced to consider a deal with North Korea that would likely violate UN sanctions exposes the absurdity of Moscow's claims to great power status.
—Brian Whitmore is a nonresident senior fellow at the Atlantic Council's Eurasia Center, an assistant professor at the University of Texas-Arlington, and founder and host of "The Power Vertical Podcast."
---
Russia and North Korea (with China) are driving US-South Korea-Japan cooperation
After North Korea's revelation of its tactical nuclear weapon-capable submarine a few days ago, speculation arose that Moscow and Pyongyang could exchange North Korean conventional weapons for Russian critical and advanced technologies, including satellites and submarines. Utilizing the momentum, Putin and Kim decided to meet at the Vostochny Cosmodrome. Some experts have assessed that Russia will not agree to transfer cutting-edge technologies to North Korea because such transactions are unbalanced and there are inherent limitations in North Korea-Russia relations. But on Wednesday, at perhaps Russia's most modern space rocket launch site, Putin promised help to North Korea to build satellites and rockets, while showing Kim around the facility.
The international community should now come together on two fronts. First, there should be integrated and immediate efforts to prevent such exchanges from happening because they will significantly speed up North Korea's acquisition of strategic nuclear platforms, including long-range intercontinental ballistic missiles (ICBMs) and submarines. It should not be ignored that missile cooperation between North Korea and Russia has continued since the Soviet Union began providing V-75 surface-to-air missiles to North Korea, and that North Korea's Hwasong-12 and -14 models are modified versions of Soviet engines. The similarity between the Hwasong-18 ICBM and Russia's Topol-M ICBM should also be alarming.
Second, it must be made clear that North Korea's strategic deepening with Russia, as well as China, is driving the deepening of US-South Korean-Japanese trilateral cooperation, and not the other way around. For those who argue against or caution that deepening of trilateral cooperation will risk escalation in the region and consolidation of a "rivalry between blocs," Wednesday's meeting between Putin and Kim should highlight that it is the increasing salience of their cooperation in the midst of the ongoing war against Ukraine that is the cause, and not the other way around. 
—Bee Yun Jo is a nonresident senior fellow in the Scowcroft Center's Indo-Pacific Security Initiative and an associate research fellow in the Defense Strategy Division at the Center for Security and Strategy at the Korea Institute for Defense Analyses.
---
North Korea secures a much-needed comprehensive deal to boost its military technologies
Wednesday's summit between Kim and Putin at the Vostochny Cosmodrome advanced North Korea-Russia relations to new levels and exacerbated the military threat posed by Pyongyang. Kim's entourage said it all, with senior military cadres from the planning, operations, and industry sectors, indicating that Pyongyang and Moscow are working on a comprehensive, long-term deal.
Most notable are the asymmetric aspects of the transaction, where Russia's benefits are more short-term with the acquisition of ammunition, while North Korea's are more long-term with Pyongyang securing technical assistance for the research and development of space and advanced weapons technologies. Pyongyang's benefits are critical for its five-year military plan, and the benefits are likely applicable to military reconnaissance satellites, cruise and ballistic missiles, more advanced strategic and tactical warheads, nuclear submarines, energy, as well as Command, Control, Communications, Computers, Intelligence, Surveillance, and Reconnaissance (C4ISR) systems. Another important aspect of this meeting is that both North Korea and Russia are upfront about their military cooperation, which is not only an open challenge against the United States and its allies, but also indicates that Pyongyang's access to Russian military technologies is going to be larger and more stable compared to the times since the end of the Cold War when it resorted to illicit means, including alleged cyber hacking.
Even though North Korea-Russia relations, together with the trilateral with China, do not constitute a full alliance with mutual defense obligations, there are nonetheless grave short- to long-term implications that further undermine security in the Indo-Pacific region. To properly defend against these threats, the United States, Japan, South Korea, and other allies and like-minded states will need to formulate sharper strategies and readiness.
—Ryo Hinata-Yamaguchi is a nonresident senior fellow in the Indo-Pacific Security Initiative, an assistant professor at the University of Tokyo, and a research fellow at Pacific Forum.
Further reading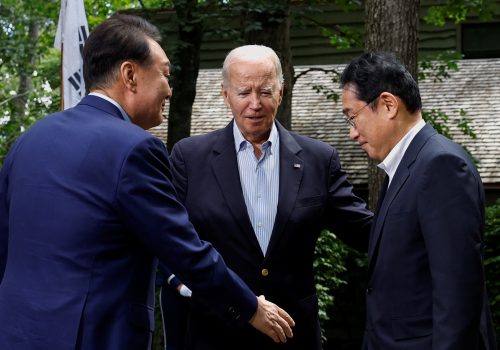 Fri, Aug 18, 2023
New Atlanticist By Atlantic Council experts
President Joe Biden, Prime Minister Fumio Kishida, and President Yoon Suk Yeol set forward a common security agenda at Camp David. Atlantic Council experts share their insights on what's next.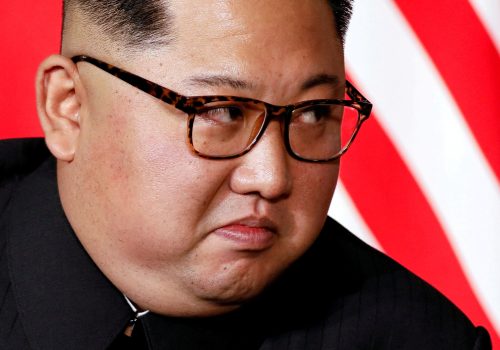 Wed, Jun 28, 2023
New Atlanticist By Markus Garlauskas
The US intelligence community has just released its National Intelligence Estimate on North Korea, a watershed analysis. But more is worth adding to the discussion.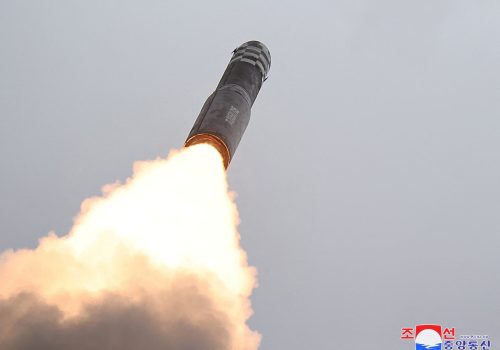 Wed, Aug 16, 2023
Report By Markus Garlauskas
This report highlights two emerging and interrelated deterrence challenges in East Asia with grave risks to US national security: 1) Horizontal escalation of a conflict with China or North Korea into simultaneous conflict; 2) Vertical escalation to a limited nuclear attack by either or both adversaries to avoid conceding.