The Taliban takeover offers no respite to vulnerable Afghan communities, especially considering the group's dubious credibility to uphold recent public statements claiming that they've changed. Journalists, news reporters, and other contributors to the country's once-vibrant media landscape—a highly visible achievement of the past twenty years—must now brace for potential Taliban retribution, with minimal help from the international community and no idea of what's to come. In particular, women journalists are in grave peril, with thousands destroying their identities and going into hiding, plagued with the uncertainty of what Taliban rule means for their careers, livelihoods, rights, and safety. 

In this interview, the Atlantic Council's South Asia Center and Radio Free Europe/Radio Liberty (RFE/RL) partnered for a discussion on the prospects for Afghanistan's media sector under renewed Taliban rule. Jamie Fly, president of RFE/RL, as well as moderator Irfan Nooruddin, director of the South Asia Center, led the conversation.


The South Asia Center serves as the Atlantic Council's focal point for work on the region as well as relations between these countries, neighboring regions, Europe, and the United States.
Related content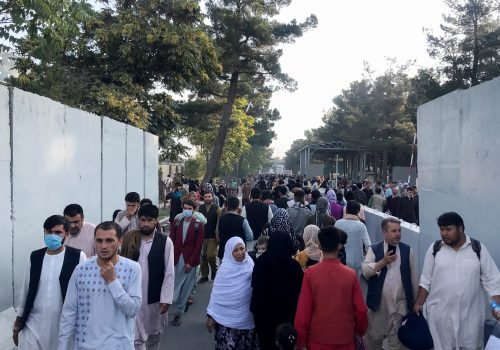 Fri, Aug 20, 2021
After capturing Kabul at lightning speed—surprising analysts and security experts alike—the Taliban are now poised to assume leadership once again in Afghanistan. In lieu of these developments, four potential trajectories warrant attention in the near to medium term.
SouthAsiaSource by Ali Riaz
Thu, Aug 19, 2021
Long-time diplomat and steadfast women's rights champion Roya Rahmani, Afghanistan's former ambassador to the United States, joins South Asia Center Director Irfan Nooruddin for a special episode of Fast Thinking to share her thoughts on whether the war in Afghanistan was worth it, the crucial role of women in the country's future, and how to evaluate the Taliban's promises.
Fast Thinking by Irfan Nooruddin
Wed, Aug 18, 2021
On this episode of Fast Thinking, Atlantic Council South Asia Center Director Irfan Nooruddin sits down with Harris Samad to talk about the history at play, whether the two countries will be able to align in their approach with the new regime, and if the Taliban's success will embolden other extremist groups in the region.
Fast Thinking by Irfan Nooruddin, Harris A. Samad