NOTE: We will analyze events related to the storming of the US Capitol in next month's State of the Order, which will assess the month of January.
Reshaping the order
This month's topline events
A Big Deal for Brexit. After a protracted year of negotiations, Brussels and London reached a post-Brexit trade agreement, just days before Britain's impending departure from Europe's single market on January 1. The deal averts the imposition of quotas and tariffs and maintains free trade across the channel, as Britain charts its own course following its formal withdrawal from the EU last January.
Shaping the order. The deal between the world's second and fifth largest economies prevents a significant disruption in global trade that many economists predicted would occur without an agreement. While other aspects of the UK-EU relationship still remain to be negotiated, the agreement also marks the ends of a period of rancor among America's closest European allies and could open the door to closer cooperation on global challenges.  
Hitting home. The agreement is good news for Americans, as the free flow of goods between Europe and the UK will benefit US businesses and consumers.
What to do. Despite leaving the EU, Britain will continue to be an influential actor on European and transatlantic political and security issues. Washington should embrace London's desire to play a greater role on the global stage, while simultaneously reaffirming America's commitment with the EU and cooperation with NATO allies in Europe. 
China's Economic Moves. The EU and China announced a new Comprehensive Agreement on Investment (CAI), a deal seven years in the making that significantly expands China's market to European investors and has been described as the "the most ambitious agreement that China has ever concluded with a third country." The agreement comes amidst an escalating trade dispute between China and Australia after Beijing posted a fabricated image showing an Australian soldier murdering an Afghan child – a move in which the EU joined the US, Canada, Japan, and other nations in castigating Beijing for its "irresponsible" actions. 
Shaping the order. While it commits Beijing to a more level playing field on European trade and investment, the EU's decision to move forward with the CAI could undercut the Biden administration's desire to develop a coordinated approach among the US and its allies and partners for dealing with China.  The deal could also embolden China, suggesting there is little price to pay for its "wolf warrior" diplomatic tactics against Australia and other nations and for its continuing crackdowns in Hong Kong and Xinjiang.  
Hitting home. China's efforts to sow divisions between the US and its allies on economic engagement with Beijing could place US companies at a competitive disadvantage.  
What to do. While the CAI moves through the EU review process, the incoming Biden administration should proactively engage with Brussels to strengthen alignment of policy on Chinese trade and investment. At the same time, the US should continue to support Australia and work with the EU and other partners to counter China's coercive economic diplomacy.
Forging a New D-10. British Prime Minister Boris Johnson has invited the leaders of Australia, India, and South Korea to the G7 Summit, which Britain is hosting this summer, marking the first time that the "D-10" grouping of democracies will meet at leaders level (officials from the D-10 have convened at lower levels under the aegis of the Atlantic Council). The move is consistent with President-Elect Biden's intention to strengthen democratic cooperation by organizing a Summit for Democracy after he takes office.
Shaping the order. The expansion of the G7 to a new D-10 could provide an influential forum for the US and its allies to coordinate strategies on a range of pressing global issues, from China and Russia, to technology norms and climate change. The meeting could serve as the first step toward permanent expansion to a D-10, which will require unanimous support among current G7 nations.
Hitting home. As the US confronts its own domestic governance challenges, the D-10 could also provide a venue for discussion among allies on defending democracy at home and addressing economic grievances.
What to do. Washington should embrace London's effort to forge a new D-10 and work closely with allies to identify priorities for a common strategic agenda. But before agreeing to a permanent expansion, Washington should reach out to New Delhi and seek to overcome potential obstacles regarding India's participation in this format.
"And so I say again, directly to our EU friends and partners, I think this deal means a new stability and a new certainty in what has sometimes been a fractious and difficult relationship. We will be your friend, your ally, your supporter…[Although] we have left the EU, this country will remain culturally, emotionally, historically, strategically, geologically attached to Europe…"
– British Prime Minister Boris Johnson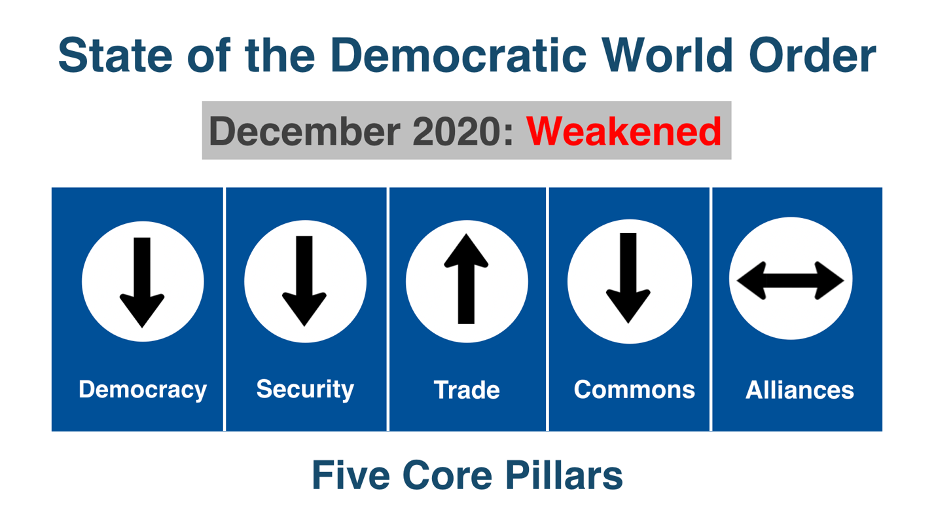 State of the Order this month:
Weakened
Assessing the five core pillars of the democratic world order
Strengthened (↑)________Unchanged (↔)________Weakened (↓)
What is the democratic world order? Also known as the liberal order, the rules-based order, or simply the free world, the democratic world order encompasses the rules, norms, alliances, and institutions created and supported by leading democracies over the past seven decades to foster security, democracy, prosperity, and a healthy planet.
This month's top reads
Three must-read commentaries on the democratic order
Joseph Nye writes in the National Interest that the question Biden faces is not whether to restore the liberal order, but whether the US can work with an inner core of allies to promote democracy and human rights, while cooperating with a broader set of states on rules-based institutions.
Anders Fogh Rasmussen suggests in the Wall Street Journal that Biden should build a global democratic alliance to rebuild multilateralism and advance a free world.
Laura Rosenberger writes in Foreign Affairs that democratic values provide the United States and its allies with a competitive advantage over authoritarian challengers.
Action and analysis by the Atlantic Council
Our experts weigh in on this month's events
__________________________________________________

The Democratic Order Initiative is an Atlantic Council initiative aimed at reenergizing American global leadership and strengthening cooperation among the world's democracies in support of a rules-based democratic order. Sign on to the Council's Declaration of Principles for Freedom, Prosperity, and Peace by clicking here.
Ash Jain – Senior Fellow
Dan Fried – Distinguished Fellow
Jeffrey Cimmino – Assistant Director
Daria Boulos – Project Assistant
Paul Cormarie – Georgetown Student Researcher
If you would like to be added to our email list for future publications and events, or to learn more about the Democratic Order Initiative, please email AJain@atlanticcouncil.org.