FAST THINKING: Mr. Suga comes to Washington
This post was updated on April 18, 2021
President Xi, are you watching? US President Joe Biden welcomed Japanese Prime Minister Suga Yoshihide to the White House on Friday. And his first in-person meeting with a foreign leader was designed to send a clear message to China, though the two leaders largely avoided much public discussion on issues such as Taiwan. What does it all signal about where US-Japan relations are headed? And how did they navigate their thorniest issues with China? We checked in with our experts, who were closely tracking today's diplomatic drama.
TODAY'S EXPERT REACTION COURTESY OF
Miyeon Oh: Director of the Asia Security Initiative
Mirna Galic: Nonresident senior fellow at the Asia Security Initiative and the Japan Institute of International Affairs
A win-win
Each leader came away from the meeting with something they wanted, Miyeon tells us. Suga spoke about how the United States and Japan are coordinating their efforts to achieve global decarbonization under the US-Japan Climate Partnership—a strong expression of support from a key US ally that could help the Biden administration "gain bipartisan support for its top policy agenda of climate change."
During their press conference, the two leaders also largely avoided publicly discussing escalating hostilities between China and Taiwan or China's repression of its Uyghur minority in the Xinjiang region. Suga did state that he and Biden had agreed to counter efforts to forcefully or coercively alter the status quo in the East and South China seas, "which could be read as a more implicit reference to Taiwan" even if it was "not explicitly confrontational on this issue," Miyeon notes. This approach "enabled Japan to not complicate its relationship with China, which is Japan's number one export market," she says.
And we shouldn't overlook another crucial area where the United States and Japan announced plans to collaborate, she adds. In their press conference and joint statement, Miyeon points out, Suga and Biden stressed their "commitment to the security and openness of 5G as well as to resilient global supply chains of critical technologies, including semiconductors," as a follow-up to the Biden administration's executive order on US supply chains in February and the Japanese government's efforts to promote supply-chain diversification through subsidies.
It's an expression of the two leaders' "willingness to take the lead in the race for global leadership in strategic and emerging technologies" by "building a 'technology alliance'" as part of the theme of "techno-democracy," Miyeon says. That means "galvanizing cooperation among democratic allies and partners against authoritarian regimes."
Subscribe to Fast Thinking email alerts
Sign up to receive rapid insight in your inbox from Atlantic Council experts on global events as they unfold.


What was said and left unsaid
Mirna reminds us that we should be paying attention both to what happened and what didn't happen at the meeting. A "much-expected statement on Taiwan did not materialize, but was instead subsumed in a broader statement of opposition to any attempts by China 'to change the status quo by force or coercion in the East and South China seas and intimidation [by China] of others in the [Indo-Pacific] region.'"
Just because the most sensitive and pressing issues were not in the leaders' prepared remarks does not mean they were not discussed, though. "Suga did confirm, in response to a Japanese reporter, that Taiwan and the human-rights situation of Uyghurs in Xinjiang were discussed by the two leaders," Mirna notes.
She was also struck, given recent tensions between Japan and South Korea, by Suga's statement that trilateral cooperation between Washington, Tokyo, and Seoul has "never been as important as today" for the region.
Keep in mind what the Biden-Suga summit was all about, Mirna advises: "showing the world the continued close relationship between Japan and the United States and their determination to address shared interests—both regionally and globally."
In that sense, it was successful. "Both leaders come out of this looking good domestically," she says, "and the meeting sets a positive tone about the US commitment to its partners in the Indo-Pacific region and to its alliance relationships overall."
Further reading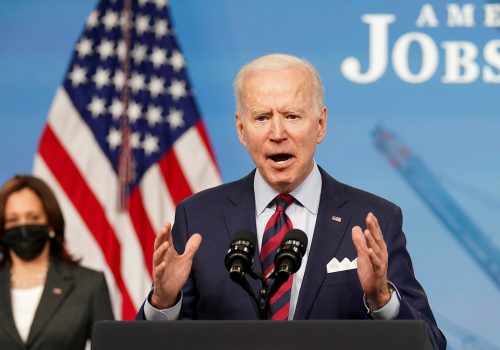 Sun, Apr 11, 2021
Inflection Points By Frederick Kempe
Biden's boldness in his first one hundred days can be measured most graphically by the numbers: the four trillion dollars and counting that he hopes to generate to finance an American pandemic rebound, a surge in US jobs and growth, and a mountain of national infrastructure investments.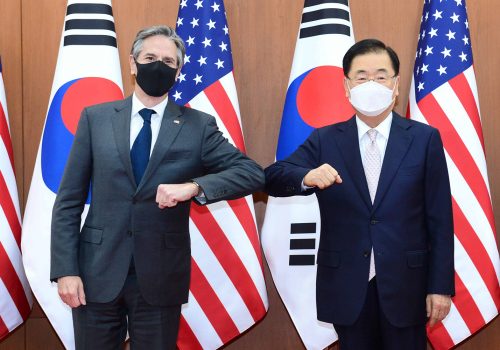 Thu, Mar 18, 2021
New Atlanticist By Cheol Hee Park
It is time for the United States and South Korea to revitalize the intrinsic value of their alliance. There are several ways they can do so.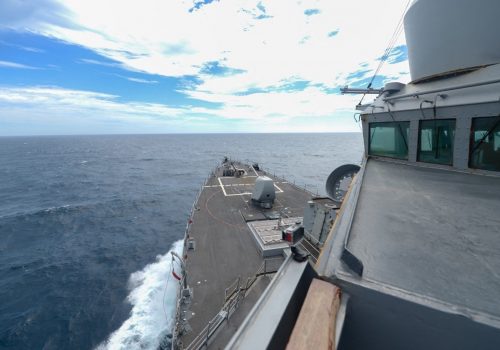 Wed, Mar 24, 2021
New Atlanticist By Philip Anstrén
Policymakers in Brussels should recognize that the EU has significant security interests in the Taiwan Strait, push for dialogue over the issues at stake there, and—if this fails—work with the United States to deter Chinese aggression against Taiwan.