Has Ukraine's counteroffensive really begun?
Will we know it when we see it? Ukrainian forces are probing front lines and attacking multiple Russian positions, even as leaders in Kyiv remain cagey on whether Ukraine's much-anticipated summer counteroffensive has begun. Russia is sending its own signals. After digging in along the front line, Russian forces have ramped up air attacks on Kyiv in recent days and, on Tuesday, may have destroyed a major dam in southern Ukraine (more here), possibly in an attempt to derail Ukrainian offensive plans already underway. Where to start? As always, with our experts.
TODAY'S EXPERT REACTION COURTESY OF
Is the offensive underway?
Dan assesses that the counteroffensive has probably begun. But he adds that it's not yet clear whether Ukrainian forces are focused on severing the land bridge in southern Ukraine connecting Russia and the occupied Donbas region with the Crimean peninsula, which "seems the logical direction," or on making gains in eastern Ukraine, which is "a less-anticipated move but possible for just that reason."
Andriy judges that the offensive is only in its preliminary stages. "When it starts, we will see a full use of the brigades trained and equipped for that operation and, of course, the magnitude of the operational activities will be much higher."
John just returned from Kyiv, where he spoke with Ukraine's political and military leadership. He says the offensive's start date is less important than Ukraine's overall capability. "Suffice it to say that the Ukrainian military is ready and the Ukrainian people determined."
Rather than looking out for "a single big push to penetrate Russian defenses and secure a decisive breakthrough," Peter, from his vantage point in Ukraine, advises thinking about Ukraine's counteroffensive as "a rolling series of local probes and thrusts," at least in its initial stages.
Subscribe to Fast Thinking email alerts
Sign up to receive rapid insight in your inbox from Atlantic Council experts on global events as they unfold.


What's coming next
"We can expect at least a modest [Ukrainian] success—the liberation of hundreds of square kilometers" of territory currently occupied by Russia, John tells us. "More is certainly possible, including breaking Moscow's land bridge to Crimea." But he counsels observers to be "patient watching this drama play out."
Early actions by Ukrainian forces have centered on the long-contested city of Bakhmut, notes Andriy. "If Ukrainian forces encircle Bakhmut, then they deny the Russians an opportunity to use any benefits of capturing the territory, and set themselves up to eventually recapture it."
Russian troops are dug in along the front line, but that doesn't mean the coming fighting will resemble World War I–style trench warfare. The Ukrainian military is unlikely to launch its offensive by going "over the top" of Russian lines in major battles, explains Peter. Instead, Ukrainian forces will likely test Russian defenses at numerous locations along the front to "stretch" Russian forces and "identify weak points."
A major Ukrainian military objective is cutting Russia's land bridge to Crimea and thus isolating Russian forces in the region, but the ultimate goal remains retaking Crimea itself. "Many believe a showdown over the fate of Crimea will serve as the end game of the entire war," Peter tells us (a point Dan and John expand on here).
Reading the Russian tea leaves
In recent days, senior Russian officials have trumpeted supposedly successful but small-bore efforts to beat back Ukrainian moves along the Dnipro River near Kherson and in the Zaporizhzhia oblast, explains John."Like Moscow's over-the-top celebration of finally taking Bakhmut, this reflects the paucity of good news for the Russian military to report."
Dan spots "tensions in Russia's ruling elite, and even signs of panic," adding that "Ukrainian victory on the battlefield does not have to expel all Russian forces from all Ukrainian territory to change the strategic balance and make Putin's maximal demands untenable."
Morale could prove a decisive variable in the coming summer offensive, concludes Peter, pointing to Russian soldiers complaining on social media of "poor conditions, suicidal tactics, and heavy losses."
In contrast, Ukrainian morale seems high, says Andriy: "I am in Ukraine. The mood is very resolved."
Further reading
Tue, Jun 6, 2023
New Atlanticist By Atlantic Council experts
Atlantic Council experts answer pressing questions about the broken Nova Kakhovka dam in southern Ukraine, including what it means for the ongoing war and if damaging it amounts to a war crime.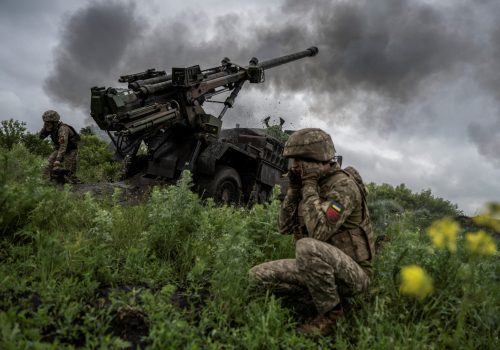 Tue, Jun 6, 2023
UkraineAlert By Tennyson Dearing
Ukraine's summer counteroffensive is an important moment in the war with Russia but it is critical to maintain a sense of perspective and underline the need for long-term Western backing, writes Tennyson Dearing.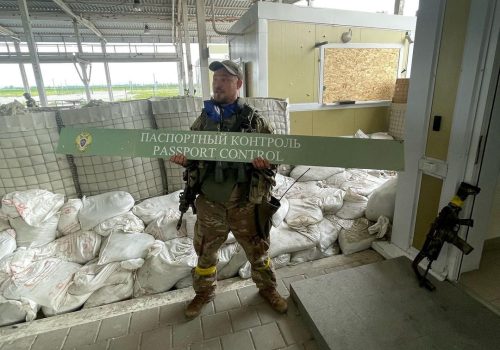 Tue, May 23, 2023
UkraineAlert By Peter Dickinson
This week's unprecedented cross-border raid into Russia's Belgorod Oblast could be part of Ukrainian shaping operations designed to stretch the Russian military ahead of a coming counteroffensive, writes Peter Dickinson.